Dear Sleep-Deprived Mom, we are soul sisters.  I remember the season of sleep deprivation when our oldest two children were born.  I was a very tired mom.
We endured months of sleepless nights until they were finally consistently sleeping through the night.  We anticipated another season of sleepless nights when our third child was born.  It was okay because we knew it was a season.
Then our middle child was diagnosed with Type 1 diabetes a week after our third child was born.  Our season of interrupted sleep and sleep-deprivation is now a chronic part of our lives. I am a permanently tired mom.
Many Reasons To Be A Sleep-Deprived Mom
Are you a sleep-deprived mom? Are you a mom of a newborn? 
Are you a mom of a child with special medical needs?  Are you a mom who has caretaking duties at night for a spouse or other relative? 
In the dark of night, we get out of our beds to keep vigil over our loved ones and provide the loving care that they need to survive.  It can be lonely and exhausting.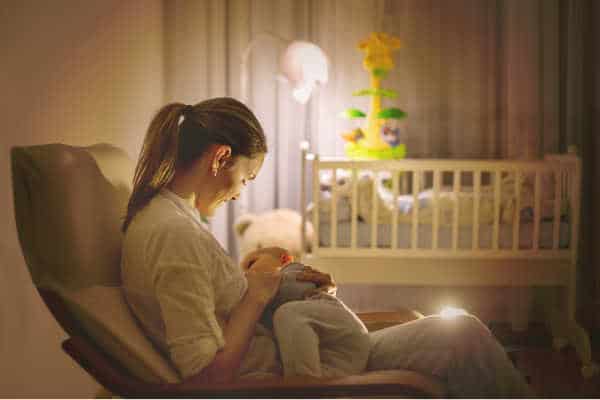 Most moms choose to power through our hardships just taking on the sleep-deprivation as just another part of the job of motherhood.  The problem is that the lack of sleep takes a considerable toll on our ability to mother well.
How to Recognize the Signs of Sleep-Deprivation
The Sleep-Deprived Mom is:
Cranky
Inpatient
Her health suffers
Less likely to feel joy
Less likely to have fun
When I don't get enough sleep, I am just not as emotionally resilient as I need to be. I am more likely to be cranky, which builds to impatience, and explodes as anger. 
I am not only angry at those around me, but I am also distraught with myself.  It is hard to exercise self-control when we are sleep-deprived. If I am a tired mom, I am not as good of a mom.
The chronic negative outlook naturally dampens that joy of motherhood.  It is harder to transition to laughter and fun when one is gripped by a grumpy attitude.   Sleep-deprivation has serious and significant influences on the emotional health and climate of our homes.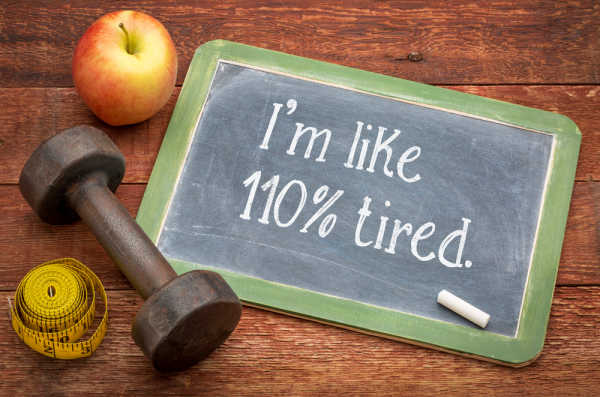 The Health Risks for a Sleep-Deprived Mom
This Sleep-Deprived Mom knows that it affects her health too.  If you are sleep-deprived, it affects your physical energy as well. 
You are more likely to make poor eating choices.  Exercise?  You don't have the time and energy to exercise.
Sleep deprivation can put you at higher risk for depression.  I think it was a huge part of the puzzle when I was diagnosed. 
Part of my journey of healing involved making sleep a priority.  I want to share some of my learnings with you so that you can get more sleep and have more joy in your home and motherhood.
#1 Dear Tired Mom: Sleep is not Selfish
First, let's deal with the mindset issues.  Making sure you get enough sleep is not selfish.  Being a tired mom is NOT a badge of honor.
You need adequate sleep to do the things that you are called to do.  A tired mom cannot fully live out her calling to love her family. The right attitude, increase energy, and improved health will more than make up for the loss of a "working" mom hour.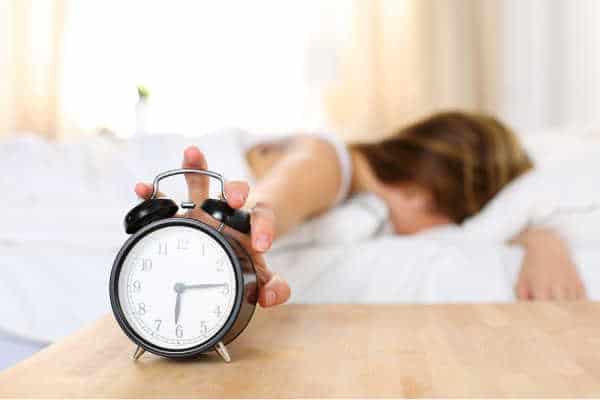 #2 Dear Sleep-Deprived Mom: Sleep is a Gift from God
Sleep and rest are not a bad thing.  God designed us to need rest. 
God created nighttime, a third of the day is designed to be dark and good for sleeping.  Before electricity, lights, and screens – people naturally slept a lot more.
God rested Himself.  God worked hard creating the world and everything that is in it for six days.  Then, on the seventh day – HE RESTED. 
God loves his people so much that he instituted a Sabbath day for His people.  It was so important that it was included in His top ten, the Ten Commandments.
A daily time of rest and a weekly time of rest are a vital part of God's design for us.  Rest can seem in short supply during the early year of motherhood when mommy fatigue threatens to overwhelm us.  
Rest can seem far-fetched to a tired mom who has more extensive caretaking responsibilities on her plate. If it a priority to God – He will equip us with what we need to make it happen!
"If you lie down, you will not be afraid;when you lie down, your sleep will be sweet."– Proverbs 3:24
#3 Tired Moms Need to Tame TV & FB
Are you a tired mom because you are spending too much time looking at a screen? When you are a sleep-deprived mom at bedtime, you want to zone out.  When you zone out, inertia takes over, and suddenly you have spent way too much time on your screen.
As moms, we sometimes feel like we are missing out on what all is going on in the world.  We try to connect to the outside world through our screens.
Related Post: Overcome the 4 Struggles of SAHM FOMO
Here is the deal, nothing there is more important than the blessing that sleep will bring to our family and us.  Nurture yourself with a book instead.  It is much harder to keep reading a book, even a good one, when your body has had enough.
Less Facebook and More Sleep for Tired Moms
Are you a care-giving mom? I got hooked on Facebook when I was nursing my newborn in the middle of the night. 
I continued when I had to stay awake with my other child waiting for her blood glucose numbers to come up or waiting for a device to come back online.  I needed something to keep me awake, but a book would have been a much better choice. 
If you are a caregiving mom, I challenge you to get a good book that is just for nighttime reading.
#4 Get Your Kids to Bed

So You Can Sleep

I know, I know.  If I could come up with the magic technology that could get kids to go to bed immediately with no fussing – I would be awarded the Nobel Prize for Motherhood and would be a very wealthy woman!
When you are exhausted, it makes it even harder to get your children to bed.  Have a frank conversation with them and resolve to reset bedtimes in your house. 
Practicing good bedtime hygiene with your children is as essential for them as it is for you. If you are a tired mom, you might also have tired kids.
#5 Partner with Your Husband for Some Sleep
It was a game-changer for me when I realized that I didn't have to wait to go to bed AFTER my kids.  It opened up new possibilities when I realized that my spouse could take over and I could go ahead and go to sleep.
Your lack of sleep affects your relationship with your spouse as well.  Partner with your spouse to help you get more sleep. 
I have the majority of the night-time duty in our home.  My husband can easily help me by wrangling the kids and allowing me to go to bed earlier. 
Get your partner on board with the whole family going to be earlier can make a huge change in your home.
What about intimate life and an earlier bedtime?
When you aren't getting enough sleep, marital intimacy usually takes a big hit.  Have a frank conversation with your spouse about this impact and brainstorm solutions that work for both of you. 
Be creative and negotiate clear expectations.  Then, resolve to stick to them.
"It is in vain that you rise up early and go to bed late to rest, eating the bread of anxious toil; for He gives to His beloved sleep." Psalm 127:2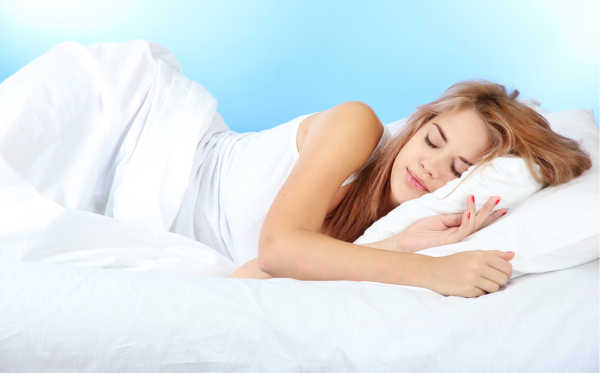 #5 If You Are A Tired Mom, You Need More Sleep
For some of us, interrupted sleep is just our life for this season, and nothing can change that fact.  Stop living in denial and adjust by getting more sleep. 
Coffee, caffeine, and willpower can only power you for so long.
Who gets up the earliest? Who goes to bed the latest? Who had the least sleep? 
These are competitions that some people feel they need to have with others, even fictional other moms.  Stop playing that game.
Each person is unique.  Each season of life is unique.  Go to bed early if you need. Sleep late if you need. 
We all need different amounts of sleep.  If you need 9 or 10 hours to make up for the interruptions you deal with at night, then that is what you need. 
When I accepted the fact that I really need eight and a half hours of sleep and started adjusting my bedtimes accordingly, it was a game-changer.
I also invested in what I need for good sleep.  Because I have to monitor my child at night with my phone,
I have to deal with all that light.  I use a nice sleep mask to block out the light and help me fall back asleep faster.
Gifts for Sleep-Deprived Moms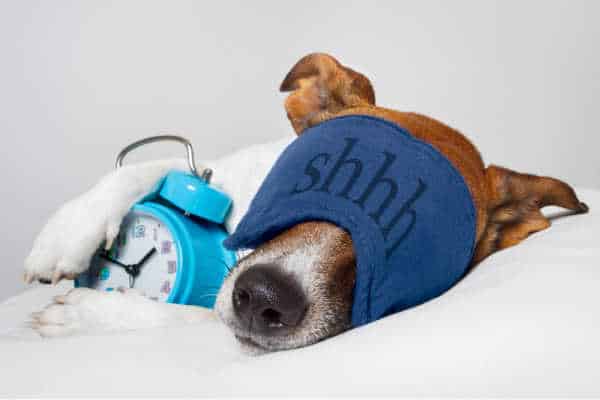 Invest in a night of good sleep with
Eyemask to block out light
Fan/white noise to cover the sounds of your kids if still up
Limit blue light to help your brain get into sleep mode
A weighted blanket that helps with anxiety and stress
Cute pajamas that help reward your new resolve
A good mattress that gives you the proper support
Perfect pillow for you
More Sleep = More Joy
Lay the foundation for more joy in your motherhood with a good night's sleep.  Even if you have a season of interrupted sleep, you can make changes to reclaim quality sleep.
God doesn't want you to be a sleep-deprived mom.  God wants you to know rest too.  If you have to cut other things out of your life to get more sleep, then do it. Focus on the things that improve your relationship with your family, and sleep is vital!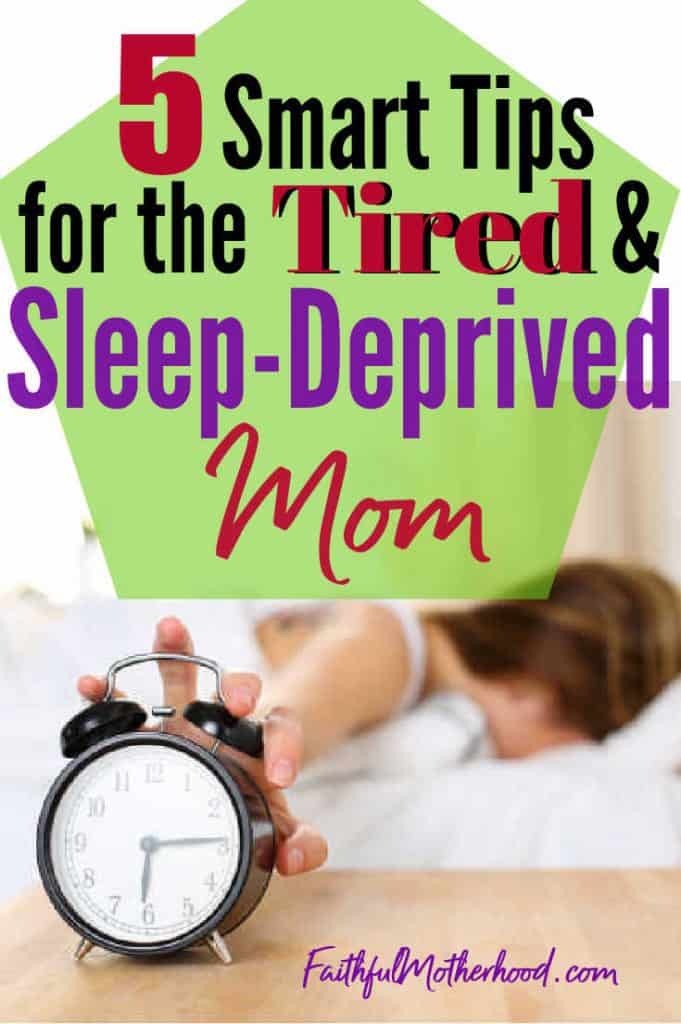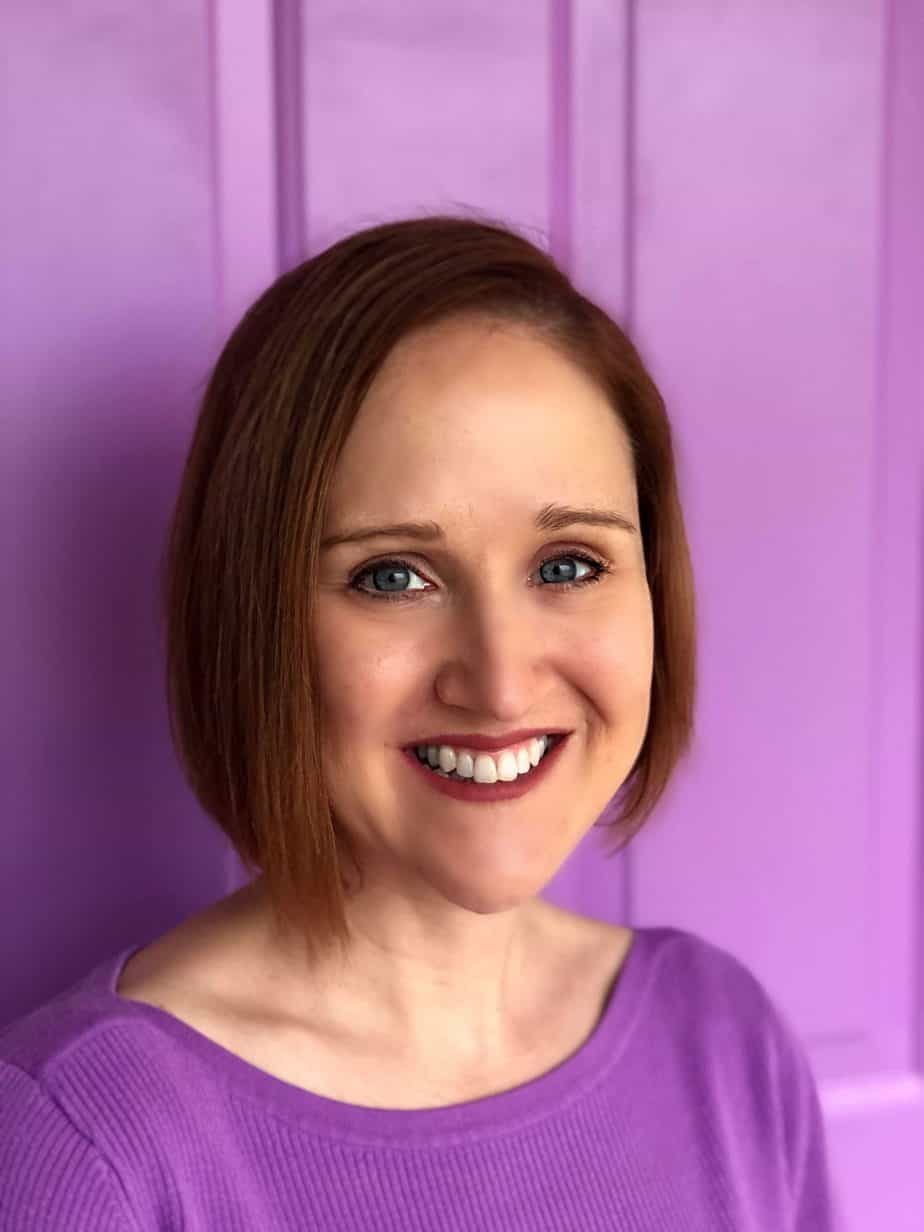 The voice behind FaithfulMotherhood.com is Jyn.  She is a veteran homeschool mom of three. More than just a pastor's wife, she holds a Master of Divinity degree and has served in church leadership for over 20 years.  Her passion is equipping parents to live out their calling as the number one faith influencer for their children. She longs to see moms empowered by God's Word and transferring that love to their children through daily Bible study and family devotions.