Are you so tired of the sibling name-calling and fighting?? "Don't call me stupid!" yells the little brother as he chases his sister through the room. 
Does this happen at your house too?  Mom, she called me stupid!  Mom, he called me a …..! We roll our eyes and sigh.
Effective dealing with this parenting issue isn't just one of discipline, but also of discipleship!  As Christian moms, we are not just trying to raise kids while keeping our sanity! 
We are trying to raise children who love Jesus and strive to act like him!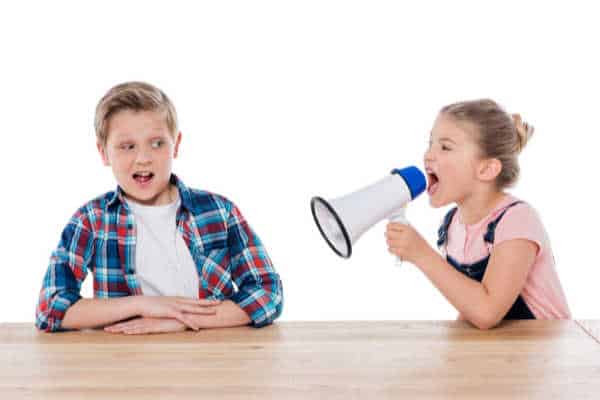 Step #1 – Start with the Bible
What does the Bible say about Sibling Name-Calling?
Jesus had brothers and sisters.  While he was perfect, his siblings were not.  He likely experienced name-calling growing up.  He certainly experienced slander and gossip in his earthly ministry as an adult.
Jesus has been there.  He knows how annoying younger siblings can be.  He knows the struggles of family life.  He witnesses his mother Mary seeking to teach her children how to behave in a godly way.
Step #2 – Memorize this Verse on Name-Calling
So, what did Jesus say about sibling name-calling?
"You have heard that it was said to those of old, 'You shall not murder; and whoever murders will be liable to judgment.' But I say to you that everyone who is angry with his brother will be liable to judgment; whoever insults his brother will be liable to the council; and whoever says, 'You fool!' will be liable to the hell of fire." Matthew 5:21-22
These words of Jesus are a part of the Sermon on the Mount.  Chapter 5 of Matthew records an extended lesson that Jesus sits down and gives to his 12 main disciples. 
In this section, He is teaching his disciples about the destructive power of anger.
Step #3 Discover What is Behind Sibling Name-Calling
What emotion does Jesus name in this passage? Anger. You shall not murder is one of the big 10 of the Ten Commandments.  His disciples know that murders are subject to themselves being killed.
Jesus pushes their understand of hurting someone deeper.  He says "that everyone who is angry with his brother is liable to judgment."  The anger that leads one to murder is not fundamentally different from the anger that leads one to insult their brother or sister.
Anger is subject to judgment as well, even the fires of hell.  Anger is not a little thing to Jesus.  This passage is a very powerful teaching about how the consequences of anger can lead to hell.
Mom, Are you angry?
I don't know about you, but this teaching steps on my toes.  As a mom, I need to get to work on my anger because I am sinning against my kids! 
How can I teach them not to get angry with their siblings, if I am getting angry with them?
Do you sometimes think that motherhood is almost as much about God discipling you as it is you discipling your kids?  Check out: How are You Saved Through Child-Bearing?
We need to be transparent with our children about the struggle with anger, theirs and ours.  Hopefully, if we are dedicated to bringing the word of God to them and ourselves on this issue their faithfulness will surpass our own.
Step #4 – Recognize Your Brother
These verses mention brother twice.  Is this a brother like the one you grow up with? 
Is this a brother as in a brother or sister in Christ?  Is this a brother as in a fellow Jew?  Is this a brother as in just another person in humankind?
I think for Christians it means all of the above.  We cannot ignore this teaching because we don't want to acknowledge someone as a "brother" or "sister."
Step #5 Imagio Dei – See Like God
"…whoever insults his brother will be subject to the council…"
Jesus is building his argument for the disciples.  He begins with the power of anger and then deals with the insults that come from that anger.  Jesus will then name a specific insult of "Fool."
Are your kids like my kids?  "Mom, I didn't call him X, I called him Y." 
They know the big offensive words that will get them in trouble quickly, so instead, they choose their own made-up version or a less offensive version.
Regardless of the words that they chose, the effect on their brother or sister is the same. All insults are hurtful and Jesus preempts our attempts at legalism to get to the heart issue behind all of our insults.
When our children engage in sibling name-calling, they are insulting someone else created in the image of God – even if that is their brother or sister.
"So God created man in his own image, in the image of God he created him; male and female he created them." Genesis 1:27
God created Adam and Eve in the image of God.  As their descendants, we are all image-bearers of God! 
This means that each person has value and worth.  We are not just animals, but we are set apart.  We reflect something of the image of the Divine in who we are. 
Do we do that perfectly? Heck, NO!  We are flawed sinners, but while we were yet sinners, Christ died for us!
 "…but God shows his love for us in that while we were still sinners, Christ died for us." Romans 5:8 ESV
God created us in His image.  Christ died on a cross for us.  In response, we need to treat others with the respect and value that God has extended to us.
As parents, we need to be intentional to teach our children that all language the insults others is unbiblical. Racial slurs, ethnic slurs, gender comments – all of these are the type of language that it is unacceptable for Christians.
Step #6 Knowing What a Fool Really Is
What exactly is a fool according to the Bible? 
"The fool says in his heart, "There is no God." They are corrupt, their deeds are vile; there is no one who does good." Psalm 14:1 & repeated in Psalm 53:1
"The wise in heart accept commands, but a chattering fool comes to ruin." Proverbs 10:8
"A fool finds pleasure in wicked schemes, but a person of understanding delights in wisdom." Proverbs 10:23
"Stay away from a fool, for you will not find knowledge on their lips." Proverbs 14:7
"The wise fear the LORD and shun evil, but a fool is hotheaded and yet feels secure." Proverbs 14:16
In the Bible, we do not see where people are criticized for their inherent lack of intelligence but rather a lack of wisdom.  It is not really an intelligence issue, but rather a heart issue. 
Are they seeking the wisdom of God and His teachings or are they foolishly turning away from God?
Are our hearts sometimes foolish?  Do we turn away from God and sin? Absolutely, we do. 
Are our siblings the ones' who stand in judgment over us for those things? No, they are not.  We are called to be gracious to our siblings in their sinful state, just as Christ was gracious to us in our sinful state.
The Bible does name people as fools.  This is the righteous anger of God speaking which is never our right to practice.  We might respectfully critique someone's actions, but we are not to condemn them as people.
Furthermore, how do we want our sinfulness to be pointed out to us?  Do we want someone calling us a fool? 
Do we want someone pointing out our flaws harshly?  Of course not!  We want to be treated kindly and gently.
"So in everything, do to others what you would have them do to you, for this sums up the Law and the Prophets." Matthew 7:12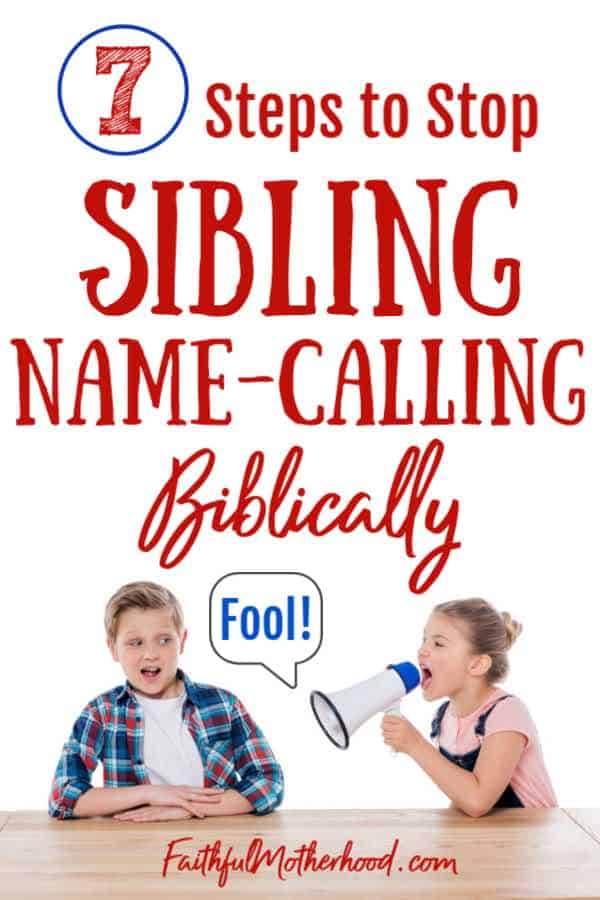 Step #7 So, What is a Brother or Sister to Do?
So, when your child is angry at something their sibling has done what are they to do? How can we equip them to choose something other than to engage in sibling name-calling?
Here are some questions that we can lead our children, and ourselves through.
Is your anger driving you?
Where does that rage come from?
Why did your brother or sister do what they did?
Did they do it intentionally?
Were they tired?
Were they hungry?
Were they hurting?
How can you share your hurt without anger?
How can you point out their hurtful behavior in a way that will build them up?
Self-control is so important that is considered one of the gifts of the Spirit.  As we pray for our children to give their hearts to Christ, we pray also for them to receive the gifts of the Spirit. 
Developing the gift of self-control will be a blessing that will have huge dividends for them in their relationships with their siblings, their parents, their friends, and their future spouse!
Let us not give up in doing good, but persevere in patience.  And when we lose our cool, know that God is ready to forgive us and we work to become more like Christ.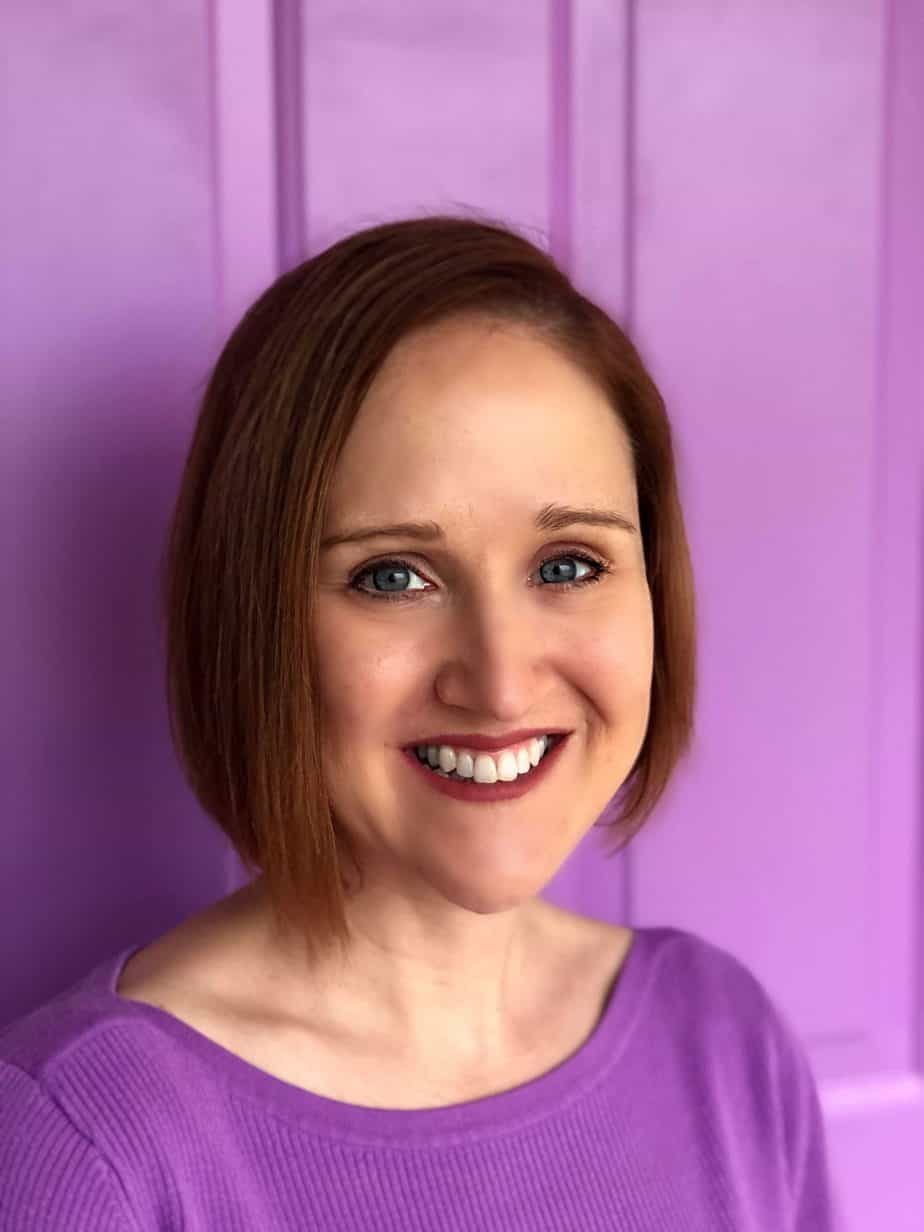 The voice behind FaithfulMotherhood.com is Jyn.  She is a veteran homeschool mom of three. More than just a pastor's wife, she holds a Master of Divinity degree and has served in church leadership for over 20 years.  Her passion is equipping parents to live out their calling as the number one faith influencer for their children. She longs to see moms empowered by God's Word and transferring that love to their children through daily Bible study and family devotions.