As parents, we grow wearing listening to the squabbles and the fighting of our children.  Eventually, I grow numbed sometimes to the demands for justice and punishment because I have seen the cycles of shared sin that are behind the sibling fighting. Having siblings grows stronger faith, and despite the squabbles, our children will be blessed.
(Undoubtedly,  I am in awe of our God who patiently listens to our sinful hearts complain responds with grace and mercy at a level that my limited love as a human parent cannot remotely muster.)
I lament, "Why can't they just get along?"  Why indeed, they are sinners in need of discipleship. 
Having Siblings grows our children's faith …
Siblings prepare young Christians for marriage. 
Siblings prepare young Christians for motherhood & fatherhood.
Siblings can help us be better members of the Church.
Siblings are tools for our sanctification

.
We worship a relational Triune God: Father, Son, and the Holy Spirit.  This is a God who sent his Son to die on a cross to reconcile us to him.  Consequently, Jesus came to be one of us, to live like one of us.  
In addition, Jesus had siblings. He knows the struggle of trying to be without sin with a brother or two pushing your buttons!
When we become Christians, we are not left on our own – in fact – we become part of the Body of Christ and the family of God.  Furthermore, we are now brothers and sisters with the rest of those in the Church.
We learn the first lessons on brotherhood and sisterhood at home.  These are foundational, essential lessons in the discipleship of our children.
What I am laying out here is a vision, a calling for a paradigm shift in how we, as parents, look at how we manage sibling relationships. Truly, it is a call to embrace the training opportunity that lies before us.
Having Siblings Grows Stronger Faith by Helping Us Learn to Turn the Other Cheek
"Why did you hit her?" "Because she hit me!"  An eye for an eye and a Barbie for a Barbie, are the defaults of childhood.  Retribution is instinctual therefore requires developing self-control.  
Accordingly, we must teach our children to stop and breathe.  Invite them in that breath, in that space, to ask God to speak to them.  
Without question, we live in a world where too many adults are driven by emotion.  What greater gift can we give our children, but the persistent training to pause and breathe in the Spirit.
Having Siblings Grows Stronger Faith by Teaching Us to Ignore
Siblings learn quickly what pushes their brother's or sister's buttons.  Repeatedly, like a missile locked on its target, they then push and push and push until their target explodes. 
How often I have instructed my children just to ignore and to focus on something else.  A little self-control on the front end will make the situation go away a lot easier.
Co-workers and marriage partners will at times drive you nuts.  People can be annoying.  They may chew too loud.  They may fidget and tap.  In truth, the reality is that we can't control other people.  What a profound life lesson for our children to accept.
More importantly, we can control our reaction to them.  Walk away.  Put on music.  Put in earphones. Make changes yourself and release any anger that is building up.
Some people are more sensitive to sounds than others.  Members of my household have misophonia.  We jokingly call it a noise allergy.  Attention Deficit issues are a struggle at our home too.  How do we cope? Noise-reducing earphones.  Amazing!!
It also involves a lot of training in humility and patience.  We strive to submit in love.  Only in the absence of other members of the family can certain items are eaten or enjoyed. (Like Gum & popcorn.) 
Most of the time, the noise offender is just going about normal life.  Therefore, we try to address the heart condition of the offender and the offended person to be compassionate.
Siblings Grow Faith by Forcing Us to Work Things Out
"I therefore, a prisoner for the Lord, urge you to walk in a manner worthy of the calling to which you have been called,

with all humility and gentleness with patience, bearing with one another in love,

eager to maintain the unity of the Spirit in the bond of peace." Ephesians 4:1-3
Sometimes at home, you can feel like you are a prisoner with really annoying cellmates trapped and unable to escape.  If we are going to learn to display commitment and true love, it starts in those moments at home with the family we didn't choose but God chooses for us. 
We need to be humble, gentle and patient.  The Greek word for gentleness means bridled and control power.  At that moment, we must harness and control those strong reactions and emotions and point them to the model of Christ.
Why?  To show the unity of the Spirit in the bond of peace.  We all want a peaceful home that comes with unity. 
We have to bear with one another and not break that unity over little things. Having siblings grow faith by teaching us how to seek unity with our family.
Having Siblings Grows Stronger Faith by Teach Us Patience
We all get tired and frustrated, and all too often we take out that frustration on those closest to us. Instead of dealing with these feelings, we transfer them to others. 
When we are frustrated with something outside of the home, we are more prone to frustration in the home.
Without the accountability of the image of who we want others to think that we are, we are more prone to be louder and ruder than we would be otherwise. 
Ironically, this is where it is even more important to exercise self-control and to bridle our tongues.  We must model Christ in public and in private for our children to see our faith as genuine.
"Whoever is slow to anger and has great understanding, but he who has a hasty temper exalts folly."  Proverbs 14:15

"A soft answer turns away wrath, but a harsh word stirs up anger." Proverbs 15:1
How much wisdom is in these proverbs!  When we are tired or angry, often our heart is hurting, and we are in need.  
Certainly, a soft answer is a balm to us.  Someone is not just reacting to our outside but is listening to what is going on inside.  We all long to be known better in this crazy isolated world.  
Admittedly, how many times when we are angry, do we really need our spouse to come close –  rather than get angry themselves.  We need someone to hear us and draw near to us.
Breathe.  Slow Down.  Make a connection.
"Know this, my beloved brothers: let every person be quick to hear, slow to speak, slow to anger;

for the anger of man does not produce the righteousness of God."James 1:19
Siblings Build Faith Through Teaching Us to Use Honey
One powerful way that having siblings grows stronger faith is learning how to choose your words carefully with those closest to you.
I am often making my children aware of the tone that they are speaking to one another.  Frequently, I have to point out that they cannot force their sibling to share something with them, they must use honey and ask.  They have to build up trust and reliability with their siblings.
Sadly, many children do not have the opportunity to be coached in their friendships and relationships with others.  They do not have a guide that knows both parties and loves them both.  A guide that can gently point out how they might improve their relational skills.  In contrast, we have this opportunity as intentional parents.
It is a matter of perspective. When you yourself are tired and worn out from the squabbles, it is hard to see this perspective.  A paradigm shift might be just what we need to reset our hearts to approach this area of child-training. 
Is this idea empowering to you? Are there other ways that our siblings can positively aid in our sanctification?
Looking for other resources to help your children get along?
Uncover the #1 Heart Issue of Bossy Siblings
33 Bonding Ideas to Bring Your Family Closer Together
Consequences of Favoritism in the Bible
Sibling Rivalry: Deadly Lessons for Cain and Abel
How to Deal Biblically with Sibling Name-Calling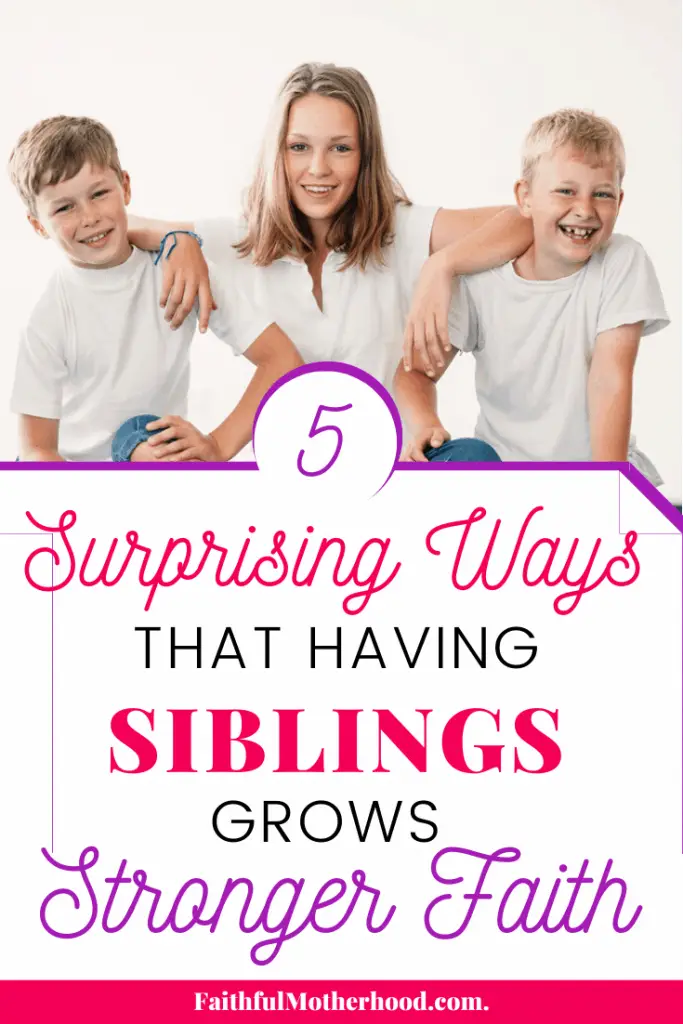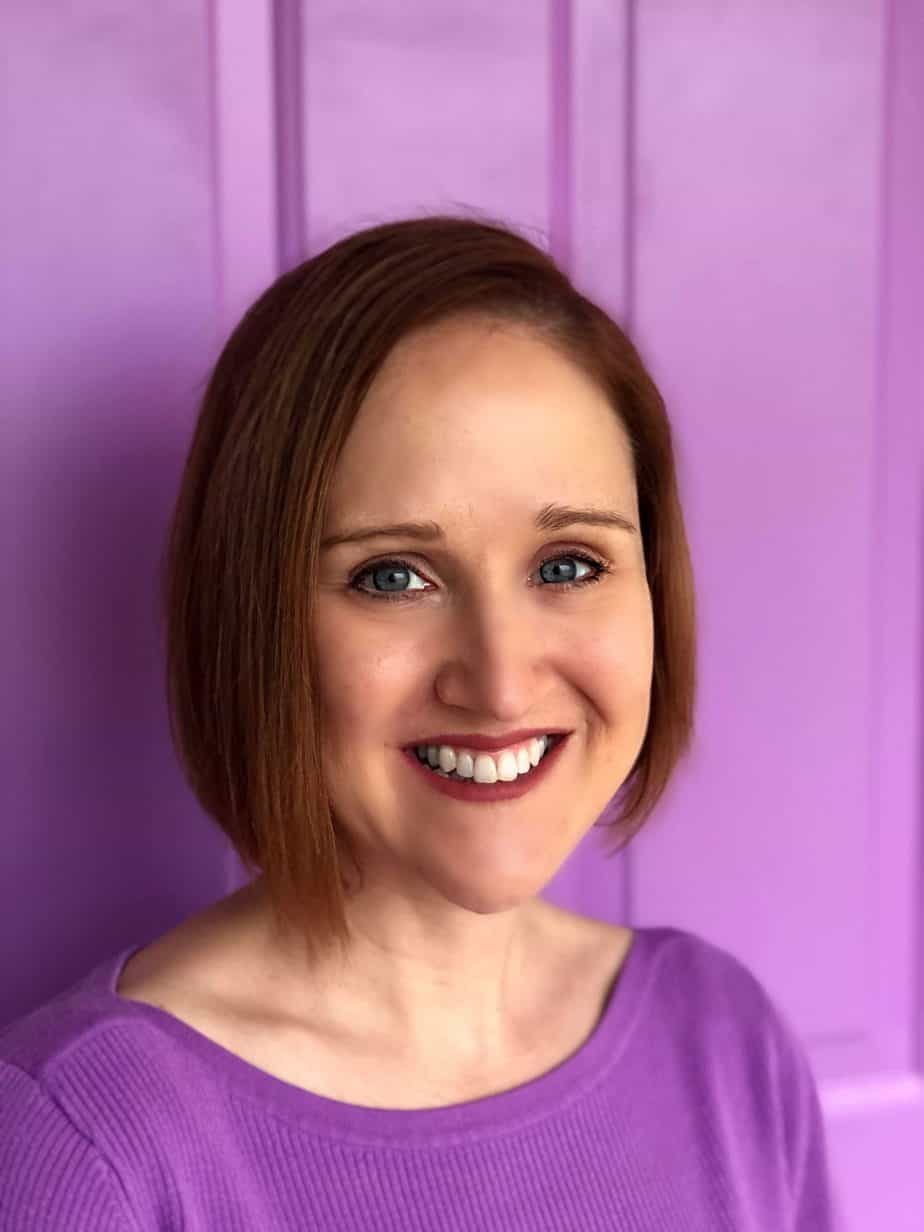 The voice behind FaithfulMotherhood.com is Jyn.  She is a veteran homeschool mom of three. More than just a pastor's wife, she holds a Master of Divinity degree and has served in church leadership for over 20 years.  Her passion is equipping parents to live out their calling as the number one faith influencer for their children. She longs to see moms empowered by God's Word and transferring that love to their children through daily Bible study and family devotions.