A mother's plate is full, sometimes too full. With all of the things that are pressing for your attention – is there room for prayer. Dear mama, let me share with you 5 compelling reasons why you need to be a praying mom.
There are many adjectives that our children could use to describe us. We might be the fun mom, the artistic mom, the soccer mom, the baking mom, the neat-freak mom, or the adventurous mom.
For Christian moms, we should all be known as the Bible-studying and praying mom. These two qualities must stand out for our children if we want them to be passionate followers of Jesus Christ, and if we desire to be a genuinely faithful mom.
#1 You need to be a Praying Mom so that You Can be a Better Christian
Your primary identity is not as a mom. Being a mom is a pretty awesome thing, but that is not the most impressive thing about you. The most important part of your identity is as a child of God. First and foremost, you are the daughter of the King.
Our relationship with Jesus is what lays the foundation for all of our other relationships.
Want to be a better wife? Grow in your relationship with Jesus.
Want to be a better friend? Grow in your relationship with Jesus.
Want to be a better mom? Grow in your relationship with Jesus.
How to relationships grow? Talking is a big part of building a relationship. You need to be a praying mom who talks with God so that you can be a better Christian.
We grow closer to Jesus through studying the Bible and through prayer. In prayer, we share our hearts with God and let our hearts be transformed to be like His.
#2 You need to be Praying Mama so that You can Be a Better Mom
Mothering is emotionally, spiritually, and physically hard work. At the end of the day, we are worn out. Heck, sometimes by lunchtime, we are worn out.
To be a better mom, you need supernatural help to fill your cup. Prayer is the special time that you can spend with God and get what you need to love others better.
In prayer, I find more humility, patience, kindness, gentleness, and self-control. In spending time with my Heavenly Father and realizing how broken I am, I have more patience with my children and their brokenness. I need to be praying mom so that I can be a better mom.
I cannot tell you how much I owe to the solemn word of my good mother. ~ Charles Haddon Spurgeon
Related Post: What is a Homemaker? 7 Bible Verses for Christian Homemaking
#3 You need to be Praying Mother so that You can Be a Better Evangelist
What is an Evangelist? We usually think of an evangelist as someone charismatic with an amazing ability to speak to crowds.
The reality is that anyone who shares the gospel is doing the work of an evangelist. Yes, some have the spiritual gift, but all Christians are called to share the good news of Jesus Christ.
This evangelistic calling includes you too, Mom! God has given you the mission field of your home to share the good news. Your number one responsibility as a parent is to share the good news of Jesus Christ with your kids.
Not only is it your number #1 job, but you are also the number 1 person for the job! Research shows that the person in our lives that has the most influence over our faith is our moms – not the preacher, the youth leader, or anyone else at church.
"Train up a child in the way he should go; even when he is old he will not depart from it." Proverbs 22:6
#4 You need to be Praying Mom so that You can teach your kids to pray
If I want my kids to exercise, I need to be exercising.  If I want my kids to eat healthy food, I need to eat healthy food.  If I want my kids to read books instead of watching television, they need to see me reading books. 
Related Post: How to Focus on Strength: Christian Women & Exercise
If you want your kids to love to pray, you need to be a praying mom. Your children need to see you praying. They need you to lead them in prayer and to cultivate a lifestyle of prayer in your home.
Do you need to be a prayer expert? I don't think anyone is a prayer expert. In the homeschool world there is a saying that you only need to be two weeks ahead of your children to teach them.
In the life of prayer, you just have to be the lead learner. As you grow in your prayer life, you share that love and your learning with your family.
"I have no greater joy than to hear that my children are walking in the truth." 3 John 1:4

(The Apostle Paul talking about his spiritual children in the church.)
#5 You need to be Praying Mother so that You can pray for your children's salvation
My most important wish for my children is that they would be passionate followers of Jesus Christ. Do I want them to have successful lives? Do I want them to have happy lives? Yes.
However, above all – I want them to love Jesus. All else is loss compared to the surpassing riches of them having a saving relationship with Jesus Christ.
The Devil would like for mothers to lose sight of that all-powerful goal, and to focus on all of the other things that can take our energy and attention. Yet, this is the most crucial task of faithful motherhood – that our children would walk with the Lord.
We can't force our children to love Jesus. We can't save them. Salvation is the work of the Holy Spirit.
However, what we can do as mothers is to pray for their salvation. Pray every day without fail. Starting our day praying for the salvation of our children serves a reminder to us of the priorities of our day. It gives us spiritual direction on how to spend time and what we can let go of in our daily tasks.
The impression that a praying mother leaves upon her children is life-long. Perhaps when you are dead and gone your prayer will be answered. ~~ D.L. Moody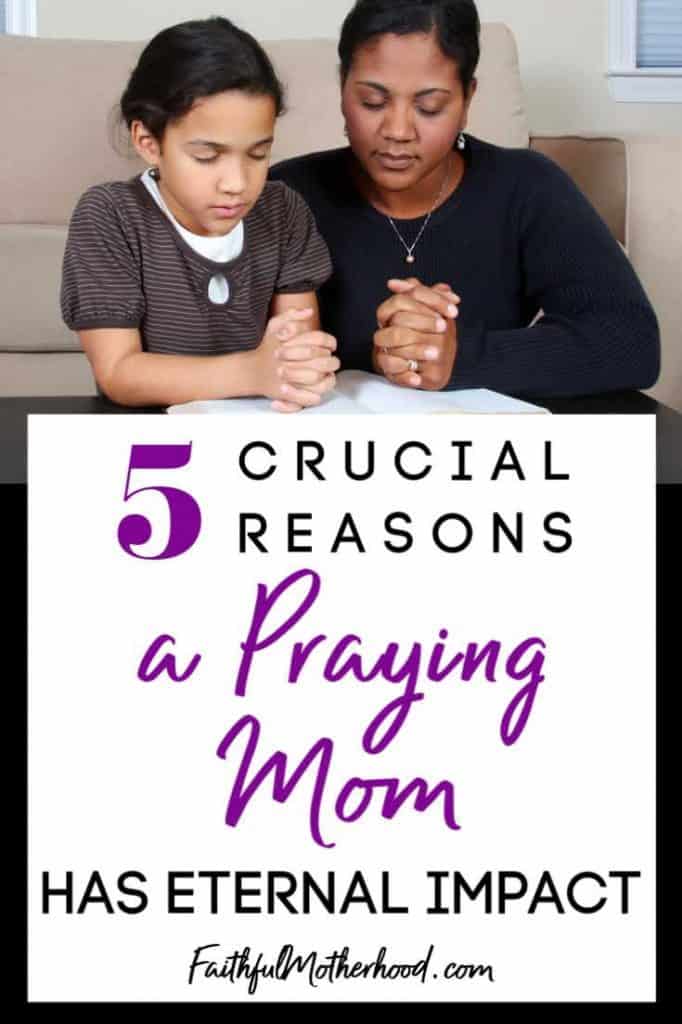 Are You Too Busy to be Praying Mom?
When your children are young and your days are full, you may think that prayer is the luxury of moms with older kids. You may long for those days and believe that the grass is greener.
When you are looking for ways to be a better mom, you read a whole shelf of parenting and self-help books. You want to be more patient, to yell less, or to have more joy and contentment.
After many years of mothering, my advice to younger moms is to invest first in prayer. It is in prayer that you will find the most impact on your ability to love your family better.
It is in prayer that you will find the supernatural ability to overcome the impact of your sin and to live humbly with your family. Parenting books are good, but the Bible and prayer are better.
Guard your time as a mom. Find the time to pray. Make the sacrifice to spend time in prayer. The older I get, the more I realize that the title of "praying mother" is that one that will have the most positive and eternal impact on my children …and my grandchildren.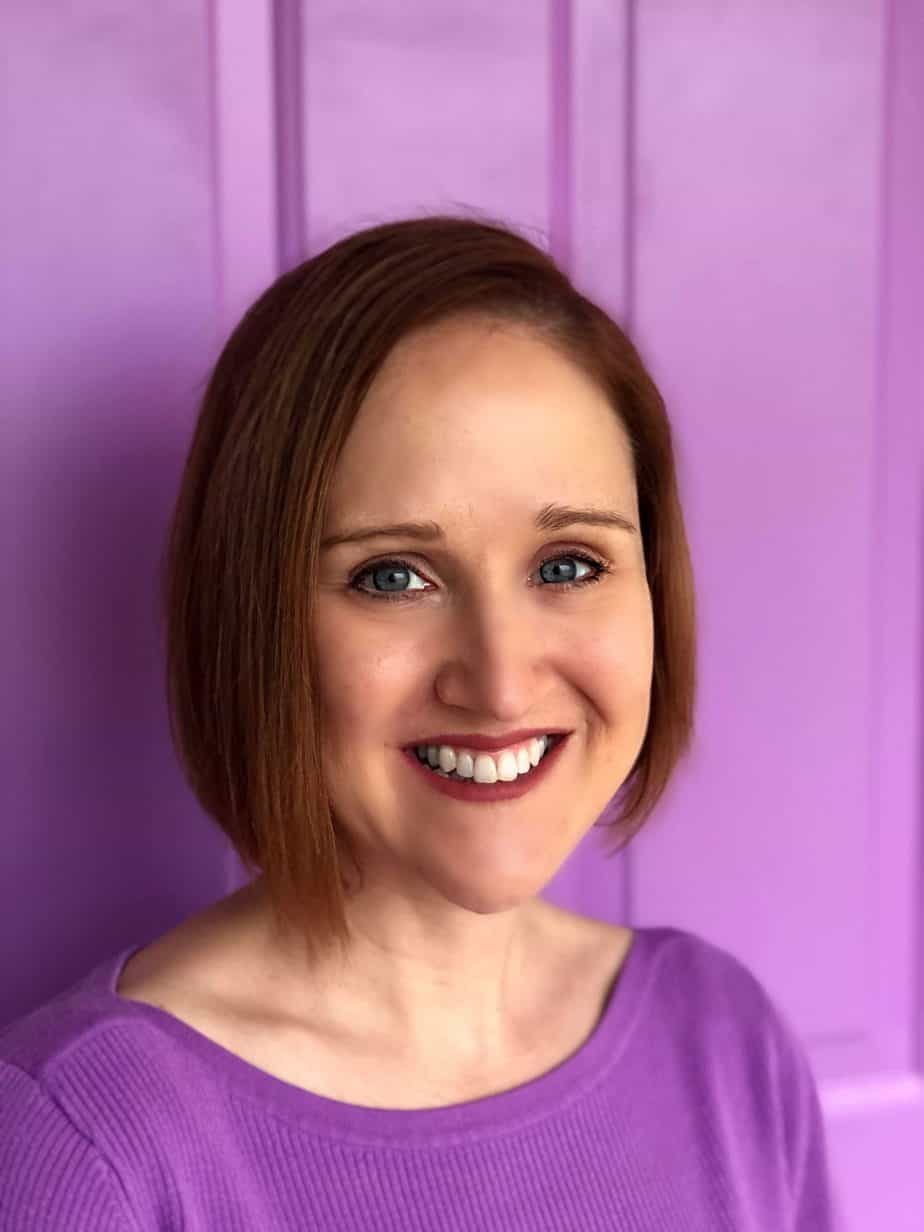 The voice behind FaithfulMotherhood.com is Jyn.  She is a veteran homeschool mom of three. More than just a pastor's wife, she holds a Master of Divinity degree and has served in church leadership for over 20 years.  Her passion is equipping parents to live out their calling as the number one faith influencer for their children. She longs to see moms empowered by God's Word and transferring that love to their children through daily Bible study and family devotions.