One in four pregnancies is lost to miscarriage.  Are you one of the women who has experienced such a loss?  How do you honor your lost baby?
For those that recognized that this was not just the loss of a pregnancy but the loss of a child – the memory and grief will last a lifetime.
Our culture has many unwritten rules and expectations about announcing a pregnancy because of the risk of marriage and a lost baby.  We think that we are guarding our hearts if we keep the pregnancy a secret. 
In fact, our hidden grief can be even more painful.   The path toward healing is found in honoring the lives of our lost children and remembering our miscarriages.
#1 Honor your Lost Baby by Naming your Child
Names are a powerful proclamation of our existence and humanity.  Your child was real and deserves a name.  Your child was not just a blob of tissue, but a person being formed.  Naming identifies that unique soul that was created.
Naming the child does not make the loss worse, in fact, it is key to allowing you to talk about your child and remember them.  Naming them allows you to talk to that child as well.
Not everyone will understand or agree if you name your child.  The abortion debate has so blurred our ability to recognize the child that is lost in miscarriage.  Trust your heart and name your baby.
#2 Consider a Service to Remember your Lost Baby 
If your child died one week after birth, you would have a funeral service.  Why is it any different if they die before birth? 
You may not have had an opportunity to hold your child, but their death is just as real.
In ministry, I have seen so many different types of funeral services. Some are huge and complicated, and others are small and simple.  Some folks are simply remembered at a graveside service. 
A service to remember your child's life can easily be a brief 5-minute gathering with prayer, scripture, and words of life.   The gathering could be for the parents, siblings, and grandparents only if you wish.
The point is to acknowledge your baby's life and your loss.  Most pastors I know would be honored to serve a member of their church in this way.
#3 Honor your Lost Baby by Remembering their Birthday
One of the first things that most pregnant women do after they learn that they are pregnant is to figure out a due date.  Again and again, in pregnancy, we are asked when is your due date? 
After a miscarriage, that due date is a powerful and painful day.  We don't have to bury that knowledge away with our child.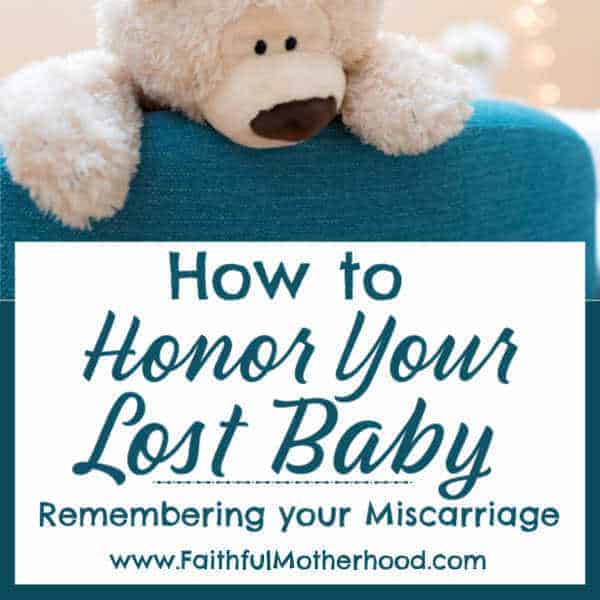 Mark those birthdays.  Include them on your calendar. You don't have to be alone in your grief and remembering. 
Choose to mark that day with intention and remembrance.  Buy a birthday gift for another child.  Buy a picture book and donate it to the library in their memory. 
When we remember the memory of our miscarriage child as we would the memory of a child who deceased after birth, we are honoring them.
#4 Remember your Lost Baby by Marking the Loss
We were almost halfway through our pregnancy when we found out that our daughter no longer had a heartbeat.  It was a Monday, the day after Easter – April 17th. 
Many years later, we lost another daughter Pentecost weekend.  Two of the most important holidays in the church year had a layer of depth to the memory, but I would not need these markers to remember when I lost my babies.
Instead of being surprised by those days or dreading those days, I resolve to mark them.  I will intentionally remember my child and my pain. I will long to greet them and hold them in heaven. 
Having a designated day to remember helps to ease the pain and the guilt of moving forward.  Eventually, those days turn from grief to honor.  I am honoring the memory of my daughter when I mark the day of her death.
#5 Honor your Lost Baby and yourself on Mother's Day
A child is your child for your whole life.  Mother's Day can be HARD after a miscarriage.  Acknowledge that pain and loss. 
Even if the world doesn't recognize your child, you have carried life in your womb – YOU ARE A MOTHER.
You may not be able to hold that child until heaven, but your child was real and so was your time as a mom. Donate money to a pregnancy center to support those other moms who are struggling as well. Honor yourself and be kind to yourself.
In a like manner, your husband was a father as well.  When Father's Day rolls around, remember his loss as well.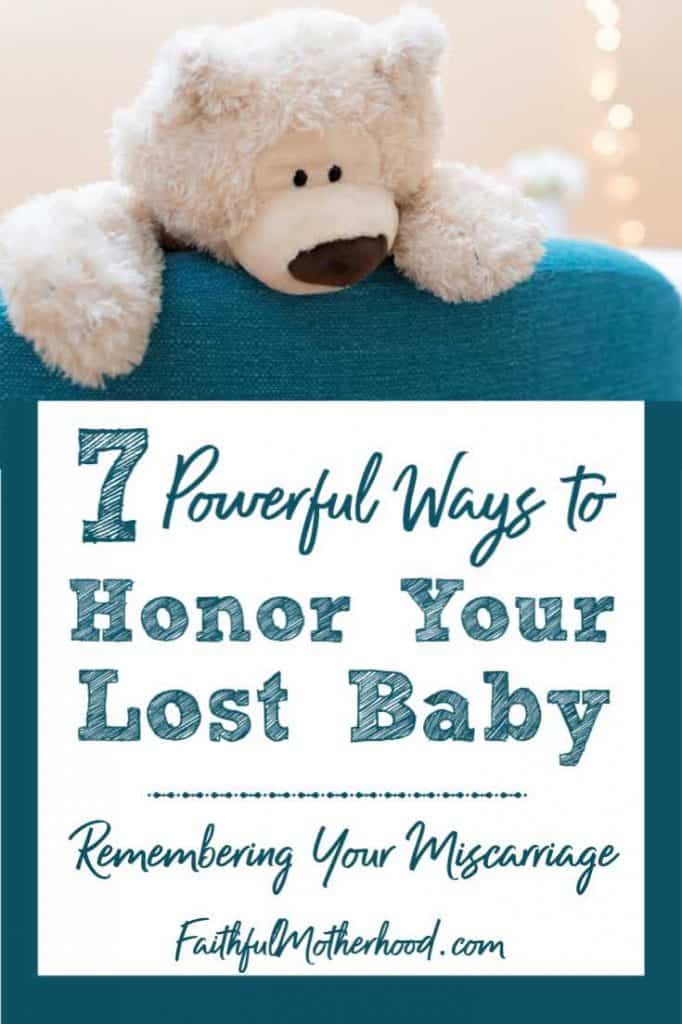 #6 Name your Lost Child When Asked to List your Children
How many children do you have?  I never really realized how hard it could be to answer this question until after a miscarriage. 
Do you name the living children that you have only?  Do you include the children that you have lost as well?  If you have no other children, do you say that you don't have any children?
You don't want to make the person asking the question feel weird and you don't want to open up your own painful heart.  On the other hand to not name your child and to acknowledge the existence feels like you are dishonoring and discounting them.
I don't tell strangers about my lost children, but I do intentionally list them in other ways.  I have a mother's bracelet that includes my living children and our daughters that passed at 18 and 9 weeks.
#7 Honor Your Lost Baby with Memory Markers
When it is time for Easter lilies and Christmas poinsettias at church, we buy them in memory of our daughters.  Seeing your child's name listed in a bulletin for these special moments in the life of the church is an easy practice to re-affirm your child's life for others.
Their names are a part of our home and their memory is not hidden. My living children can name their siblings for you.
You are Not Alone in Remembering Your Miscarriage
The pain of losing a child through a miscarriage or early infant loss will always be there. 
I remember standing at the door to the church, along with my pastor husband, greeting church members in the months after we lost our daughter.  It was profound the number of women who shared their own stories of loss. 
Decades had passed and these women had never forgotten.
We can often feel lonely is our grief and loss.  Know that you are not alone.  Many women share your pain and your journey.
Honoring your child brings your loss out of the shadows and the silence into the light.  Honor your child creates a path toward healing and joyful remembrance.
May the act of honoring your child bring you peace and healing.
More Miscarriage & Infertility Related Posts: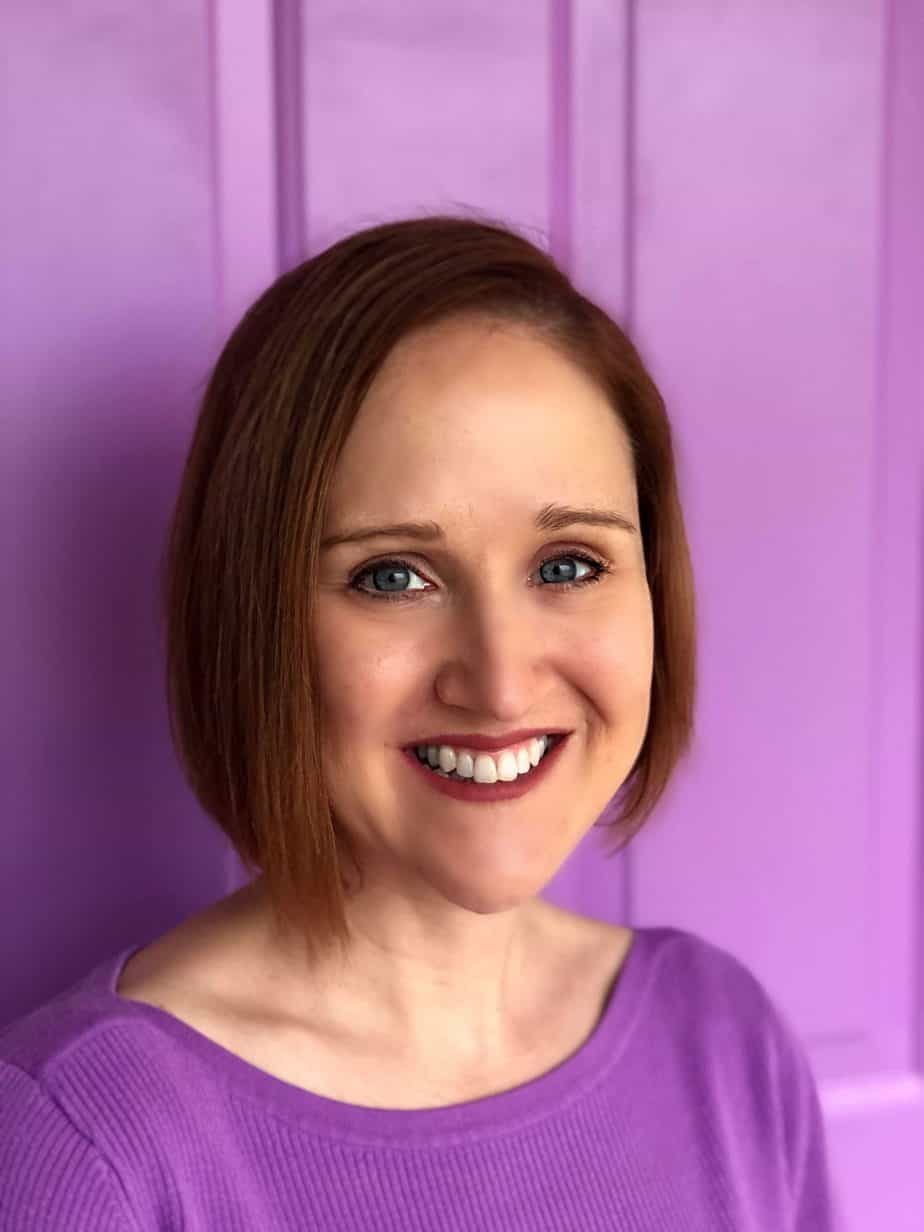 The voice behind FaithfulMotherhood.com is Jyn.  She is a veteran homeschool mom of three. More than just a pastor's wife, she holds a Master of Divinity degree and has served in church leadership for over 20 years.  Her passion is equipping parents to live out their calling as the number one faith influencer for their children. She longs to see moms empowered by God's Word and transferring that love to their children through daily Bible study and family devotions.