When we are struggling, we often turn to the pages of the Bible to hear words of comfort and guidance. We come to God seeking direction and hope in the stories of infertility in the Bible. 
Many Christian women struggle with infertility. We look to scripture to see if anyone else has shared in our struggles and what we might learn from their testimony.
The struggle to get pregnant and have a child has been shared by women for thousands of years.  My husband and I have been pregnant 11 times, but only have three children to raise. Thankfully, there are several stories of infertility in the Bible for us to glean wisdom from.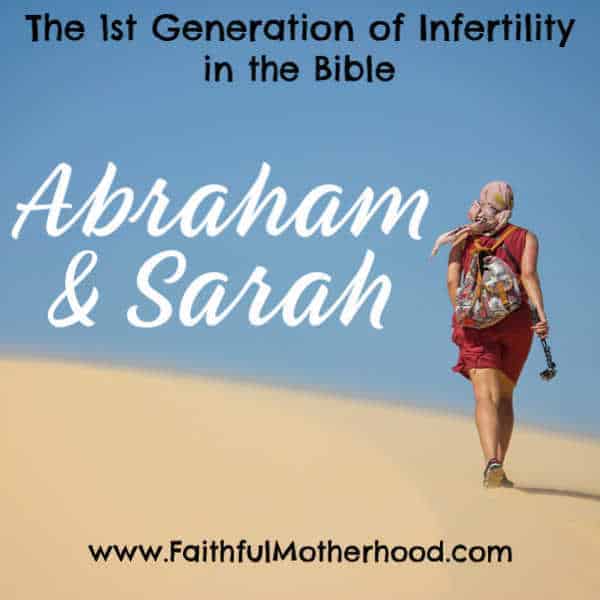 The founding family of the nation of Israel struggled with infertility for three generations.  Abraham was promised that his descendants would be as numerous as the stars in the sky, yet he was almost a hundred years old when the wife of his youth produced an heir.
The threat to God's promise was still in peril when Abraham's son Isaac and his wife Rachel struggled to have a child.  The peril continued when Abraham's grandson Jacob and his wife Rachel struggled with infertility and then secondary infertility in their quest to have children.
The struggle with infertility was repeated from generation to generation, yet God's promise would bear out.
Abraham & Sarah: Infertility Inspite of a Promise
We are first introduced to Sarah in Genesis 11:30.  We are told that she is the wife of Abram and we are also told of Abram's brother, his wife, and his sons.  The next verse is all about Sarah: "Now Sarai was barren; she had no child." 
Immediately after that, we are told of the call of Abram.  God calls him from his country to go to the land that God will show him. Abraham is promised that God will make him into a great nation. This is a challenging promise when your wife is barren.
Three chapters later, God came to Abram again in a vision and reminded him of his promised reward.  Abram questioned God about how this was to come to be since he was still childless. 
Patiently, God tells Abram to number the stars and that his descendants would be as numerous as them.  God made a covenant with Abram about his offspring and their inheritance.
Sarah's Infertility Frustration
Right after the covenant, the Bible tells us that the barren Sarai laments to Abram that "the Lord has prevented me from bearing children."
Sarah is done waiting.  She knows that God has made a promise and that she is far too old to have children. 
Sarah takes matters into her own hands and gives Abraham her servant to have children with for an heir.  In Genesis 16:2, the Bible tells us: "And Abram listened to the voice of Sarai."
Abram and Sarai had lived in the land of Canaan for ten long years without children.  Every month her period came just like the month before until it stopped.  Every month the belief in the promise faded. 
When her period stopped, the hope for a child stopped as well.  Sarai was in her eighties and ninety was just around the corner.  Women her age did not have children.
Even when God came to renew the promise, Sarai assumed that she was not going to be a part of it.  She arranged a way to make it happen on her own.  And Abram listened to her voice.
Abraham's Choice
Abram listened to Sarai's voice but not her heart.  Abram was the spiritual leader of his home.  God had spoken to promises to him, not to Sarai. 
It was Abram's responsibility to remind her, to protect her, and to nurture the hope in the promise for her.  In her weakness, it was his responsibility to stand firm in the promise.
If God had wanted Abraham to take another wife, why wouldn't he have told Abraham to find another wife?  But God didn't.  God was quite specific to Abram in the other details.   
The faithful response for Abram would have been to listen to his wife's heart and to speak comfort to her in her frustration and barrenness.  Instead, Abram chooses a path that would bring Sarai more heartache.
Sometimes it is hard to wait on God and to trust in His provision.  When we are weak and want to make a way ourselves, we need our spouse to hold us accountable and to bolster our faith. 
Abram should have trusted in God.  He should have reassured his wife, Sarai, of the promise and that it was for both of them.
When We Don't Wait…
When we don't wait for God, there are consequences.  Sarah's servant, Hagar, did indeed bear a child for Abraham.  Life in the Abrahams's household with not good.  There was tension between the women.
Abraham was 75 when he left Haran and 86 when Ishmael was born.  It would be another 14 years before God would fulfill his promise to Sarah and Abraham.
How hard and lonely those years must have been as Sarah watched Ishmael grow.
The Promise Renewed
God renews his promise to Abraham again in his 99th year, when Sarah was 90 herself.  He specifies that the promise includes Sarah this time!  God renames this Abraham and Sarah to as if the promise was fulfilled before they had proof of the promise.
After fifteen years, how hard was it to correct others and tell them no my name is now Sarah – because I will have a child. How many others in their camp thought that Abraham and Sarah were foolish?
Sarah herself laughed at the idea.  She herself found it hard to believe.  When the Lord came in disguise to visit Abraham, she laughed when the promise was given that she would have a son by that time next year. 
The Lord asked Sarah if she laughed, she said no. God called her on it, but God did not punish her. 
In the end, she did get the last laugh and God did keep his promise to her.  At the age of 90, she welcomed a son, Issac, to their home!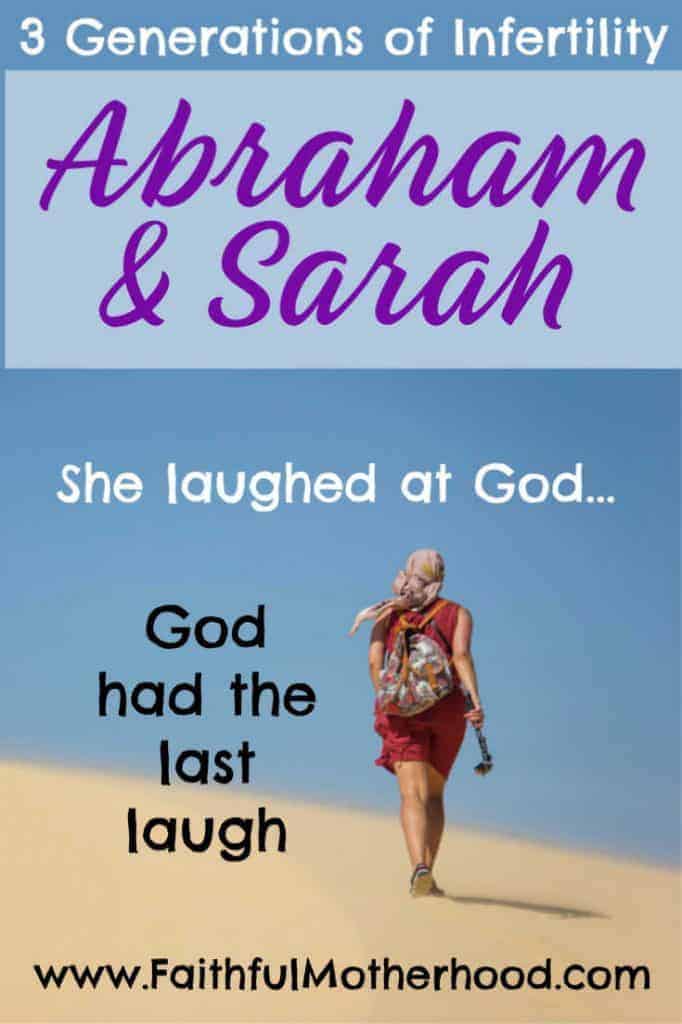 Why did God wait so long to open Sarah's womb?
The wait for Sarah and Abraham was long, very long.  What was God doing?  What was his plan in all of this waiting?
In our own times of waiting, we struggle with the same question.  We ask God, like Sarah, how much longer we will have to wait.
Sarah was an old woman when she bore Isaac.  It was clear to all those around her that God had worked a miracle! 
The long wait for a fulfilled miracle was a witness to generations of Israelites.  From her witness, they learn to remain faithful to God because He will make his promises come true even if it seems impossible. 
God does not forget His promises.  God is a miracle-working God.
Spiritual Impact of Infertility
Infertility is so much more than just the emptiness of the womb.  Infertility affects our relationship with God, it affects our feelings of self-worth, it affects our marriage, and it can affect those around us.  When we are battling infertility, we can have a hard hearing God's will and keeping our faith in his promises to us.
There are many lessons to learn from infertility in the Bible.  We learn from Sarah that when we force God's hand, it can have consequences that last for generations.  God had told her husband that the child was to come through Sarah, but they did not wait for the Lord.  The prediction given in scripture came true.  The descendants of Isaac and the descendants of Ishmael still war with each other to this day.
Abraham and Sarah had a promise from God for a child.  Oh, how wonderful that would be for those of us who are trying and hoping for a healthy pregnancy! 
What does waiting look like for you? What does forcing God's hand look like for you?  I don't know.  However we end up building our families, we must seek God's direction.
When dealing with infertility and miscarriage, we need to not just listen to the words our spouses say – but listen to what their heart is trying to tell us.  Imagine how the course of history would have been changed if Abraham had listened to Sarah's heart and not just her voice. 
If Abraham had heard her frustration and responded by reminding her of God's promise and encouraged her in staying strong.  When we are struggling to maintain hope in God's provision in our life, we need accountability to keep one another strong when we are feeling weak.
Draw Near to God
When the frustration of infertility and the grief of loss threaten to engulf us, we can distance ourselves from others.  We put up walls with our friends, our spouse, and with God. 
Fight against that feeling.  Draw near to God.  Fill your heart with God's word.  Let him speak to you through the real, broken people who we see in the pages of the Bible.
Infertility can be a lonely and frustrating path to walk.  Know that you are not alone.
The testimony of Biblical women who have walked that path can be found in the story of Sarah.  It is also found in the stories of her daughter-in-law, Rebekah, and her daughter-in-law, Rachel.  Three generations of Biblical women who struggled with years of infertility.
Don't forget to laugh.  Sarah laughed at what God said about her pregnancy. 
Infertility can drain your joy.  Choose to laugh.  Choose joy in the face of your grieving.
Lift up your voice to God and pray.  Never give up hope and listen for how God is going to answer your prayer. 
We are not guaranteed a child like Sarah.  Perhaps God will answer your prayers for a child in other ways.
Above all know that God sees you, God hears you, and God loves you.
You are not broken or forsaken. You are a child of the promise.
Three Generations of Infertility.  Next, read about the Second Generation of Infertility: Isaac & Rebekah.  Then, check out the story of the third generation: Jacob & Rachel.
Check out these Miscarriage or Infertility Resources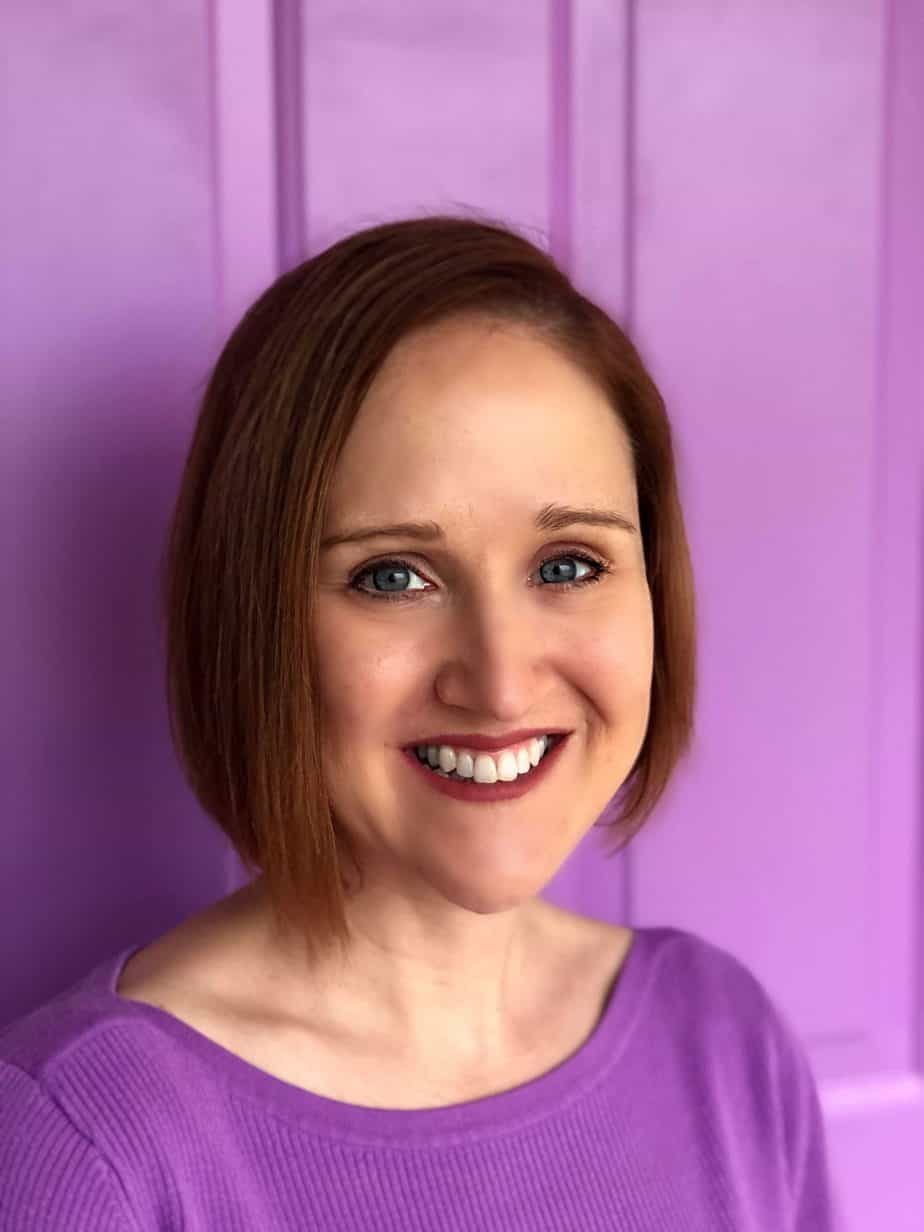 The voice behind FaithfulMotherhood.com is Jyn.  She is a veteran homeschool mom of three. More than just a pastor's wife, she holds a Master of Divinity degree and has served in church leadership for over 20 years.  Her passion is equipping parents to live out their calling as the number one faith influencer for their children. She longs to see moms empowered by God's Word and transferring that love to their children through daily Bible study and family devotions.