I did not know what family devotions were as a kid.  I did not know what family devotions were as a college student.  I never even heard about family devotions in seminary. 
It wasn't until I started looking at what really works in raising children of faith that I finally heard about Christian family devotions!  Every Christian family needs to know the power of family devotions and why their family needs to be doing them.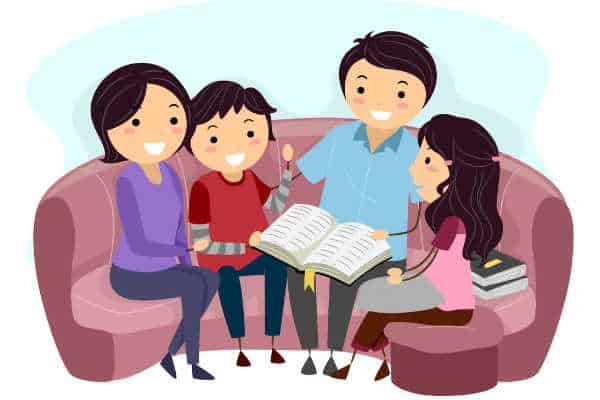 #1 What are Family Devotions?
Christian family devotions is the time that a family spends together in Bible study, worship, and/or prayer.
Some families incorporate all three of these elements.  Some families might rotate through different elements.  In all cases, each family is setting aside time from their day to focus on growing their faith together as a family.
Family Devotions are a way for a family to set aside intentional time to grow closer to Jesus and to grow closer together as a family.
Relate: What are Devotions & 7 Things You Need to Know to Get Started Today
#2 Why Do Family Devotions?
Most parents believe that the right youth group, the right church, or a dynamic youth pastor is the key to getting their child to be a faithful Christian.  This is absolutely not true.
The most important influence on a child's faith is a mom.  The second most influential person is the dad.  In fact, the senior pastor of your church is far more critical than the youth group or even the youth pastor.
What Mom and Dad do, and don't do, is vitally important to the faith development of their children. Parents, the people our children are most likely to catch faith from are us!
What we do, our children are likely to do.  What we don't do, our children are likely not to do.
Do you want your children to pray?  Are you praying?
Do you want your children to serve others?  Are you serving others?
Do you want your children to study the Bible?  Are you studying the Bible?
If fact, studying the Bible is a crucial skill and habit that we want to train our children in for their faith development.  Research shows that studying the Bible four times or more a week is a key habit for developing a Biblical worldview.
Today's families are insanely busy. When a family spends intentional time each day in Bible study or prayer, we are communicating that these activities are vitally important.  We are demonstrating to our children that we aren't just Christians on Sundays, but every day of the week.
Family Devotions call us to be intentional about living out the Gospel in our homes.  Are we practicing the fruit of the Spirit with one another?  Are mom and dad practicing confession and forgiveness? 
Are we all seeking to grow more in our faith?  Jesus' disciples went everywhere with him because it was understood that discipleship was a daily lifestyle of learning.
#3 What to Do During Family Devotions
The purpose of Christian family devotions is to help your family grow closer to Jesus.  In your different seasons of life and even in the different seasons of the year, family devotions will include different things.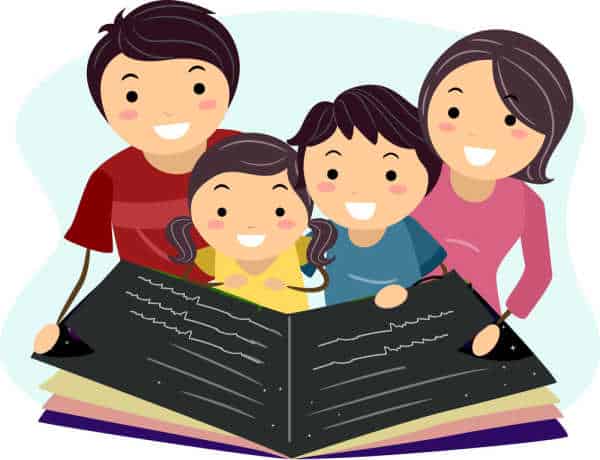 Family Devotions: Bible Study
Bible study is an invaluable part of family devotions, and there are several ways to incorporate Bible study.  A family can choose to just read a passage from the Bible every day.  They might start at the beginning of the Bible and work on reading through the whole Bible over the span of one to three years.  Or, they might start with one book.  The book of Proverbs has 31 chapters and is perfect for one chapter a day!
A book of family devotions is the preferred method for many families.  The guidance of a set passage or devotional with questions is the perfect way for their family to ease into family devotions.  There are books out there for different ages of children as well as different themes, like science-inspired devotional books.
Bible study can also be as easy as continuing to study the passage from Sunday's sermon at church.  Reading through a passage several times reveals new insights and questions.  This gives us a chance to meditate and ponder on the Word.
Check out: The Major Faith Impact by Doing This 4 Times a Week 
Family Devotions: Memorization
We are blessed as Christians when we hide the word of God in our hearts.  Memorization is a vital faith gift that we can give our children and ourselves.  We can spend time during our family devotions memorizing important verses or even passages.  My family likes to work on the Christmas story passage every year in December.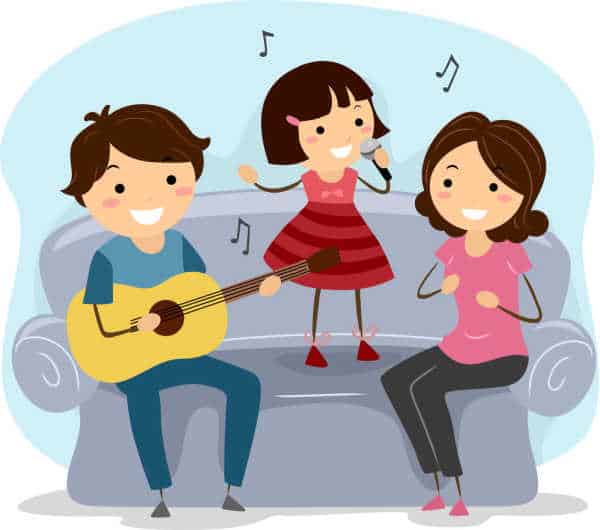 Memorizing hymns and other worship songs rich in theology is another idea to consider for your family devotion time.  Many hymns have rich symbolism in the words and imagery chosen for the verse.  Often, our children need to have us slow down and discuss each line for them to capture the meaning.
Consider memorizing important creeds, as well.  Although creeds are not a part of our church life, we have memorized the Apostle's Creed during our family devotions time.  Consider finding a catechism that matches with the theology of your church for memorization.  Catechisms are simply a question and answer that summarize essential theological points.
Related Posts:
5 Vital Reasons WHY Your Child Needs to Memorize the Books of the Bible
11 Effective Bible Verses on Being Kind for Kids
Family Devotions: Prayer
Prayer is an essential habit for our children to develop.  It is so hard for some children to understand, or even concentrate, when they can't physically hear God talking.  Remember that we are learning to pray.  Our children are learning, and we are learning too.  Prayer is a lifelong conversation.
During family devotions, we need to teach our children how to pray.  We can use a model like the Lord's Prayer. We can also use formulas like the A.C.T.S. Prayer to help us as a family, not just pray for our wants, but to have a well-rounded prayer life.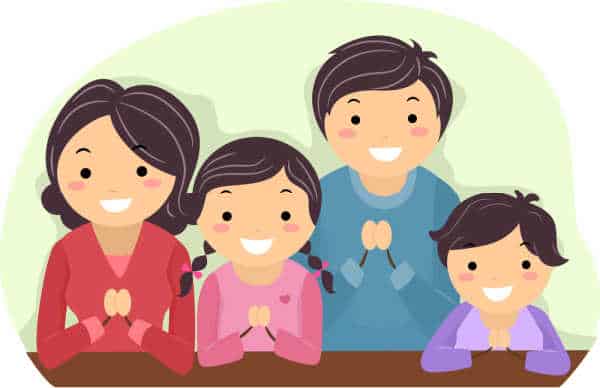 Check out: Simple 4 Step ACTS Prayer Method for Kids [Free Printable]
Praying together as a family builds our intimacy and trust.  We want to create a family culture in which we pray for guidance and reconciliation.  We want our children to have their default be to pray about a situation.  They are only going to learn to do that if we model it for them.
Prayer is also an important time for parents to pray blessings over their children.  It is powerful for children to hear their parents pray over them.
Family Devotions: Worship
Our family is NOT a singing family.  When we include hymns as part of our devotional time, we are always saying the words.  Some families have musical talent.  If this is your family, include music as a part of your devotional time.  Christian music is one of the top influencers on predicting faith that sticks in our children.
Worship is not just about singing.  Worship is about showing devotion to God.  We need to cultivate opportunities for our children to learn how to worship.
Related: 3 Powerful Christian Parenting Books for Discipleship
#3 How Long Do Family Devotions Need to Be?    
Do not try to include all of these different ideas into your family devotion time each night!  Pick a hymn to memorize for the month and add in prayer.  Pick a devotional book to use and pair it with prayer.  Follow along with the sermon series at church and pair it with prayer.
Even just five minutes a day is better than no time spent as a family in growing your faith.  If you consistently set aside fifteen minutes at your evening meal or before bedtime, your family will grow closer to God and closer to one another. Having easy family devotions is okay. Just start.
How to Get Started with Family Devotions
The key to getting started with family devotions is to start small and build the habit.  Start with simply gathering the family for prayer before bedtime. 
Then, add a book with family devotions or a short Bible passage.  The key is to make gathering together and doing something that focuses on building your family's faith a daily priority.
Making new habits is hard.  The Devil will likely attack you and try to dissuade you from this new habit.  Stick with it.  If you have a busy week and get off track, start back up again.  Keep at it.
Getting our families in the Word is a crucial part of building a family of faith.  If we want our children to be passionate followers of Jesus, we need to make room for Jesus in our daily lives.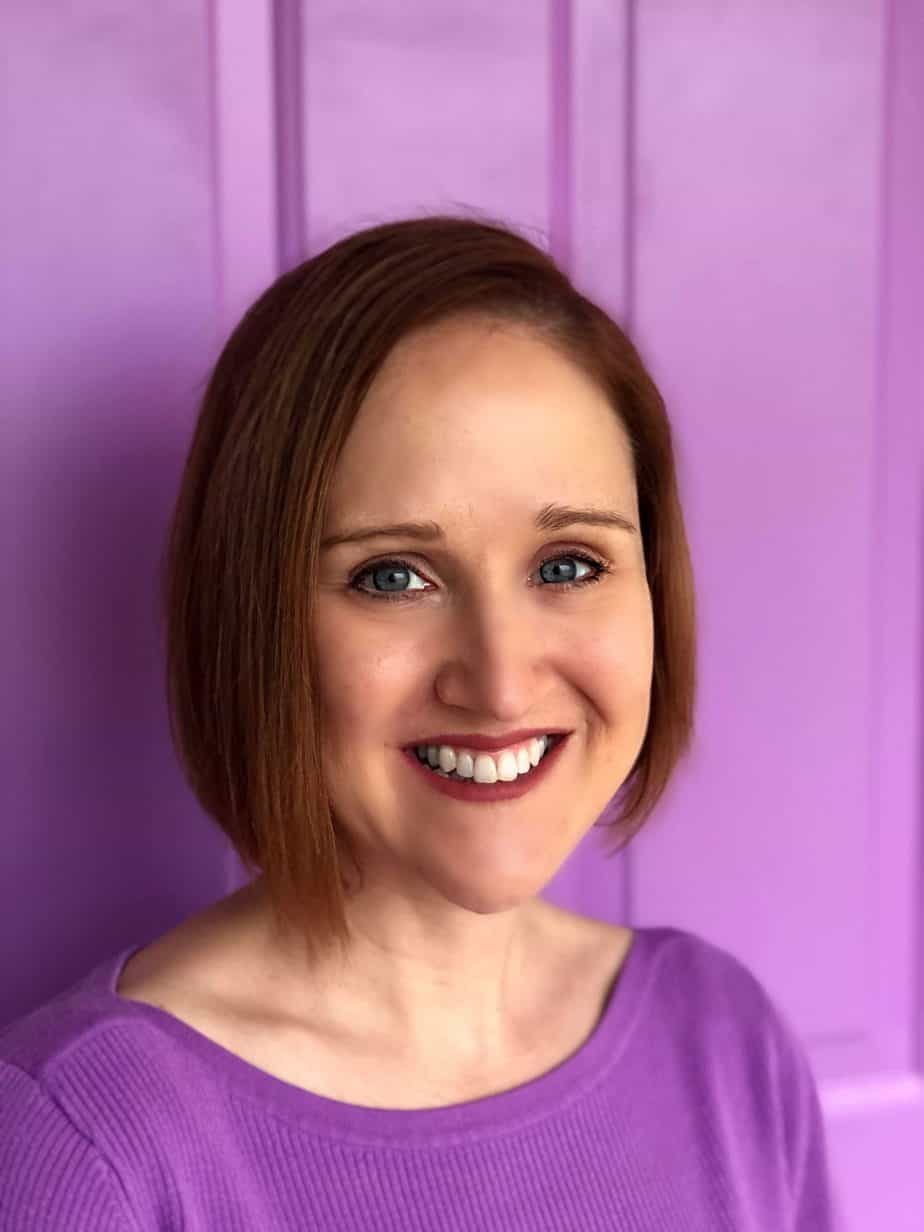 The voice behind FaithfulMotherhood.com is Jyn.  She is a veteran homeschool mom of three. More than just a pastor's wife, she holds a Master of Divinity degree and has served in church leadership for over 20 years.  Her passion is equipping parents to live out their calling as the number one faith influencer for their children. She longs to see moms empowered by God's Word and transferring that love to their children through daily Bible study and family devotions.