Mommy, why did God make me short?  How do you offer words of spiritual comfort for a short child? I know this is a bridge that we are going to have to cross in our household. I know that this child will need some encouragement and a Biblical lesson for a short child.
Our son is short.  As in the less than 5% on the growth scale short.  It didn't seem to bother anyone else really but his dad and I.  Deep down in my mommy's gut, I knew something was off.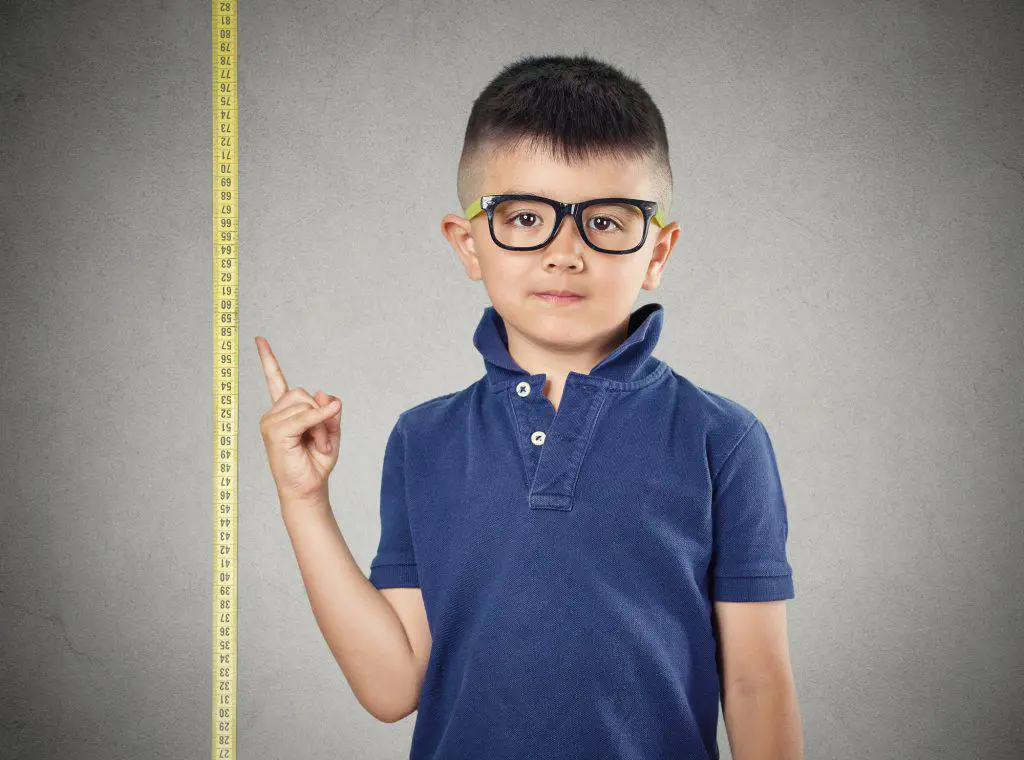 We were finally able to have him tested, and he is behind.  His bones are two years younger than he is.  He should achieve a normally predicted height based on my height and my husband's, but he is going to hit all his growth spurts about two years after his peers.
That is comforting to us but – in the meantime, it is hard in the day-to-day to be different from your peers. You want to comfort your short child. Our kids want to be like everyone else, but each one of us is made to be unique and to stand out.
#1 Just Because Someone is Taller, Doesn't Mean They are Better
The most important Biblical lesson for a short child is to know that just because someone is taller, doesn't mean that they are better!
When the people of God were ready to become a nation, they wanted a king like all the other nations around them.  The prophet Samuel was the spiritual leader at the time, and the people were afraid of what would happen when he died.  Samuel prayed to God.
God was not happy with the people, but he directed Samuel to appoint a king for them.  This king came with a warning, however.  God told Samuel to warn the people that a king would take a portion of that they had: food, land, and children.  You will become like slaves, they were warned.  They did not listen.
So God directed Samuel to choose Saul.  Saul looked every bit the part of a king.  The Bible tells us he stood a head taller than anyone else.
People then, like today, focused on his appearance.  They assumed because of his height; he would be brave and strong.  They believed that somehow his height would make him wiser and more intelligent. 
They overlooked the fact that he was hiding in the baggage because he was afraid to become the king. Comfort your short child with the knowledge that height isn't everything.
#2 Character is More Important than Physical Appearance
The people picked the tallest one to lead them, and that didn't turn out so well. God doesn't pick us based on our physical appearance. The important Biblical lesson for a short child is that character is more important to God than appearance.
Saul wanted to be a great king, but he made lots of poor choices that lead him away from God.  He broke God's laws again and again.  God choose a new leader for Israel.
Samuel was sent again to the tribe of Benjamin, the smallest tribe of Israel.  Samuel was led by God to the house of Jesse.  Honored, Jesse lined up all of his sons – well almost all of his sons.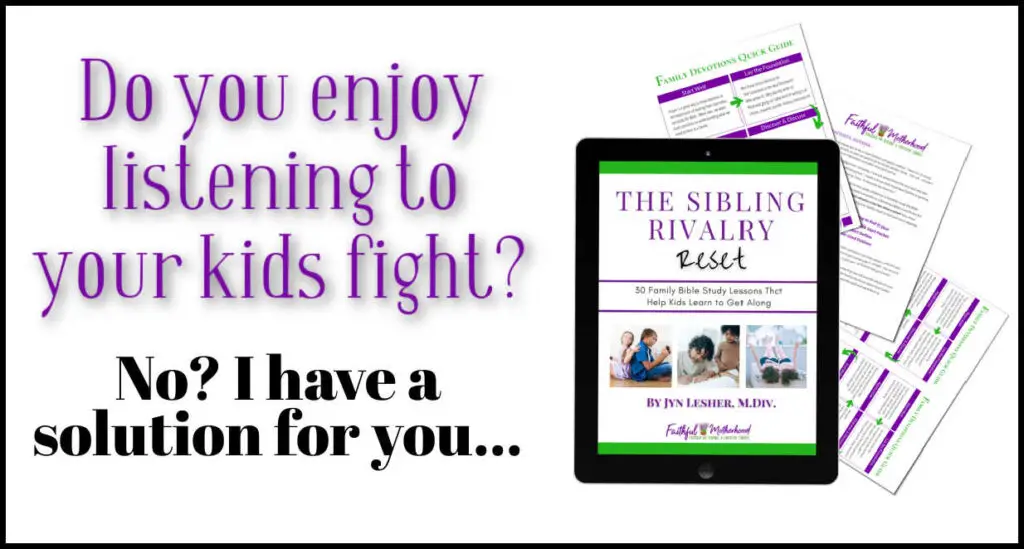 God did not choose the oldest, which is who the rest of the world would have preferred.  He did not select the next one or even the next one.  Samuel asked if there were more sons. Yeah, the youngest is in the fields.
When David arrived, Samuel declared that he was the one.  The youngest, the smallest of the sons was chosen to become the new king of Israel.
Bible Lesson #3 Sometimes God Chooses the Smallest
David's three big brothers were in fighting in the war.  David was too little and too young to go off to battle.  Instead, he was in charge of the sheep and running food to his brothers. 
While on one of his deliveries to his brothers at the army camp, he realizes that no one is willing to go up against Goliath. Boldly, David volunteers to go.
They dressed David up in all the garments of a professional soldier: a heavy bronze helmet, an unwieldy coat of armor, and the weighty king's sword fastened around him.  It was awkward and cumbersome for David.  He was much too small for it.
Staying true to himself, David instead chooses a sling and 5 smooth stones.  David relied on the gifts God had given him. 
He was quick and agile.  He didn't have to be a giant to defeat the enemy's giant, David could be himself.  The biblical lesson for a short child here is that God sometimes chooses you because you are the smallest.
Other men who were taller, older, and more experienced were not brave enough to answer the call, but David trusted in God and obeyed. Comfort your child with the knowledge that God uses short people in mighty ways.

#4 The Size of our God is More Important than Our Size
Goliath made fun of David.  He despised him because of his size.  Our children will encounter people who dislike them because of their size.  It will be hard.
Goliath was a bully. With his imposing size and his harsh words, David had reason to be afraid, but he was not. 
We will all encounter bullies. Do not forget this Biblical lesson for a short child that God is bigger than all our enemies.
David rushed to the battle line because he trusted in God.  His bold faith in God, allowed him to defeat a giant.  His faithfulness inspired a nation and an army.
#5 David's Bravery was Magnified by His Short Stature
David has experience in dealing with wild animals.  He knew how to use his sling and rocks.  He was strong and physically aware.  We ought to equip our children to be strong and physically aware as well.
As parents, we ought to equip them to sidestep, flee, or disarm those that come against them.  Equip them, if necessary, to defend themselves when they are not called to turn the other cheek.
David was not afraid to stand up for God in the face of a giant when everyone else was afraid to do so.  David had experience standing up to wild animals and to his brothers.  These challenges helped prepare him mentally, physically, and spiritually to stand up for God's name when called upon.
Comfort your short child & equip them to deal with bullying. We must not allow bullying.  Yet, when it happens, we can equip our children to recognize the spiritual battle that is waging as well.
Bible Lesson #6 Zacchaeus was Short But It Didn't Stop Him
Zacchaeus was a wee little man.  He would have grown up as a short child too.  He was looked down on for being a tax collector.
We don't know why he was a tax collector.  Was it because of his size?  Was it harder for him to do this physical labor of farming or a trade?  
Zacchaeus didn't fit in with the popular crowd for lots of reasons.  However, he didn't let that keep him from Jesus.  Zacchaeus was short but he was willing to climb a tree to see Jesus.
What is the biblical lesson for a short child here? Do not let the opinions of others, or the worry about what they will think of you, keep you from seeing Jesus.
Zacchaeus was a spiritual hero too. He had to be very brave to admit his sins in front of all the people.   Humility was needed to climb a tree to see Jesus.  Great boldness was needed to follow Jesus with the financial and social costs that he would endure.
The Final Biblical Lesson for a Short Child…
#7 Spiritual Giants are Judged by the Size of their Faith
God can, and does, use all sizes to bring glory to His name.  God has great plans for all His children, whether it is a short child or a tall child. 
If fact, what the world considers weakness, God will often use in miraculous ways. Each one of us is created in the image of God. The Bible tells us that we were knit together in our mother's womb. God loves us just the way we are.
What gifts and skills do you see in your child? Instead of focusing on where they don't measure up, encourage them to focus on the gifts and skills that God has given them to serve others.
Related Posts:
How to Effectively Teach Your Child About Christ
How Do I Know If My Child is Saved?
How to Teach Your Son to Be Chivalrous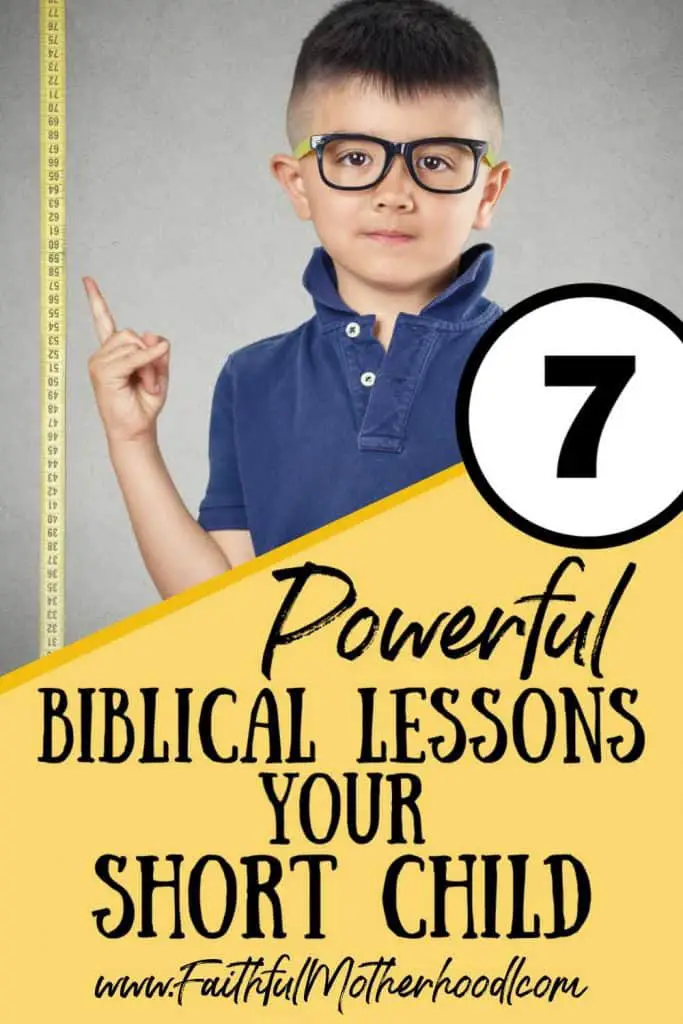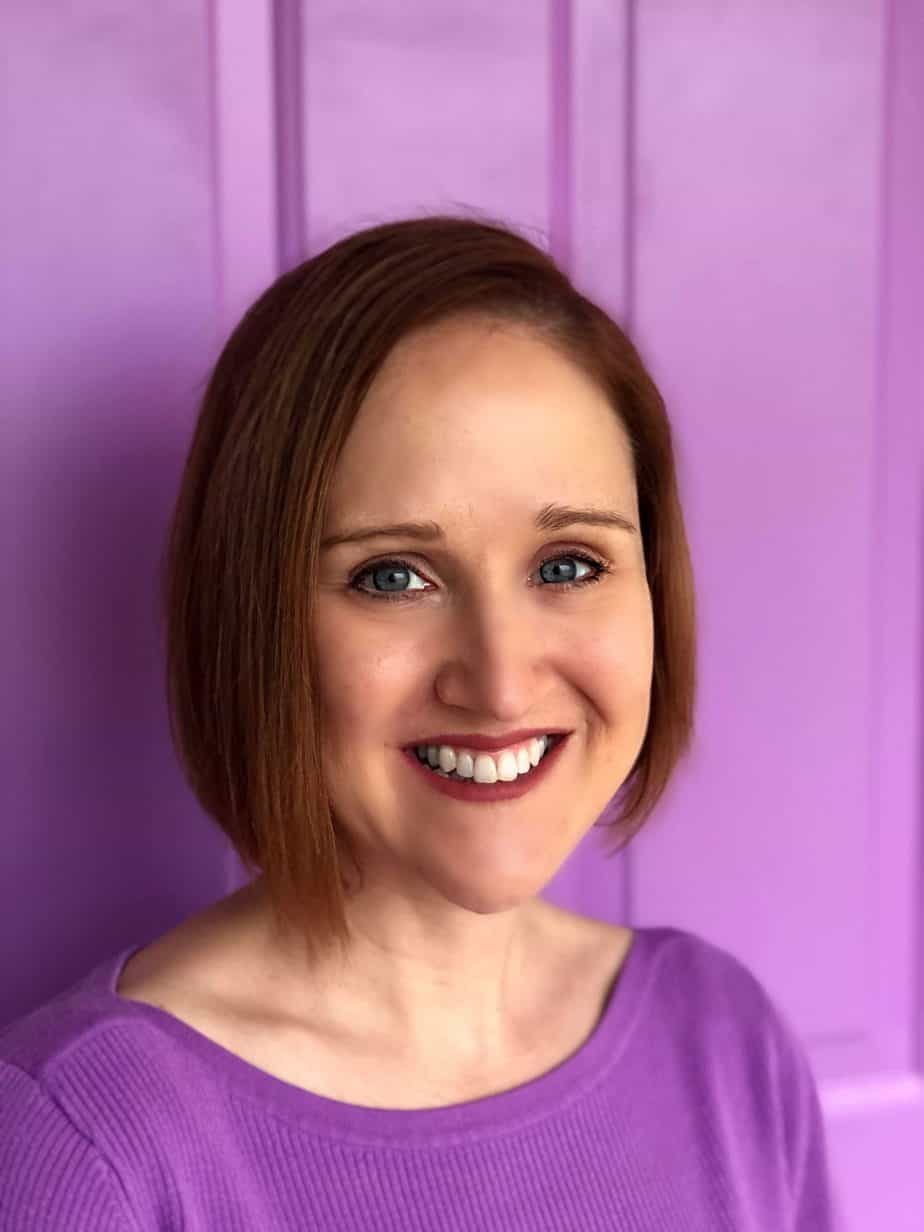 The voice behind FaithfulMotherhood.com is Jyn.  She is a veteran homeschool mom of three. More than just a pastor's wife, she holds a Master of Divinity degree and has served in church leadership for over 20 years.  Her passion is equipping parents to live out their calling as the number one faith influencer for their children. She longs to see moms empowered by God's Word and transferring that love to their children through daily Bible study and family devotions.