"…Women should adorn themselves in respectable apparel, with modesty and self-control, not with braided hair and

gold or pearls or costly attire
but with what is proper for women who profess godliness – with good works." – 1 Timothy 2:9-10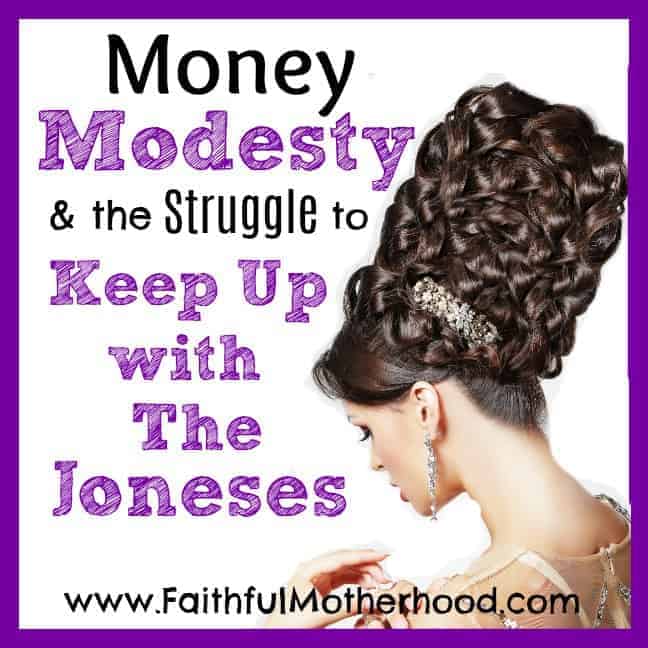 Modesty starts off on the inside, not on the outside.  The root of modesty is fundamentally a heart issue.  It is a desire to have other focus on you and influence how they feel about you.  Pay attention to me! Look at my figure! Look at my things! (This is the issue of money modesty.) These are the cries of immodesty.
We want to be noticed, cherished, and valued.  I don't think those feelings and desires are wrong.  In fact, I think these desires are part of how God created us.  In truth, we find the ultimate fulfillment of the desires of our heart in God.  We should feel loved and cherished by our families.  We should feel loved and cherished by our spouses.  However, we are sinners and live in a broken world.  So many people are lonely and feel forgotten and overlooked.  Know that God loves you and you are His beloved.
Busy & Broken
We live lives that are so busy that it is hard to get noticed.  People don't stop and notice the roses because they are rushing from here to there.  We bury our noses in our phones, and we fail to look up and see those around us.
Our material quest for self-gratification makes it hard for us to truly value others.  Our over-sexualized culture reduces people to their parts and their performance.  It makes it hard to cherish someone without the hint of the pervasive transactional nature of our society.
We can cry "look at me" with the length of our hemlines or the dip in our cleavage.  We can also cry "look at me" with our money as well. GotQuestions.org writes that modesty is a heart issue, regardless of what we wear.  Modesty can be an issue in how expensive our clothes are as well.
Money Modesty? What is that?
In our continuing discussion of modesty, I want to address money modesty.  We don't often talk about this, do we?  We speak of wealth and faith, but we don't usually look at it through the lens of modesty.  Yet, here in Timothy, we are warned against having an expensive, costly appearance. In other words, Paul is encouraging money modesty.  I would say that is principle applies as well to how we present ourselves to the world in other ways as well.  Not just our clothes, but our homes, our cars, our toys.
Money Modesty of Braided Hair
If I were at the grocery store today, I am not going to find many women with braided updos.  I might encounter some girls with their hair braided.  For moms, this is a great way to get their hair up and out-of-the-way.  It stays cleaner, it is off their neck, catches all those wisps.  For some braiding is a way to tame their manes in a way that is efficient and beautiful. Occasionally I see women with long braided hair and based on their dress; I assume it is a religious conviction.
None of these examples are related to the problem about which Paul is instructing Timothy.  In Timothy's context, wealthy women would have these elaborate braided hairstyles.  In that day, women had hairdressers, not hair cutters because they didn't cut their hair.  Women wore their hair long.  Of course, women being women had to find a way to make it fancier, prettier, or better. [Check out some of the hairdos here.]
If you were a woman of lower means, you had to work to do, and you didn't have time to bother with your hair.  If you were a wealthy woman who had servants to do the work of your household, as was expected, you had more free time on your hands.  One of the ways this time was spent was on elaborate braided creations. The expense of these costly hair creations was an issue of money modesty.
How much time & money do you spend on your hair?
We have our own versions of this today.  I am a practical-minded person.  I have had a variety of hairstyles of different lengths and even a few perms. The oft-repeated request to my hairdressers has been that I want it to be easy to take care of and be quick to do in the morning.  I envy those women who look great in bangs and ponytails.  They can brush their hair and put it up in quickly.
My husband went on a trip to a mission trip to the rural areas of Kenya.  The women's heads were shaved, and a local pastor explained that it takes money to have hair.  The next step up from having a bare head was not to grow one's own hair but to purchase wigs.  One of the pastors, who served a larger congregation and who ran a business along with his wife, had a wife with a beautiful, cute bob.  It was a wig. Real hair was a sign of wealth because of all of the money it took to maintain.
My first Awareness of Money Modesty
One Sunday in college, I was going to attend church with my college roommate.  I put on a black pencil skirt from Wal-Mart that hit below the knee.  I had on black hose and low heeled black pumps from Payless Shoes.  To that, I added a cowl-necked fuchsia sweater that I had found at a second-hand store.  My roommate instructed me to change clothes because I was dressed too fancy for her church.  Of course, I changed into something more casual.  She was right; I would have stood out at church.
Ironically my outfit didn't cost any more than the clothes that she was wearing to church, yet they looked like they did.  I was dressed in what would have been perfectly normal at my church.  Moreover, I intended to dress with modesty by making sure that I covered.  However, we can be covered from head to toe and be economically immodest.
Money Modesty is Nuanced
One of the observations from my husband's Kenyan trip was how well dressed everyone was for worship, even in a church building with stick walls and a dirt floor. Church members put on their best for worship.    Such a contrast with our congregation where the surrounding would appear to them like a beautiful cathedral but our dress is markedly casual.
For my husband to have shown up for worship without a suit in Kenya, would have detracted from the spreading of the gospel.  Yet, in some churches in the United States for the pastor to wear a suit detracts from the gospel.  In putting the Gospel first, we always have to be sensitive to the people we are serving.  Money modesty looks different in each situation.
"not with braided hair and gold or pearls or costly attire"
We have to look at what was going on in Timothy's church in Ephesus.  Expensive hair.  Expensive jewelry. Costly clothes.  There was a problem with women coming to worship and flaunting their wealth.  It was a distraction from worship.  The focus of worship is on God.  If we are drawing attention to ourselves, we are being immodest.
Some schools have uniforms to promote the unity of the school and to limit the economic, social cliques that come with the fact that different households can have significantly different resources. Yet, even in those situations, students will try to set themselves apart with the price of the shoes that they wear.
The Danger of Ignoring Money Modesty
A fancy name for our overindulgence is conspicuous Christian consumption.  The dictionary defines conspicuous as something that is very noticeable, obvious visual/mentally, or attracting particular attention. Remember that at the root of immodesty is the call for others to pay attention to us.  Look at me! We are proclaiming this to the world when engaging in the quest to keep up with the Jones. When is enough?  What is enough? Will we ever feel like we are good enough or worthiness by accumulating things?
It is fascinating to me how some wealthier households are oblivious to the struggles of those less off. There are families whose monthly clothing cost exceed the grocery bills of others.  If your family is healthy, you have no idea how expensive being unhealthy can be.  If a member of your household has to eat a special diet, your grocery bill can rise dramatically.  Christian compassion should compel us to stop and think about how much "extra" some people genuinely don't have.
Conspicuous Christian consumption puts Christians in a situation where we are out of touch with most of the world.  It makes one susceptible to and feeds the ideas of the prosperity gospel.  It makes your proclamations of the gospel less authentic to the ears of those less well off.
How does it affect us in church?
"Why do we have to do so many fundraisers, can't we just all write a check for camp?" Actually, no my family can't.  We can't afford camp fees for all three of our children plus to have one of us attend as a counselor for one of those camps.  No, it isn't because my kids are going to a host of other camps and church camp isn't at the top of our priority list.  Church camp is the only camp that they go to during the summer.  Take a close look at how expensive it is to faithfully participate in all the children's & youth activities at your church? Does it add up?  Some families WILL NOT ask for help with these expenses. Instead, they will choose not to participate.  We show Christian hospitality when we are sensitive to making sure that all families are included.
Look around at your church.  Are people expected to dress a particular way to fit in with the others?  Our knee-jerk reaction is to say no, but I urge you to look deeper.  Shoes are an insightful place to start.  Notice what the teenagers are wearing on their feet.  Did those shoes come from a stand-alone shoe store or Wal-Mart?  Did they have to drive out-of-town to get those shoes?
Next, pay attention to what those youth are doing on their breaks.  Is everyone headed somewhere else for spring break? Who is left behind?  If you pay attention, you can find economic cliques in so many churches.  These divisions are not the fruit of the gospel and promote brokenness in the body.

What would Jesus wear?
What we were is an expression of what we value.  Clothing is one of those things that set us apart from all other creatures on the planet.  Clothing was the result of sin entering the world.  In the garden, Adam and Eve were naked and unafraid.  After sin, they hid because they were naked and ashamed.  Lovingly God crafted clothing for them to cover themselves.  Today, we have come a long way from fig leaves.
Back in my day, prom was a lot less expensive.  We transformed the local school gymnasium or 4-H Hall into whatever theme was voted on for that year.  A dress was purchased off the rack.  Maybe some of the girls from more well-off families might order their dresses.  We would dress up and then go to a restaurant for supper beforehand.  Nothing expensive, but expensive on a teenager's salary.
Fast forward and things have changed.  The local seamstress is booked with prom alternations during the season.  Girls not only have fancy prom dresses but they have to buy expensive pre-prom dresses as well.  More and more layers of one-upmanship are added to the occasion.
Eighth-grade graduation is a big deal in one town in which we have lived. One might expect a lovely church dress for the occasion.  Nope.  The girls had fancy dresses, make-up, and hairdos to rival prom.  (There was no dance, just a graduation ceremony.) Smiling proud photos were shared on Facebook.  Not a simple dress in sight.
Do I think there were none at the graduation?  No, I know the economics of this area – I am sure that there were.  Yet, none of the photos I saw included a simple dress. What we choose to wear can build bridges, or it can create a divide that is hard to cross.  As Christians we are called to reach out to the poor, the lonely, and the forgotten – does our economic immodesty hinder us?
Draw attention to Jesus, not to Us
When Christians participate in this overconsumption, we aren't just "fitting in"  – we are actively promoting a culture of exclusion and focus on material things.  Chiefly, our call as Christians is to draw others to Christ.  We are to enjoy life, but not to make things in this life an idol.
By participating in the conspicuous consumption we limit our friendships, we restrict who we will spend time with and influence.  Furthermore, we create unnecessary barriers to the gospel.
Think about the impact one group of friends could have if they had forgone the dresses and donated those funds to a cause for which they had a shared passion.  It would have deepened their friendship and made a more lasting impact.
Just because you can afford to buy something, doesn't mean that we should.  Will we exercise economic modest? Or, will we be known for conspicuous consumption? All that we have is a gift from God; we are just stewards.  Will we use those resources to draw others to Jesus?  Will those resources exclude?  Someday will we hear:  "well done, good and faithful servant?"
Continue the modesty conversation here at FaithfulMotherhood.com
Is Length the Heart of Modesty?
Focus on Strength: Christian women & Exercise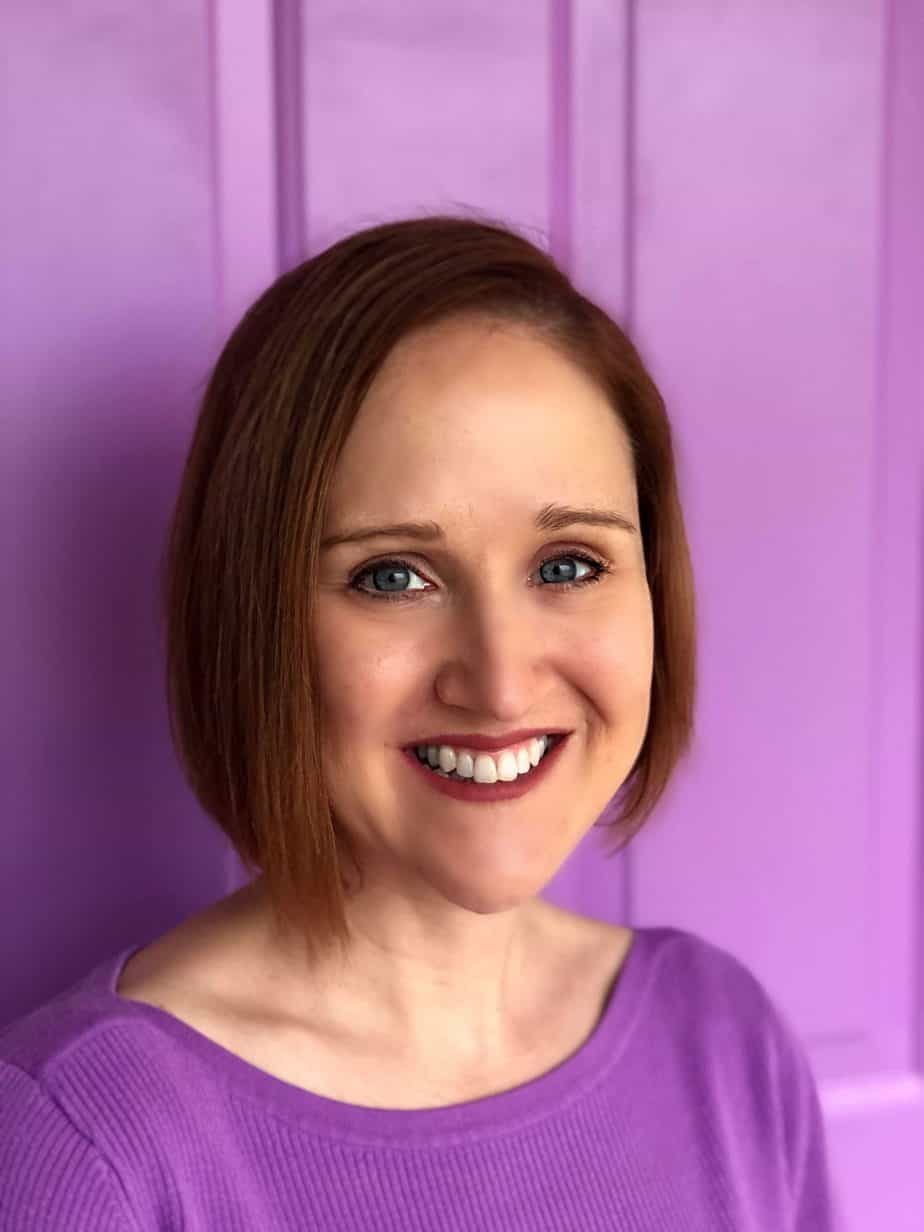 The voice behind FaithfulMotherhood.com is Jyn.  She is a veteran homeschool mom of three. More than just a pastor's wife, she holds a Master of Divinity degree and has served in church leadership for over 20 years.  Her passion is equipping parents to live out their calling as the number one faith influencer for their children. She longs to see moms empowered by God's Word and transferring that love to their children through daily Bible study and family devotions.