Here, there, and everywhere.  All moms spend a lot of time in our cars.  Save your sanity with some time tested mom car hacks to make life less stressful.
You are ferrying kids to this practice and that practice.  We are going back and forth to school or homeschool co-op.  We are going to the store, to church, and tons of other places.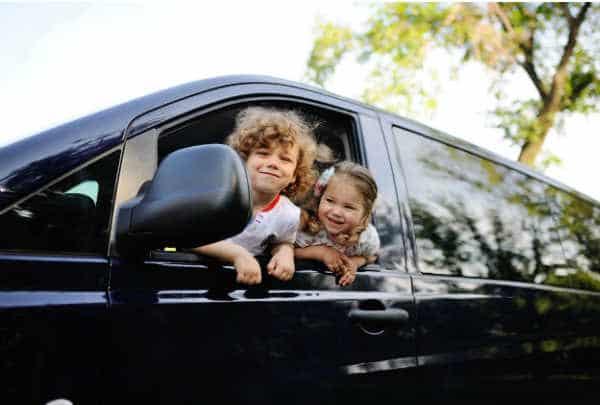 We even subject our car to taking our children on vacation in it.  A significant part of mom life is lived in the car.  You need some car organization hacks to make your life less stressful and to meet all of the challenges that kids throw your way.
Here are my mom car hacks to keep our car life smoother, cleaner, and more organized. These car organization hacks will make sure you have what you need on hand for your family.
Mom Car Hacks: Create a Healthier Car
Excedrin
Advil
Tylenol
Benadryl
Kleenex
Hand sanitizer
Tampons
Band-Aids
A key part of car organization for mothers is to have what you need on hand to keep you and your family healthy. Bumps, bruises, and minor health things are common with kids.
Loud kids? Fighting kids?  Being a parent can be busy and hard, sometimes you get headaches.  Have all your needed supplies with you to nip a headache in the bud before it sidelines you! 
Fight those germs from being out and about by handing that hand sanitizer around the car, because we don't have time to be sick.
The tampons are for you mom, not the kids – unless they are older.  Sometimes I am so busy that my period catches me by surprise. 
Keeping a stash of supplies in the car gives me comfort knowing that I always have back-ups.  Plus, it allows me to practice hospitality to other moms who get caught off guard too.
Mom Car Hacks: Make Your Ride Smoother/More Comfortable
Extra charger cords
Car blankets
Post-It notes
Extra clothes for Mom
Extra kids clothes: underwear & neutral colored elastic shorts for the younger set
Large Ziplock Bag (For Wet Items)
Pair of flip-flops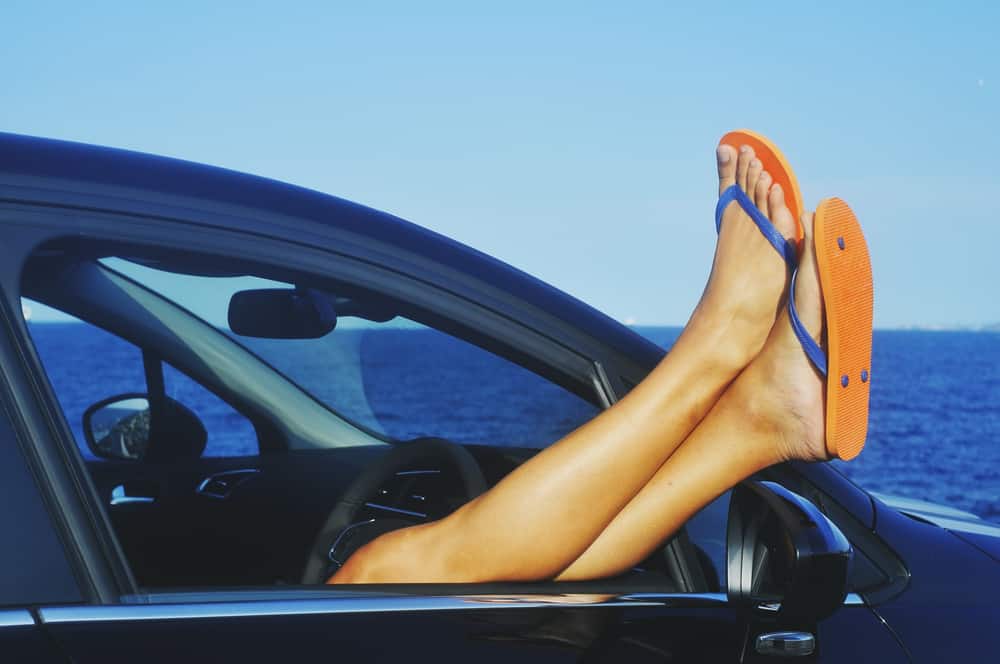 When you have a family, there are some things that you need to keep in your car just make things go more smoothly. These family car organization hacks go the extra step in reducing your stress and preparing for the unexpected.
I have a child who has medical devices that must be charged regularly.  I imagine that you have at least one phone that needs to be charged. 
We keep extra charging cords in the car that are ONLY for the vehicle.  They always live in the car.  It is one less thing that a tired mom has to think of when you head out. Extra chargers are super smart part of mom car organization.
My husband likes the car temperature set to Artic levels.  To keep the peace, we keep lap size car blankets in the car.  These blankets have served other functions as well. 
Folded up, they have been extra padding after a pee accident in a car seat. 
Is your child covered in mud after a soccer game?  Wrap that daughter up in that blanket and buckle her in. 
Shoes dirty after a hike? Set those shoes on the blanket and just put it in the wash when you get home. 
Cold practice or meeting, quickly grab a blanket from the car.
Experience has taught me to keep extra clothes.  I keep an extra t-shirt that I can wear, which will work on my daughters in a pinch too. 
We also keep a pair of underwear and a pair of kid's elastic shorts in the car as well.  Potty-trained children still have occasional accidents. 
Rambunctious and curious boys are dirt and water magnets. Having supplies on hand helps to keep mom calm and preserve the dignity of that child.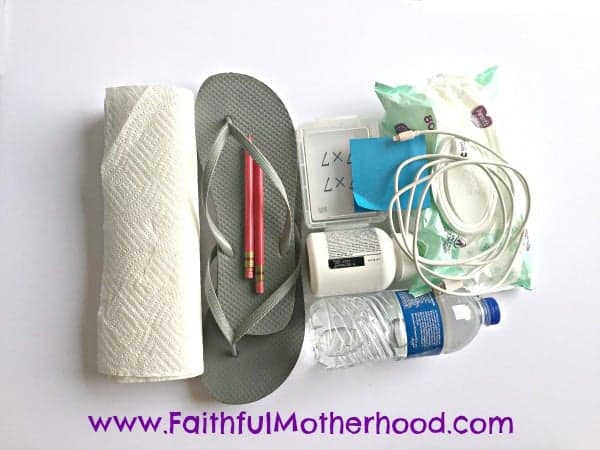 Post-it notes are a great help to the tired mom brain.  Write down the things you can't forget and have them posted right there on the radio.  Your life will go so much smoother when you are not working as hard to remember the important things.
Flip-flops?? I have one child that has arrived at the doctor's office at least THREE TIMES without shoes.  How do you get into the car and not realize that you are without shoes?  I even had one child forget their shoes in the winter when it was snowing!
Our solution is to keep a pair of black flip-flops in the back of the car.  They don't take up much room and are very forgiving of sizes.  Even in the winter, they are better than nothing.
Mom Car Hacks: Keep a Cleaner Family Car
Plastic grocery bags
Paper towel
Wet wipes
Two bottles of water
Cheap carpet hack
You need a place to collect garbage in the car. My ideal car would have a built-in garbage can and a mounted paper towel dispenser. 
I recycle about 5-10 plastic grocery bags by using them again in the car.  I hook the handles over the shifter in my minivan, and I have a free place right at hand to put the garbage.  It is cheap and easy to replace as well.
Do you keep paper towels in your car? I have found it to be invaluable. 
Mom, my nose is bleeding!  Mom, I just threw up!  Mom, I just spilled something!
I just hand back the roll of paper towel and then reach into my supply of grocery bags.  The bags are also excellent for containing messy or soiled clothes until you can get home as well.
Water bottles are good for that thirsty child.  They are also great for an impromptu shower due to a potty accident or car sickness. 
Sometimes you don't have time to go home, and you have to get cleaned up as best as you can where you are at.  There are many times I have been so grateful for the extra water bottles in the car.
Wet wipes are not just for babies; we use them for all kinds of cleaning in the car.
Cheap Carpet Hack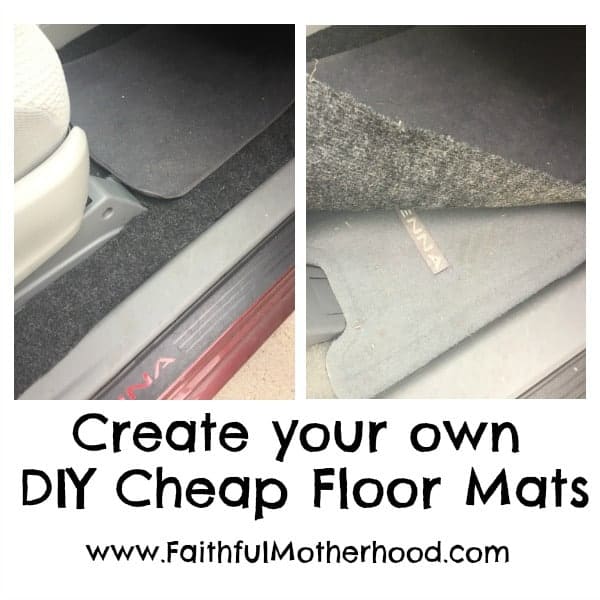 When we bought our minivan, we sank all the extra funds we had into it.  We plan to drive the van almost until the wheels fall off.  We knew that we needed something to protect the floors, but we didn't have the money to splurge on fancy fitted rubber car mats.
So, I headed to Lowes and bought a yard of the super cheap carpet on a roll.  Then, I proceeded to cut a second layer of carpet to go over the installed carpet in the car. 
I pull them out and shake them when they are dirty.  I can toss them in the washing machine when they are sticky or muddy.
The only challenge is the driver's side area.  (Either splurge for a fancy mat there or make sure that the carpet is fastened down someway so that it doesn't interfere with your driving pedals.)
My cheap DIY carpet has been fabulous!  If the kids ever did something even crazier, it is affordable to replace them again.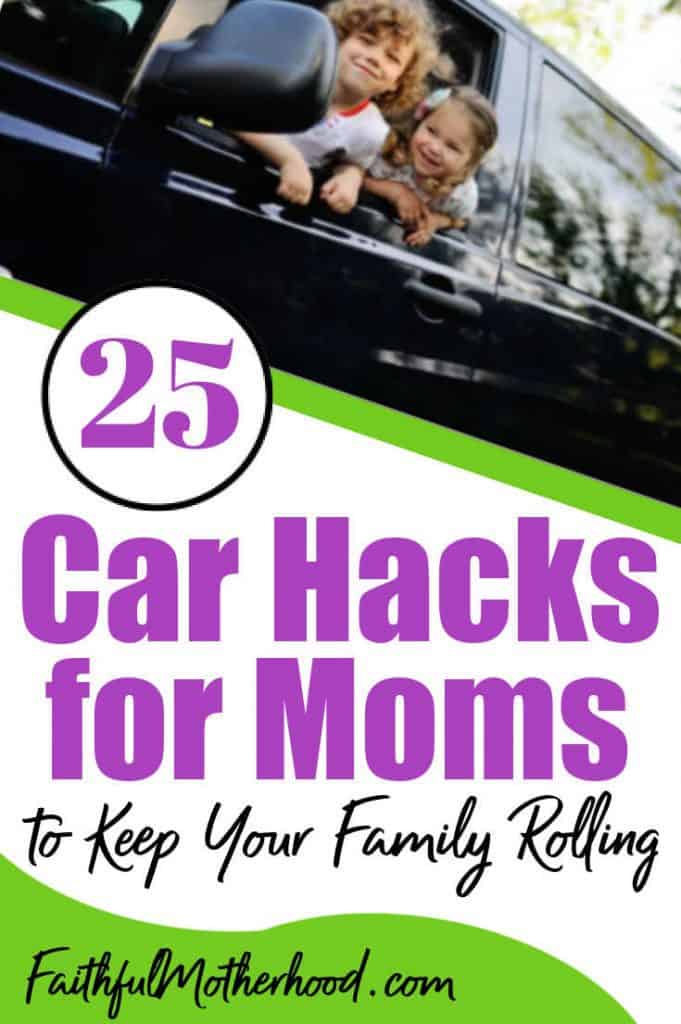 Mom Car Hacks: Smarter Car
Extra pens & pencils
Learning CDs
Flashing Cards – Math, etc.
Busy Bag (NO CRAYONS, colored pencils)
You don't need to be a homeschool mom to be able to use car time as school time.  First, don't let your kids zone out on their devices! 
Keep learning Cds in the car to listen to as a family.  It could be a book, math facts songs, or Bible verses.  Stock up on flash cards: math facts, spelling words, Bible memory work – you name it.
Homework sometimes needs to happen in the car.  Don't fall for the "I don't have a pencil" routine. 
My kids know that mom always has them covered so they can get it done! Keep a stash of mechanical pencils where you can quickly grab one and hand it back.
For the younger set, create a busy bag.  We keep a reusable flat-bottomed grocery bag in our car filled it items to keep our little guy busy.  In it, I have coloring books, 2-3 cars, two or three books, an emergency bag of non-perishable snacks, etc.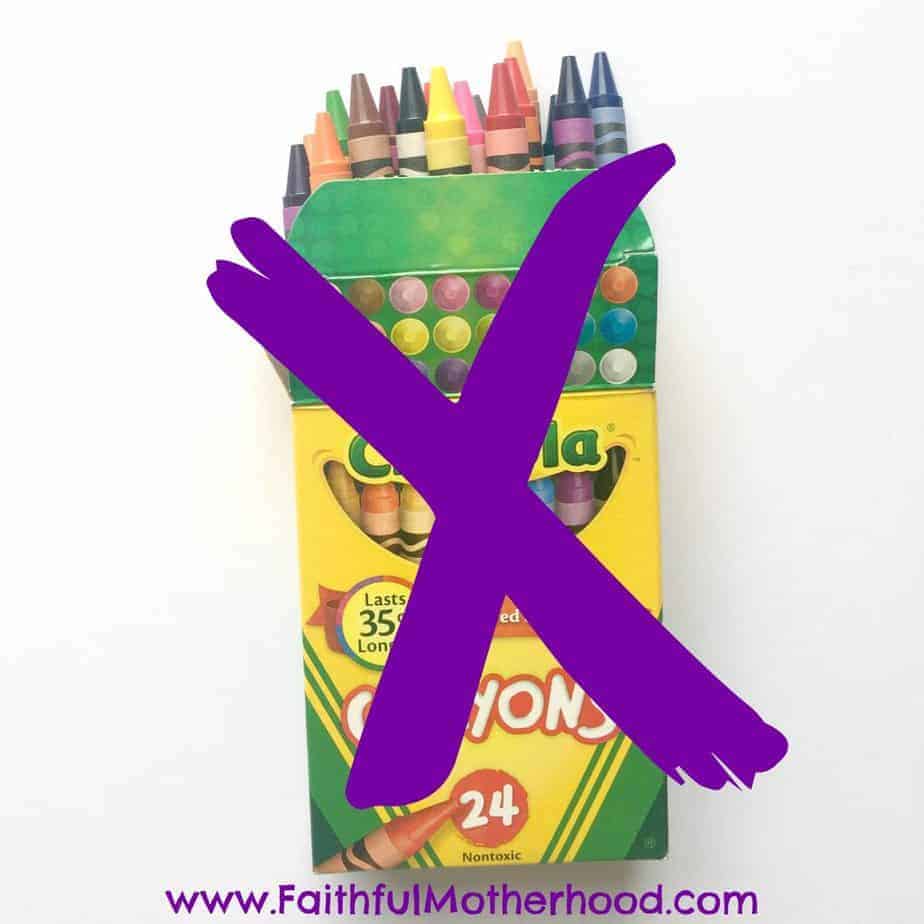 What will you not find in it? CRAYONS.  Why? They melt. 
I don't want to have to deal with that mess or even think about it.  We use colored pencils in our busy bag and then can use it all year round.
The awesome thing about busy bags, they don't have to stay in the car.  One Sunday at church, children's church was suddenly canceled.  I didn't panic; I merely went out to my car grabbed the busy bag and headed right back into worship. 
I knew I already had a stash of quiet activities to keep my little one occupied while sitting.
Sanity Savers: Mom Car Hacks for Happier Moms & Kids
I hope these car mom hacks help save your sanity in the car.  All types of families spend so much time these days traveling in the car. 
Smoother car rides make it easier to get through life and have fun rather than focus on our frustrations. After all, we want to be the mom, not the maid continually cleaning messes. 
With a few hacks, you can focus on quality family time in the car.  Keeping handy supplies at hand in the car will keep the messes and drama to a minimum to keep your family rolling and humming.
Do you have any other mom car hacks that you love?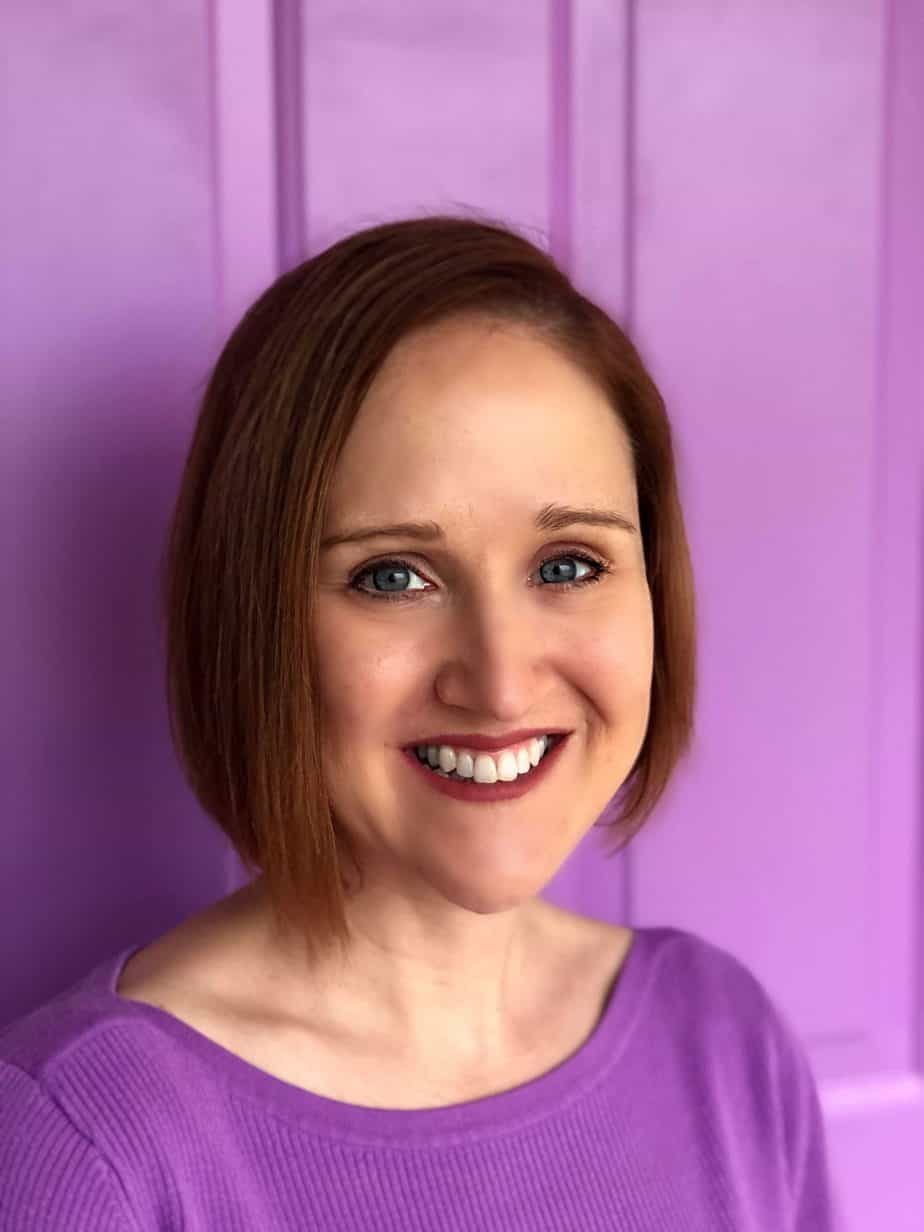 The voice behind FaithfulMotherhood.com is Jyn.  She is a veteran homeschool mom of three. More than just a pastor's wife, she holds a Master of Divinity degree and has served in church leadership for over 20 years.  Her passion is equipping parents to live out their calling as the number one faith influencer for their children. She longs to see moms empowered by God's Word and transferring that love to their children through daily Bible study and family devotions.