Overwhelmed by laundry? Discover how to cut down on laundry with laundry hacks for busy moms. These laundry tips and tricks will not only reduce your laundry but transform how you and children look at their clothing.
Clothes, clothes, and more clothes everywhere. Does it seem like the laundry in your home is never-ending? Some days, I can finish up the laundry for the day and find that another load has accumulated over the course of the day.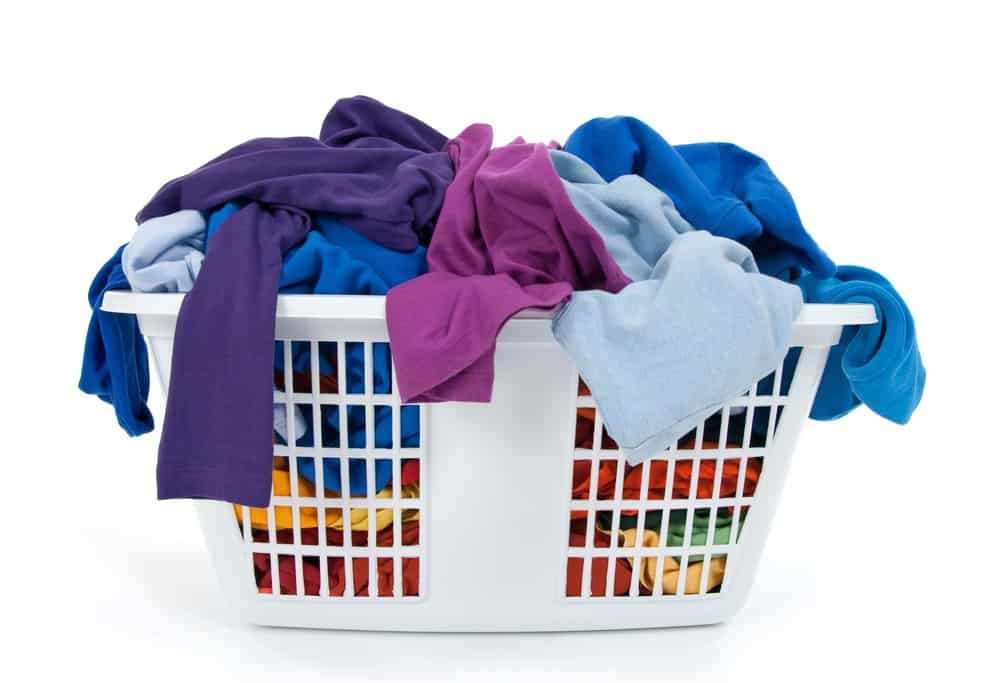 Laundry is a never-ending job.  Thankfully you don't need to be overwhelmed by laundry, I have some time-tested laundry hacks and tips to save you time and money!
Have you ever wondered where all these clothes came from? Do you ever wonder if there are other people living in your house and slipping their laundry into yours?
Is there anything that can be done to reduce the amount of laundry? Yes, absolutely!
The Real Problem Behind Too Much Laundry
Too much laundry is a problem. As moms, we all experience the biggest problem for us: the time that it takes. We have so many responsibilities and tasks to complete that the piles of laundry taunt us and inspire us to wonder about how to reduce them.
It is important that we learn these laundry hacks and tips not just to save us time, but because there is a larger spiritual impact. Laundry is a problem for our budget and stewardship of what God has given us.
Too much laundry means that we use too much water, too much gas, and too much electricity. Reducing laundry can free up money in our budget for other important priorities.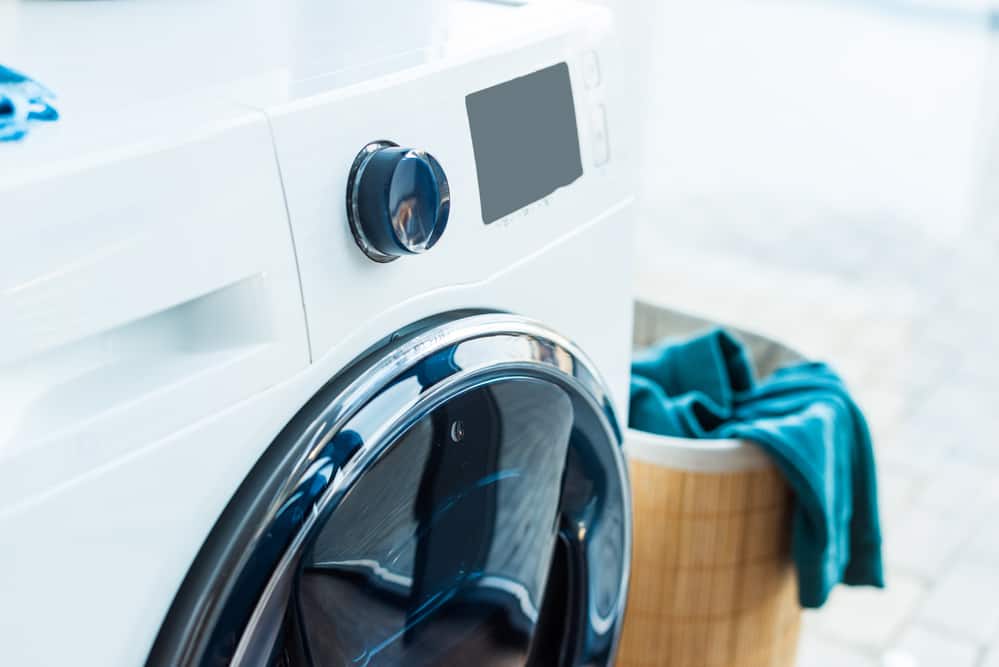 Too much laundry also means more wear and tear on our clothes. Every time a piece of clothing goes through the washing machine and dryer it loses some of its newness.
The more it is laundered, the more something will lose its color, shape, and size. The best laundry hacks are those that reduce the amount of laundry that you have to do!
When you have multiple kids and are handing clothes down, this is costing the family money long term. Too much laundry is wasteful too of the resources that God has provided.
Laundry Life Hack #1: Get your Family on Board
Share with them these three main problems with laundry: time-wasting, money-wasting, and stewardship. Our children do not naturally think about the ripple effects of their actions on others.
Encourage them to be good stewards of everyone's time. Equip them also to be good stewards of the physical things they have and to see all that they have as gifts from God to be stewarded.
Related Post: 7 Steps to Teach Kids to Declutter Biblically
Laundry Hack #2: Get your Family Involved
If you make the mess, you need to help clean the mess. We often don't appreciate how much time something takes until we have to do the task ourselves.
Laundry is an important life skill. Train your children in how to serve the family by helping. These ideas for reducing your laundry are not just good laundry hacks, but good parenting!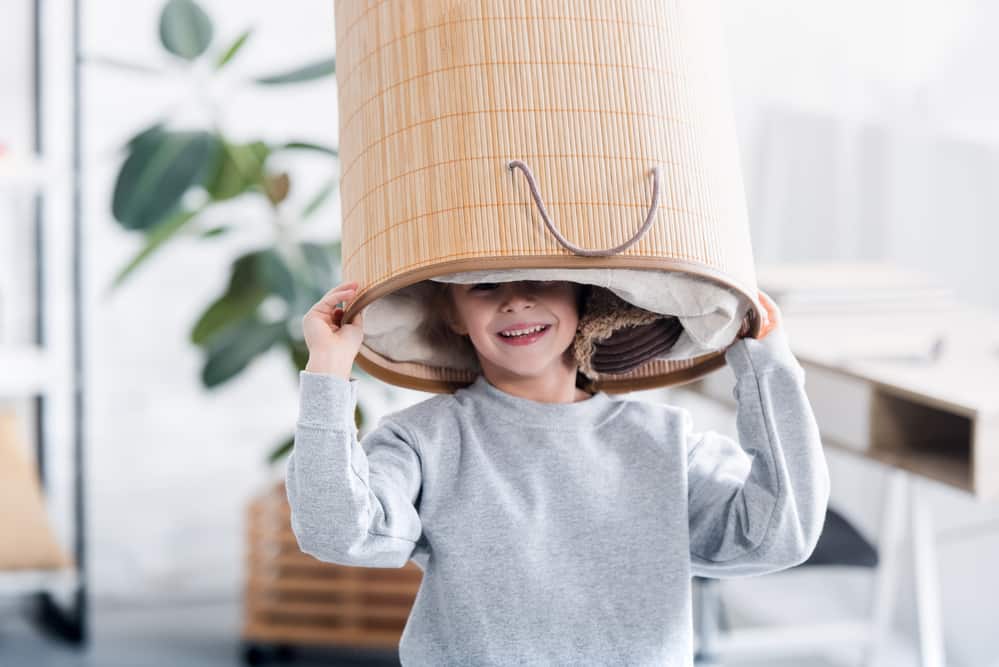 Note, they are not serving you! Dear mom, you are the trainer-in-chief and are in charge of running the household.
Your job is not to do it all but to see that it all gets done. You will remain overwhelmed by laundry until you get your family on board.
Related Post: Maid or Mom? 5 Ways to Retrain Your Family to Respect You as Mom
Laundry Hack#3: Equip your Family to do the Laundry
The best laundry trip is to equip your family to do the laundry!
We have a star sticker on the washing machine and dryer to indicate where the knobs need to be set for a standard load of laundry. Children can stand on a stool to reach and transfer clothes from the washing machine into the dryer.
A young child of 3 or 4 can pull clothes from the dryer and put it into a basket. All of these are easy tasks to get your children involved in serving the family.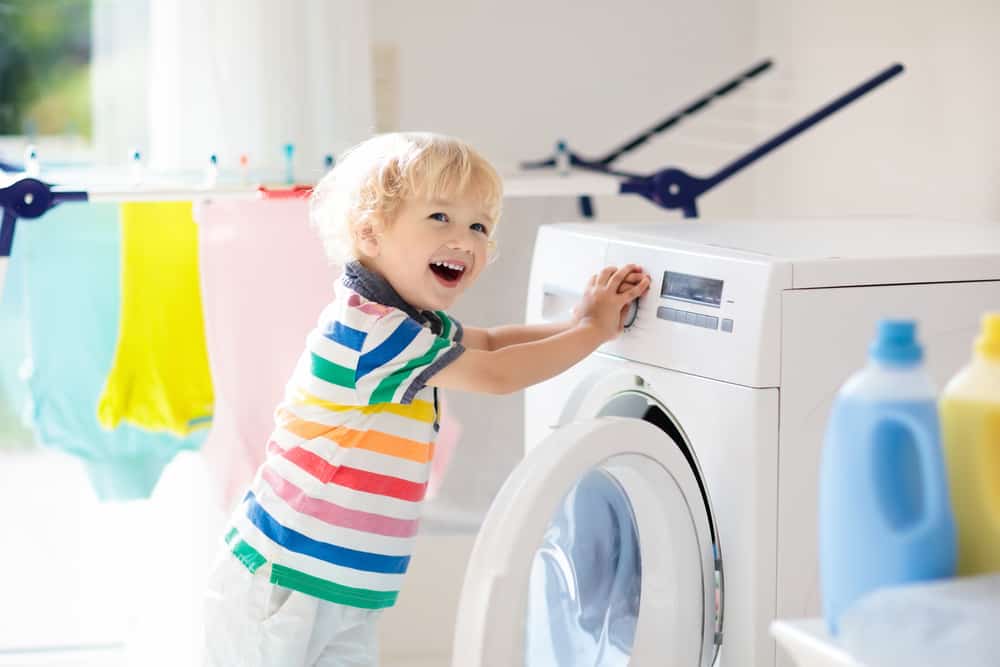 Laundry Hack #4: Be a Laundry Detective
Usually, there are one or two members of a household that are the worst offenders. They wear an outfit for an hour and then change into a new one.
Sometimes they don't bother to put their clothes away and just toss them into the laundry bin. On the other hand, some children do not wash their clothes enough. (Gross, yes.)
Get the children separate clothes baskets. The baskets provide accountability for them to literally see how much more dirty laundry they are generating than the other members of the household.
In our home, our worst offender won the opportunity to serve the family as the primary person in charge of laundry. You are more motivated to reduce laundry when you have to deal with the piles of clothes yourself.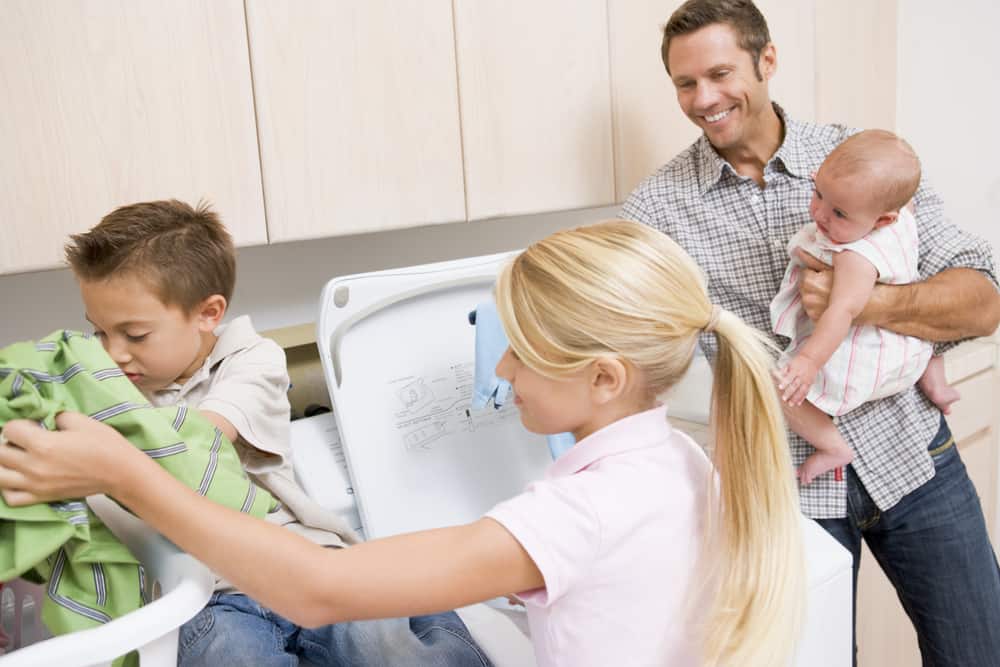 Laundry Hack #5: Many Hands Make Light Work
Laundry accumulation happens because of daily choices. Everyone needs to have a role in keeping the levels down. This only happens when each person plays a role in the process.
An elementary-aged child can sort laundry in piles by each family member. In our home, they are instructed to lay out shirts flat so that they don't wrinkle.
When a child needs a break from writing or schoolwork, they can then go and fold their laundry and put it away. Once they get into second grade, most all children can fold their own laundry.
Can mom do it quicker and easier? Of course, she can. However, these are essential skills for your family to learn and it frees you up to do other important things for the family that only you can do.
Laundry Hack #6: Reduce the Laundry going into the Basket
Pajamas do not need to be washed every day. Wash PJs every three days.  When your child gets up for the day, they can place their pajamas under their pillow to use again at night.
Sweatshirts are big and bulky.  They take up a lot of room in the washing machine. A great laundry tip is to wear t-shirts under your sweatshirts. The t-shirt gets washed, but the sweatshirt does not need to be washed unless it was stained during the day.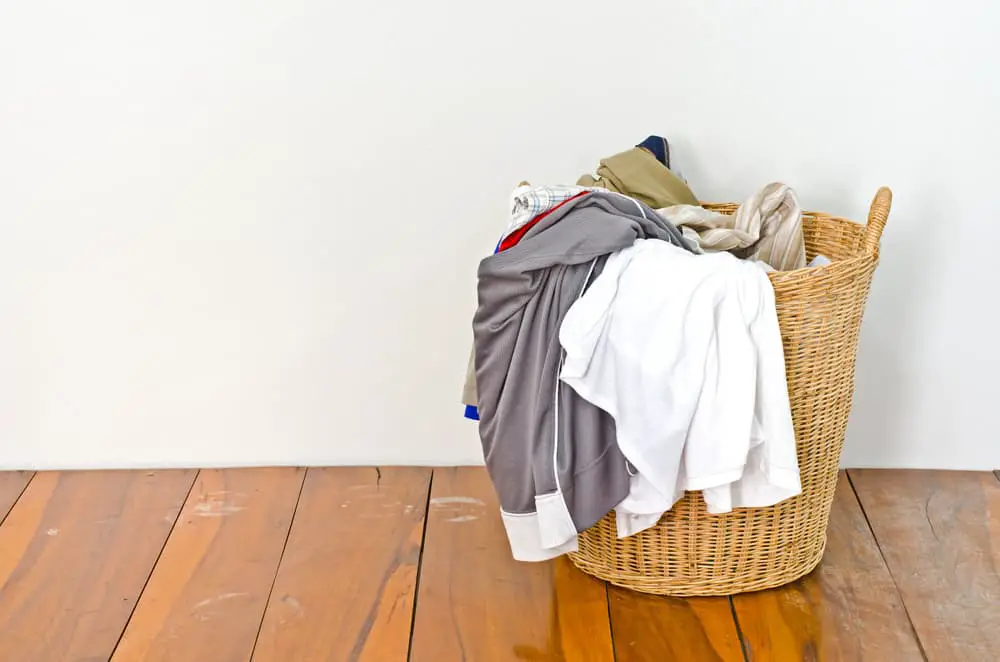 Laundry Hack #7: The Secret with Jean & Play Clothes
Jeans are expensive, and every time they are washed they lose color and structure.
Unless they are dirty, jeans do not need to be washed every day. When they are washed – turn them inside out for more longevity.
Play clothes are also at-home clothes. I don't worry when they get dirty, and they don't have to be washed every day.
A command hook on the back of the door, allows a child to hang a set of play clothes to wear the next day.
Reduce your Laundry & Up your Biblical Stewardship
Our children live in a culture of excess. Most of our children have easy access to so much: food, screen time, clothes, etc. When we have too much – we often do not know how to appreciate and care for what we do have.
The spiritual blessing of less is that we are so much more grateful for what we have. When we are grateful, we treat our things with more respect. Treat your clothes with respect by putting them in the hamper, helping in getting them washed, putting them away neatly, and not going through several outfits a day.
Clothes are not to be viewed as disposable, but rather as something that we steward. What a difference this shift in thinking can make for all of us! God's creation is a gift to use to be stewarded and used prudently and wisely. All of the resources that God gives us are to be stewarded – we can start that lesson with clothes.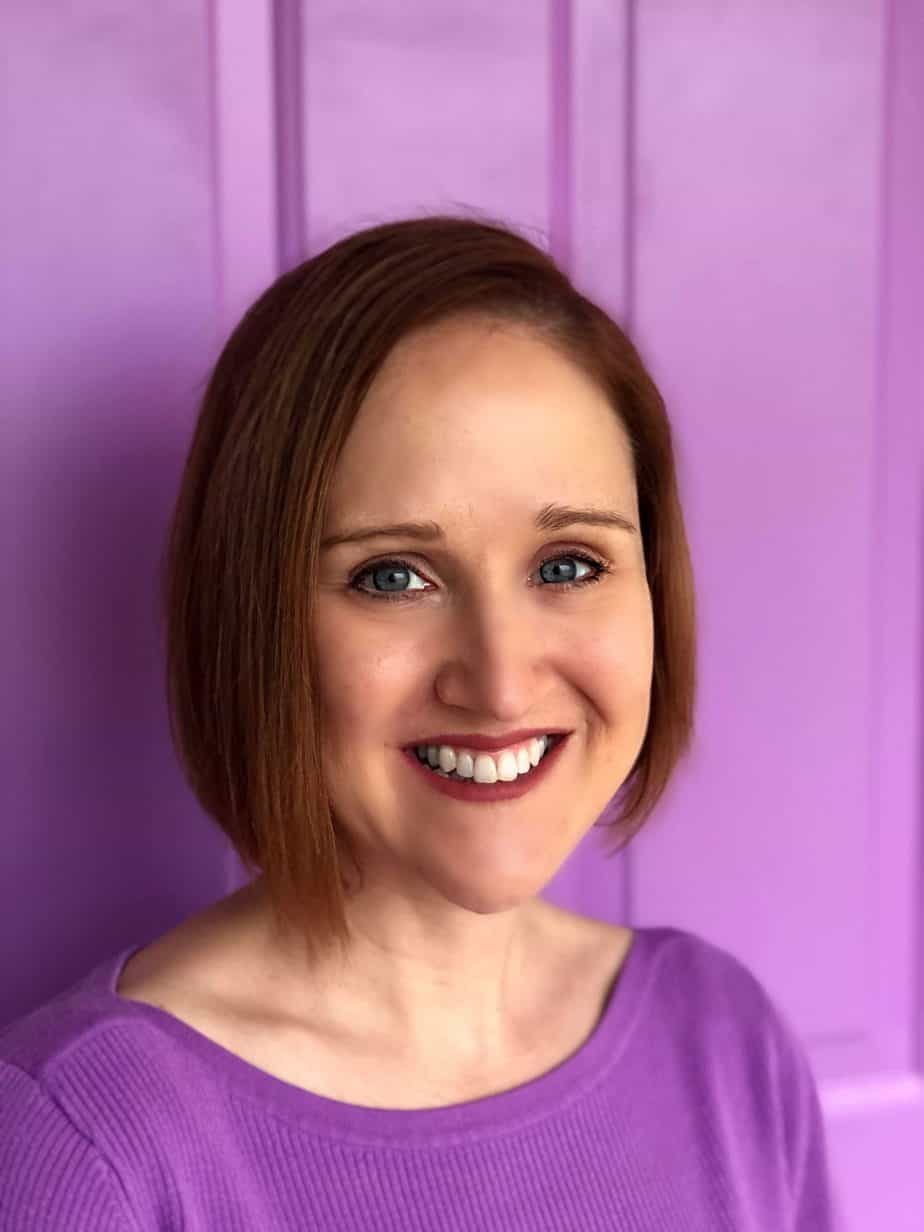 The voice behind FaithfulMotherhood.com is Jyn.  She is a veteran homeschool mom of three. More than just a pastor's wife, she holds a Master of Divinity degree and has served in church leadership for over 20 years.  Her passion is equipping parents to live out their calling as the number one faith influencer for their children. She longs to see moms empowered by God's Word and transferring that love to their children through daily Bible study and family devotions.