**Faithful Goals: Free Printable**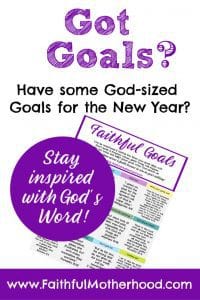 Ready for a change in your life?
Do you feel God calling you to step out and do a new thing?
Many of us have dreamed up big goals and have started out with all kind of wonder and possibility.  Then, the going gets tough and we lose steam.  Our dreams fall by the wayside.
Yet, if God has called us to something wonderful then God can equip us and empower us to get there.  
I want to make it easier for you to hear God's voice in your life this year.  Join the Faithful Motherhood Tribe and download your free beautiful printable to hang on your refrigerator or to tuck in your Bible.  Put it where you will see it and be inspired to keep persevering in the faithful goals that God has given you!
This inspiring free printable is just the start of our conversation about how to be faithful mothers in this challenging world.  I look forward to our emails and to growing together!