One day my teenage daughter was frustrated with her father's decision about something and was telling me all about it.  I told her to knock it off.  I was not going to listen to her disrespect her father.
Then, it hit me.  How many times have I shared a frustration about her father in her presence? If you don't respect your husband, your children will have a harder time honoring their Father.
"Honor your Father and Mother that your days may be long in the land that the Lord your God is giving you." Exodus 20:12
#1 Respect Your Husband & By Modeling Honoring Your Father
The command to honor your father and mother is so important that it is included in the ten commandments alongside such important ones as do not murder and do not commit adultery.  It is the only commandment with a promise it is that important.
As Christian parents, we have a responsibility to teach all the commandments including the commandment to honor us. Ironically, when we as wives excel at respecting our husband – the more likely our children will excel at honoring us.
Learn how to teach your children to "Honor Your Father and Mother." 
#2 Respect your Husband by using the Golden Rule
No husband is perfect.  If you have been married for any length of time, you have likely been frustrated with him.  The challenge: how do you handle that frustration?
Being a wife is a hard job.  Being a husband is a hard job.  Add to that jobs and parenthood, and we have a lot of spinning plates up in the air.  Many times we may feel like we are failing at all of the different roles that we are called to fill
When our husband falls short, how do we respond?
Do we roll our eyes?
Do we mutter under our breath?
Do we make a joke at his expense?
Do we share our frustration with others?
Would we want him to do those things to us when we fail?
"Do unto others as you would have them do unto you." Matthew 7:12
#3 Accept that Husbands are Hard-Wired for Respect
Moreover, all those things are disrespectful.  Men and women are both created in the image of God, but we are not created the same.  We are wired differently.  Paul speaks to the consequence of this different wiring in chapter five of Ephesians.
"However, let each one of you love his wife as himself, and let the wife see that she respects her husband." Ephesians 5:31
This can be a challenging passage in Ephesians.  The first half of chapter 5 is about what a Christian walk should look like and what it should not look like.  Paul draws very clear and explicit lines between how the culture was acting and how the early Christians were to act.
The first have of chapter five ends with the call to submit to "one another out of reverence for Christ."  All that we do is a reflection on our relationship with Christ.  From verse 22 to the end of chapter 5, Paul gives instructions to wives and husbands on how they then are supposed to walk as Christian wives and Christian husbands.
Interestingly, a lot more verses are given to instruct the husbands that are given to instruct the wives.  We see that three verses are first given to speak to women about how they are to act toward their husband.  Then eight verses are devoted to instructing men on how they are to love their wives. 
Finally, Paul finishes up his instructions with the verse above.  The husband is called to love, and the wife is called to respect.
I wonder if we are called to respect our husbands, because it isn't something that comes naturally to us.  Paul has to command us to this call because it is something we don't naturally do on our own.  Intrigued? Check out this FamilyLifeToday podcast.
#4 Respect is a Choice, like God's Love
The Oxford Dictionary says that to respect someone means to "admire (someone or something) deeply, as a result of their abilities, qualities, or achievements."
Paul doesn't talk about any of these things.  Paul doesn't say respect your husband because he is so wonderful.  He doesn't say respect your husband because he is an amazing provider for you and your family.  The Bible just says to respect your husband because he is your husband.
The respect here is to be given before it is earned.  It is to be given even if it is not earned.  It reminds me of God's love.  While we were still sinners, Christ did for us.  Our salvation is not because of anything that we have done, but because God chose us.
Respect is not the response that our husband has to earn, but it a choice that we make out of love for Christ.
(There are limits.  If your husband abuses you: mentally, emotionally, or physically – he has crossed the line. If he controls your movements, your money, and your friends – he is abusing you.  Get to safety right now.  Christ is the defender of the weak.  Anyone who uses scripture to tell you that you need to stay is abusing the Bible.  Respect yourself, love yourself, and get out.)
#5 Respect Your Husband By Having His Back
We live in a critical world.  Everyone has something negative to say about the actions of others.  It seems like you just can't please everyone.  Your husband needs to know that you have his back.  He needs you to think he is smart, wise, strong, and capable.
Frankly, the reality of what we see doesn't always match up with that.  Yet, we are to look at their potential the way God looks at our potential and be their champion and partner as they grow into the fullness that God has for them.
"The wisest of women builds her house, but folly with her own hands tears it down." Proverbs 14:1
Do you make jokes about women being smarter than men?  Do you tell dumb men jokes?  You do realize that your husband is a man.  Put aside those kinds of jokes and choose words that bless the men in your life.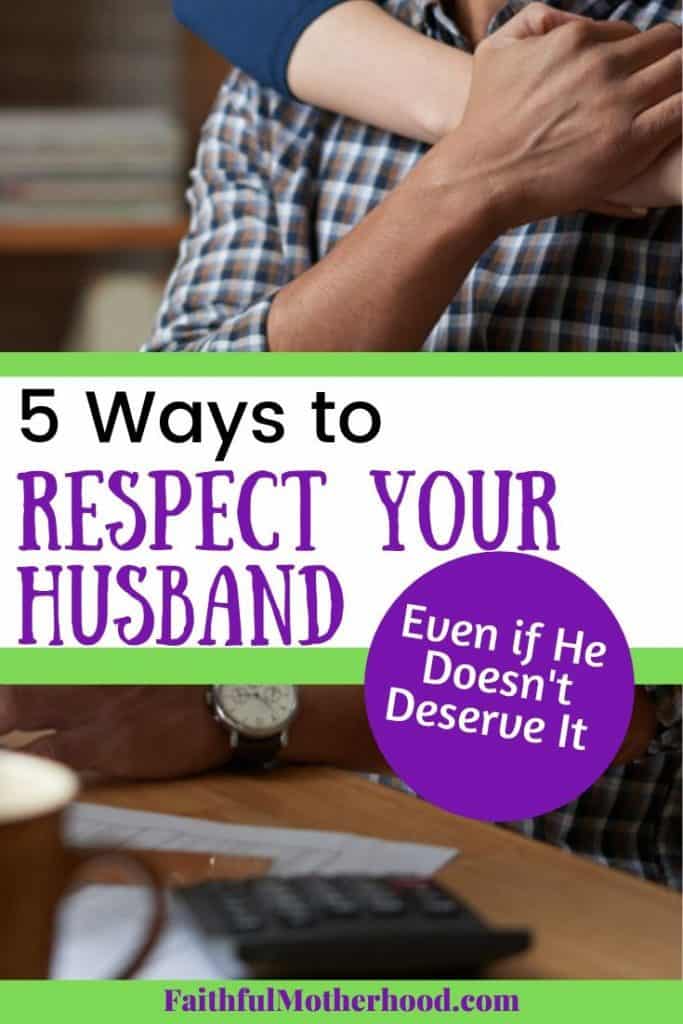 #6 Respect Your Husband by Guarding your Husband's Reputation
Don't talk down your husband to your friends.  Don't talk down your husband to your mother.  Don't talk down your husband to your children.  They all learn to respect your husband based on how you model that you treat him.  Share your concerns with him in private, just as you would prefer he does with you.
"An excellent wife who can find? She is far more precious than jewels. The heart of her husband trusts in her, and he will have no lack of gain.  She does him good, and not harm, all the days of her life." Proverbs 31:10-12
#7 Pray for Your Husband
Sometimes it can be hard to respect your husband. Perhaps he has made some choices that you don't agree with about finances or how he spends his time. Perhaps something else has gotten under our skin and is causing us to be irritated.
Take those feelings to the Lord in prayer. God has the supernatural ability to change our hearts from frustration to contentment. We can't change anyone else but ourselves.
God knows your husband's every flaw and weakness. Lift the him up in prayer and then let God lead him. Respecting our husbands might sometimes mean respecting the God is in charge. Do your part and give the rest to the Lord.
Earned Love in Marriage?
Do you want to have to earn your husband's love?  Aren't you glad that it is something that he freely gives?  Sometimes you feel worthy?  And, sometimes we are not that loveable?
The world says that love is an emotion.  I believe that love is a choice.  It is a choice that you make each day to love one another and to love your spouse.
We live in a world where there is an increasing lack of respect.  We all need to treat one another with more respect and dignity.  We all must guard our tongues and use the words that come out of our mouths to build up and to bless.
No one needs that more than your husband.  The Devil wants to destroy families and your husband as the head of your family is under attack.  Do you have his back?  Can he trust in you?
---
Interested in more way to support your husband? Check out "Married to the Pastor: Seven Ways to Minister to Him"  These are great ideas for any marriage regardless of your husband's job.
Other Marriage Related Posts:
How to be a Better Wife: 5 Simple Ways
How to Find a Church Your Husband Likes 
Know When to Get Marriage Counseling
Facebook & Your Marriage: Blessings & Curses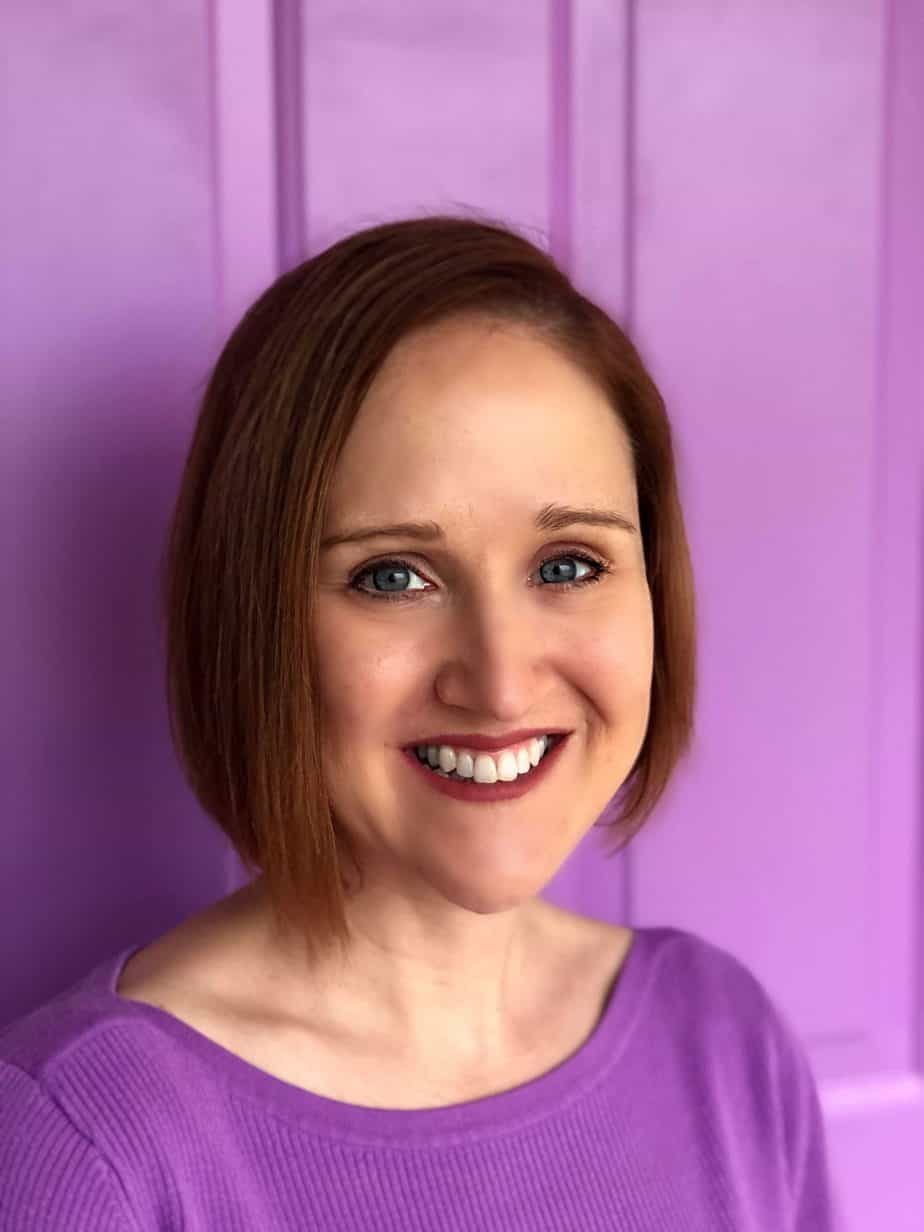 The voice behind FaithfulMotherhood.com is Jyn.  She is a veteran homeschool mom of three. More than just a pastor's wife, she holds a Master of Divinity degree and has served in church leadership for over 20 years.  Her passion is equipping parents to live out their calling as the number one faith influencer for their children. She longs to see moms empowered by God's Word and transferring that love to their children through daily Bible study and family devotions.