Families are busy.  We are rushing kids from one practice to another activity.  Our culture is addicted to busy.  In our busyness, it can be hard to build relationships with one another.  We don't just want to be people who sleep under the same roof, we want to have families that love one another and enjoy one another. You want ways to bring your family closer together.
A healthy, loving home is the foundation for not only emotional health but spiritual health.  How can you take the time to invest in your family and find things that bring your family closer together?  Here are 33 busy mom-approved ideas for fun family activities.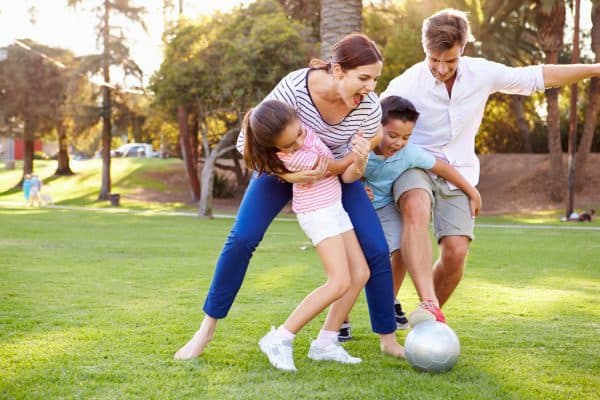 What is one thing you do that has brought your family closer together?
Bring Your Family Closer by Slowing Down, Limiting, & Being
#1 Eat Dinner Together
Children get so much from family meals.  Children usually eat better, do better in school, make better choices about drugs and alcohol, and have stronger bonds with their parents and siblings. 
This shouldn't be a surprise because the time spent together at a meal, any meal, is quality time.
#2 Observe a Sabbath Day
Practice a Sabbath day. The Bible tells us to remember the Sabbath day and keep it holy.  In a world that focuses our worth on what we do, taking a day as a family just to hang out together is a counter-cultural move. 
By taking a Sabbath day, we are proclaiming that rest and family connections are of vital importance to our family.
#3 Limiting Sports
Have more fun by limited the number of sports teams your children participate in, or the type they choose.  For many families, today sports are an idol. 
Sports participation can be helpful in building confidence, teamwork, and one's health.  Is it worth it, however, when your child has practice or conditioning every day?  On breaks? In the summer? 
Your child doesn't need to be in a sport constantly to be a success in life.  Odds are they are not going to get a sports scholarship to college. 
Instead, find balance and invest time in your family and your sanity.
#4 No TV Weekend
When we turn off the television and the other screens, we have to be present with one another.  The average child watches way too much television.  Screens become an escape from dealing with our emotions and our anxieties. 
If we turn off the screens, we can look up and talk to one another. Have a No TV week or month.  You might be surprised at how much your family grows closer together!
#5 Family Fire Pit
You don't have to go camping to have a fire pit.  Create an outdoor hangout space at your home, and use it.  There is something magical about looking into a fire and hanging out that helps us open up and connect.
Bring Your Family Closer by Growing Together Spiritually
#6 Family Bible Time in the Morning or Evening
Family devotions are a powerful way to forge deep family connections.  Family Bible study equips us to be better people with one another.  Family Bible study also gives your family a common vision and purpose. 
Some families even have family worship services with singing.  Choose a style that works for your family and give it a try.
Related Posts: Family Devotions: The What, Why, & How to Get Started
#7 Pray Together
Our family is a group of people with whom we should be able to share our joys, concerns, and fears.  Praying for one another reminds us that our closest family are people with needs too. 
Praying for one another is a concrete way that we move from just being brothers and sisters in a family, but to be brothers and sisters in Christ.
#8 Practice Forgiveness and Affirmation
Our kids are sinners.  As parents, we are sinners.  Family is the perfect place to confess our faults to one another and to seek reconciliation. 
We must practice speaking to one another with kindness, even when we are tired.  We must practice serving one another, even when we don't feel like it.
These skills learned at home, lay the foundation for lifelong friendships as our children become adults.
#9 Memorize a Hymn or #10 Bible Verse Together
Challenges bind us together.  Challenge your family to memorize a hymn or a long passage of scripture together. 
Meditating on the same piece of scripture points your family in the same direction.  Memorizing scripture also creates a common faith language to draw on in times of need.
Related Post: Teach your Child Hymns
#11 Go to Church Together
Make church a priority for your family.  Go to church together and then talk about how to apply the sermon as a family. 
Find opportunities to serve alongside one another through your church. Sons that go to church with their fathers are almost five times more likely to go to church as adults. 
Going to church with your parents matters and builds strong bonds of identity and purpose.
Related Posts: Life-Changing Impact When Dad Goes to Church
Bring Your Family Closer by Learning Together
#12 Learn Together
Learn something together as a family.  Take a class on sign language, country dancing, watercolor, etc. 
Sharing the experience of being vulnerable in trying a new thing builds trust and connection.  You might be surprised at which family gets the new skill the quickest. 
Especially with teens, this provides an opportunity for mom and dad to not be the expert and can break down some of the barriers with this age.
#13 Homeschooling Together
Homeschooling gives families lots of opportunity for quality time.  With homeschooling, you actually know what your child did that day at school! 
Homeschooling provides lots of opportunities for quality conversations about your family's worldview and values.  Homeschooling is great for building sibling bonds, even though they still fight.
Related Post: 7 Powerful Reasons You Are Qualified to Homeschool
#14 Reading  Aloud  Together
Families that read aloud together build strong bonds, and they build strong readers.  Scholastic.com has researched how and when families read together and the outcomes.  Their research shows us that "reading aloud is a tool for family bonding, inspiration, and education."
Bring Your Family Closer by Serving Together
#15 Do Chores Together & Home Improvement Projects
A family that labors together stays together.  Chores help build a sense that we are in this together, we are a team. Chores also provide an opportunity for us to serve one another.  Home improvement projects give our children valuable life skills. 
Unlike chores, which can seem mundane, home improvement projects show our children that their help is important in building something that lasts for the family.  Building our servanthood muscles are essential for building any kind of relationship.
Related Post: 5 Faith-Building Reasons to Do Chores for Kids
#16 Mission Trips Together
Lifeway Research ranks mission trips and projects as the fifth most important spiritual indicator.  Mission trips bind us together in a common purpose and mission. 
Mission trips provide an opportunity to see how blessed your family is in comparison to other families.
#17 Serve Together
We don't have to travel long distances to practice serving as a family.  Regular habits of serving neighbors, taking food to a shelter, and local volunteering all help to build family connections with one another and enforce your values as a family.
#18 Foster Care as a Family
Foster care is not an option for some families.  Foster care is challenging, but many families report that foster care helps them realize what makes their family unique and the privilege of having a family.
Helping a new member feel loved and welcome can help the rest of the family be intentional in practicing these skills with one another.
Bring your Family Closer by Getting Out of the House
After school and work, our natural inclinations are to crash on the couch.  To build faith bonds, we need to get up and go!
#19 Daily Walks
Daily walks provide a great opportunity to get some exercise and talk along with the way.  One on one walks create a private opportunity for a child to share their thoughts without other siblings overhearing.
Some ideas and thoughts are easier to share when we are moving and not looking at one another too.  Want that teenager to talk about their day?  Take them for a walk.
#20 Bike Rides
Bike rides – all the benefits of walking but while sitting! Bike riding isn't just for kids.  Riding bikes together as a family is good for everyone's health and it introduces some childlike fun back into our lives.
Get out into Nature
#21 Go camping as a family
#22 Go white-water rafting 
#23 Go hiking together
Getting out into nature is amazing for our souls and for our connections with one another.  Research shows that being outdoors in nature "builds connectivity and lets the way for gratitude and appreciation."
Bring your Family Closer by Having Fun Together
#24 Laughing Together
Find ways to laugh together as a family.  Joy and silliness build connections with one another. 
Buy a joke book and annoy your kids.  Have a nightly joke contest at dinner.  Watch Christian comedians.  Seek out ways to bring laughter into your home.
#25 Play Sports Outside Together
Physically play together.  I think wrestling is a love language for boys.  Even adults need to play and fun together. 
Take time to shoot some hoops or kick a soccer ball around.  A little friendly competition can help build family unity as well.
#26 Family Night
Fun and laughter are essential to building deep connections with one another.  We all know that it is important for the health of a marriage to build in date nights. 
It is just as important to build in "family dates."  Our modern world can crowd out intentional family times and we need to make sure to build it into our schedule and guard it. 
Perhaps you can't consistently the same day every week, but sit down and block out at least 2 or 3 nights a month as family-only nights. You can play board games, do puzzles, or even put on some music and learn to dance!
#27 Listen to Music Together
Music is a language that speaks to our souls.  An author from UC Berkeley says that  "listening to music and singing together has been shown in several studies to directly impact neuro-chemicals in the brain, many of which play a role in closeness and connection."
Sing silly songs with your children.  Find music that the whole family enjoys.  For Christian families, research from LifeWay argues that listening to Christian music ranks fourth in spiritual health influencers.
Bring your Family Closer through Building a Family Culture
#28 Learn Your Family History
Go through family photo albums and discover more about your family ancestors. Look up family members on an online ancestry site. Go visit an old family grave.
Share stories of ancestors. What kind of challenges did they face? How did they overcome those challenges?
Where did they live? Where did they come from? What traditions can you revive?
#29 Family Motto & Catch Phrases  
Every family needs an inside joke and language of their own.  We need catchphrases and words that point to our shared experiences. 
Our family has several phrases, we call hashtags, which are the punchlines to many a story.  #salmonloaf #ecuadorianairportsushi
#30 Write a Family Vision 
Craft a family vision.  What makes your family unique? 
What values are the most important to your family?  What kind of impact does your family want to have? 
Write those goals down.  Go further and make those goals into a picture that hangs on your wall.
#31 Have Family Meetings
Take time to not just talk about your calendar, but how you want to spend your time.  Get those family date nights on the calendar.  Create a family bucket list of things you want to do. 
Life can fly by.  Slow down and make time for what is important.  Talk about those family goals and get them on the calendar.
#32 Birthday Traditions
Create family traditions for birthdays and holidays.  We have special birthday traditions are our house.  We do not eat out very often so on your birthday, each person gets to pick a restaurant to go to for lunch or dinner. 
My favorite though is that each child wakes up to a balloon in their room on the morning of their birthday.
#33 Holiday Traditions
Are there special dishes or meals that you make for the holidays?  Perhaps you always put together a puzzle on Christmas Day?
Exchange handmade Valentine's Day Cards.  Have a "green" meal on St. Patrick's Day.  All of these are fun ways to build unique traditions for your family.
Be Intentional about Building Family Bonds
Life with children can fly by.  Be intentional about taking time to bond together as a family.  Take these ideas about how to grow together as a family and expanded on them to find the unique ways that fit your family.
It is never too late to grow together as a family.  Families with adult children can still use these ideas to bring their extended family closer together.  Our relationships with one another are the most precious thing that we have – invest in them.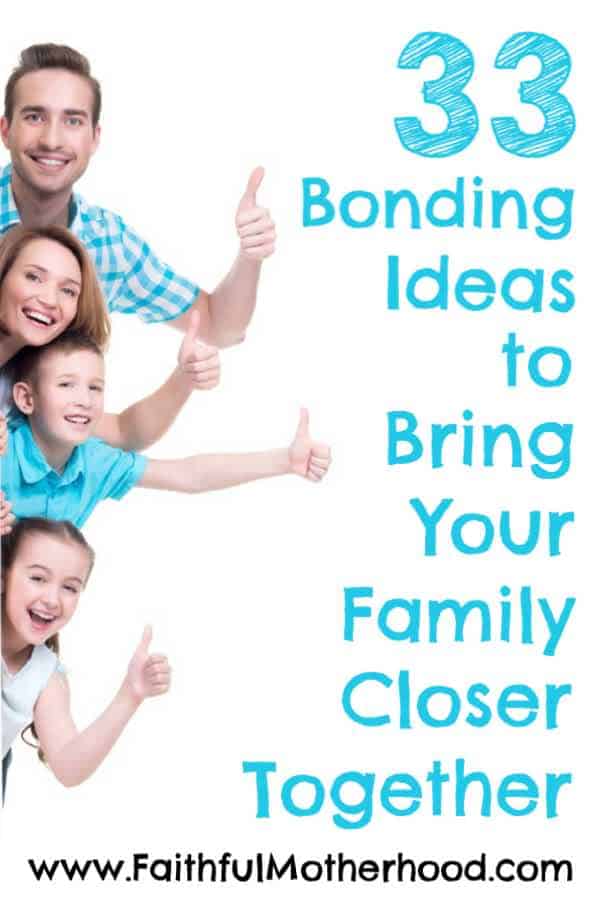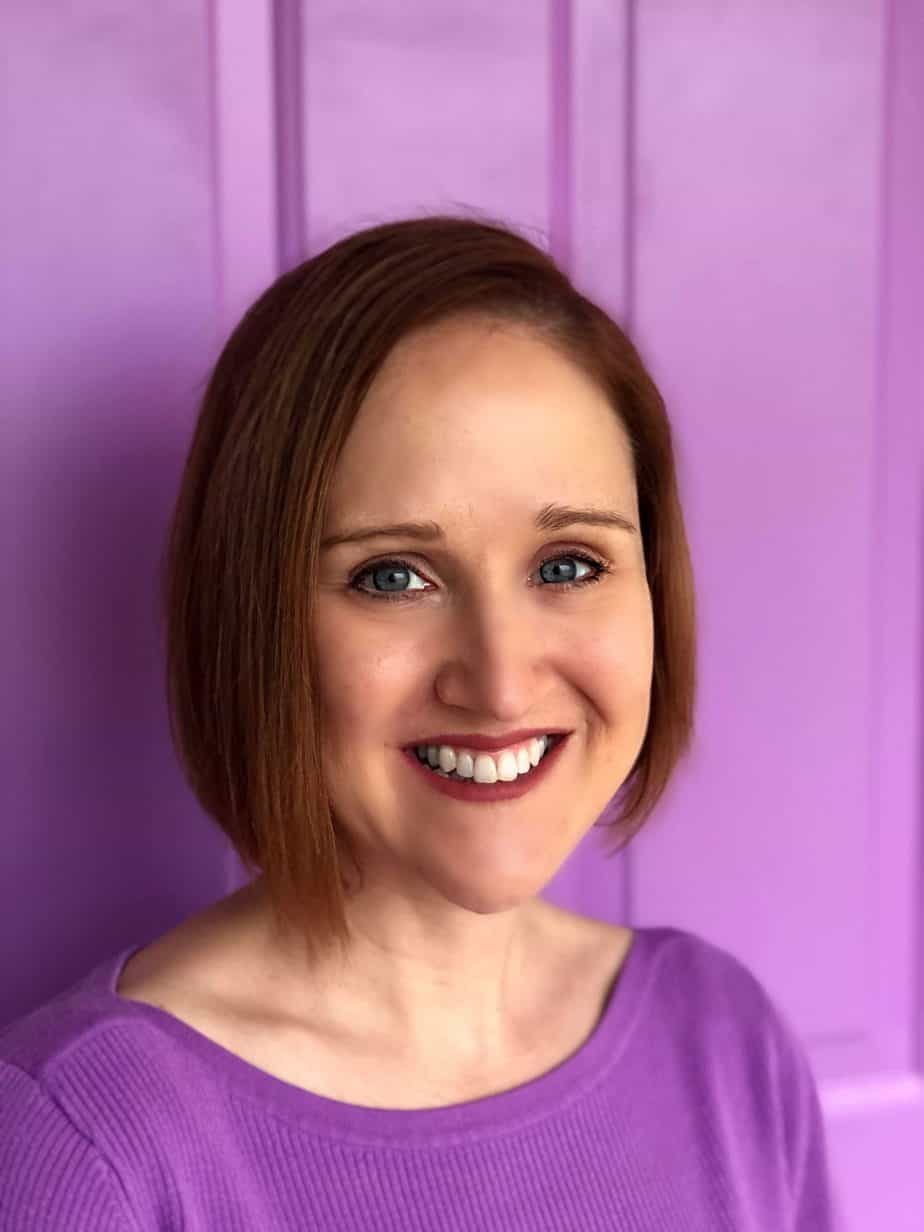 The voice behind FaithfulMotherhood.com is Jyn.  She is a veteran homeschool mom of three. More than just a pastor's wife, she holds a Master of Divinity degree and has served in church leadership for over 20 years.  Her passion is equipping parents to live out their calling as the number one faith influencer for their children. She longs to see moms empowered by God's Word and transferring that love to their children through daily Bible study and family devotions.