Resurrection is the reason for the season, but Easter Eggs are unavoidable.  All that Candy + food allergies/issues = parents hunting for some non-food Easter Egg ideas.
Children love to rush and find colorful eggs at Easter Egg hunts.  Some years there are several hunts to attend.  There is likely a hunt at church, one at home, and possibly another at Grandma's house.  All of the candy gathered can be very overwhelming.  For families who have children with allergies or special diet needs – the candy-filled eggs can be very depressing and isolating.
As a mom of a child with Type 1 Diabetes, I loathe all of the candy-filled events.  Instead, let's hunt down some creative non-food filled Easter Eggs, so we can swap out the sugar for items that all kids can enjoy.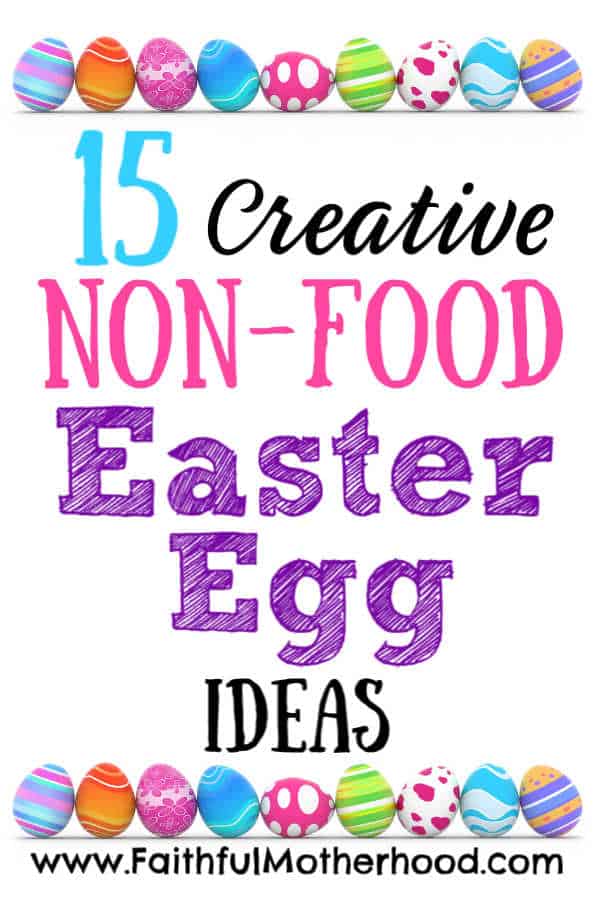 Think Small: Tiny No Food/No Candy Easter Egg ideas
So, what should you stuff those plastic eggs with? There are loads of creative ideas for things other than food and candy to fill those colorful, plastic eggs. Here are ten crowd favorites for no candy & non-food Easter Egg ideas!
#1 Money, Money, Money 
This is the number one suggestion that I have seen over and over again.  It excites kids of all ages.  Use a variety of coins: pennies, nickels, dimes, and quarters.  Throw in a dollar coin or a dollar bill too.
Perhaps even have an extra special high dollar egg for one lucky hunter.  All in all, this is probably the cheapest non-food Easter Egg stuffer that you can find!
#2 Stickers 
The favorite year after year. Kids love stickers. You can pick up some stickers of their favorite characters or even snag some special Easter stickers.
Fun Express – He Lives Stickers for Easter – Stationery – Stickers – Stickers – Roll – Easter – 1 Piece
#3 Tattoos
Not all families like temporary tattoos, but many kids love them. To be honest, they aren't that expensive. Buy them by the sheet and cut them up to go in your eggs. Jovitec 230 Pieces (12 Sheets) Easter Egg Tattoo Bunny Temporary Tattoos Easter Themed Tattoos for Kids Party Favors
#4 Nail Polish
The secret to making this a frugal choice is to look for nail polish sets. This Minnie Mouse one is super cute.  At less than a dollar a bottle, it is a fabulous value. There are even sets with peel-off nail polish for those messy kids.
TownleyGirl Disney Minnie Mouse Nail Polish, Lip Balm, Lip Gloss and Hair Accessories (Minnie Mouse 18 Pack Nail Polish Set)
#5 Lip Balm
My kids go through lip balm like crazy! Why not put something in their eggs that you are already going to get them!
There are special ones that are decorated for Easter, but put your money into other areas.
#6 Easter Egg Bath Bombs
This isn't just a gift for girls, my son loves adding things to his bath too. Don't worry about stuffing this into eggs, because they are already individually wrapped!
EASTER EGGIE IN THE BATH – 6 pk Fun Egg Shaped Bath Bomb Gift Set – The Island Bath & Body-Made In USA
#7 Mini Rolls of Washi Tape
This is a recent discovery for me! You can buy these mini tape rolls in sets of 90!  My kids will love to get creative with these!
If I had to contribute Easter Eggs to an event at church or for another organization, this would be my number one pick for uniqueness and value! Dalus 90 Rolls Washi Tapes Set,Decorative Mini Masking Washi Tapes for DIY Crafts and Kid Gifts
#8 Egg-shaped Chalk
All kids love sidewalk chalk. If you snag egg-shaped chalk that is already individually wrapped, you don't have to do anything but set them out in the grass.
#9 Treat Coupons
These coupons are for experience ideas such as: staying up 1 hr late, fishing with Dad, No Chore Day, one day of unlimited screen time, coffee with mom, pick one treat from the store, choose dinner, etc.
#10 Confetti Eggs
My kids LOVED, LOVED, LOVED these.  They had so much fun trying to smash them over each other's heads.  Dad loved them too!
Be forewarned – make sure that they stay outside.  They are a huge mess if they get smashed in the house, which of course I know by experience. Thank you, Son.
Silly Rabbit Cascarones Colorful Confetti Filled Eggs 12 Eggs Per Carton (Pack of 4) Colors WILL very
Think Big: Foodless Easter Eggs Ideas on a BIG SCALE
Is the thought of gathering all of that still overwhelming? First, you have to find time to go to the store without your children to find all of these little items.  Then, you have to find time to stuff all of these little items into those finicky plastic eggs.  Finding that kind of time can be challenging.
Do you want some ideas to simplify your non-food Easter Eggs? Here are some quick and easy ideas!
#1 Group Puzzle 
Get a puzzle. Divide out the puzzle into the Easter Eggs.  After all the pieces are found, the kids can then have fun putting the puzzle together. Pick a movie puzzle, and then watch it later. Or, pick a puzzle about a place that you are going to go visit.  There are so many puzzles out there to fit your family's passions.
#2 Individual Puzzles
Can't decide on a puzzle for the whole family? Assign each child a certain color of egg and pick a puzzle just for them.  A Paw Patrol Puzzle, an Avengers Puzzle, and an Eiffel Tower puzzle would be perfect for our family!
#3 Surprise Gift
Want to surprise your family with a gift that wouldn't fit in an egg? Maybe you have decided that you want to give your kids a playset, a trampoline, or passes to the water-park for the summer? Maybe it is a special trip somewhere?
You can create your own personal puzzle.  You can either buy a plain white puzzle and create the picture yourself.  Or, you can order a personalized puzzle from your own picture.
#4 Lego Set
This is genius!  Choose either a large Lego set that your kids will all enjoy and just divide the pieces out among their eggs.  They have the fun of chasing eggs, and then, the continued fun of putting a new masterpiece together.
Or, give them each their own!  Assign each child a unique color and then put the pieces to the Lego set that you have picked for them in specific eggs.  My teen may not like this, but my younger two definitely would!  You can mix and match with this idea.  Legos for the younger set and another idea for the harder to please child!
#5 Resurrection Eggs
Do you want the focus of the egg hunt to just be about Jesus? Consider making a set of Resurrection Eggs that can be used year after year. You could have one set for your family, or a keepsake set for each of your children.
Feeling crafty? You can make your own personal set with instructions from here. Or, you can have Amazon send them to your door!

Family Life Resurrection Eggs – 12-Piece Easter Egg Set with Booklet and Religious Figurines Inside – Tells the Full Story of Easter

Resurrection is the Reason, Not the Easter Eggs
Easter should be a time of celebration and joy.  There is no greater reason to celebrate than the Resurrection of Jesus.  Just as Jesus died so that all might be saved, we too want to choose to celebrate in ways that draw all children as well. Sadly, not all kids can have candy-filled eggs and they need thoughtful non-food Easter Eggs.
It takes times time and creativity to go the extra mile to create a celebration that welcomes all children regardless of their allergies or other health needs.  Hopefully, these suggestions will make it easy for you to provide some eggs that will let your children know how much you love them!
Looking for other Easter resources:
Check out Inspiring Baptism Gift Ideas which are great also for Easter Baskets.
Focus on the reason for Easter with 5 Vital Resurrection Facts that Your Child Needs to Know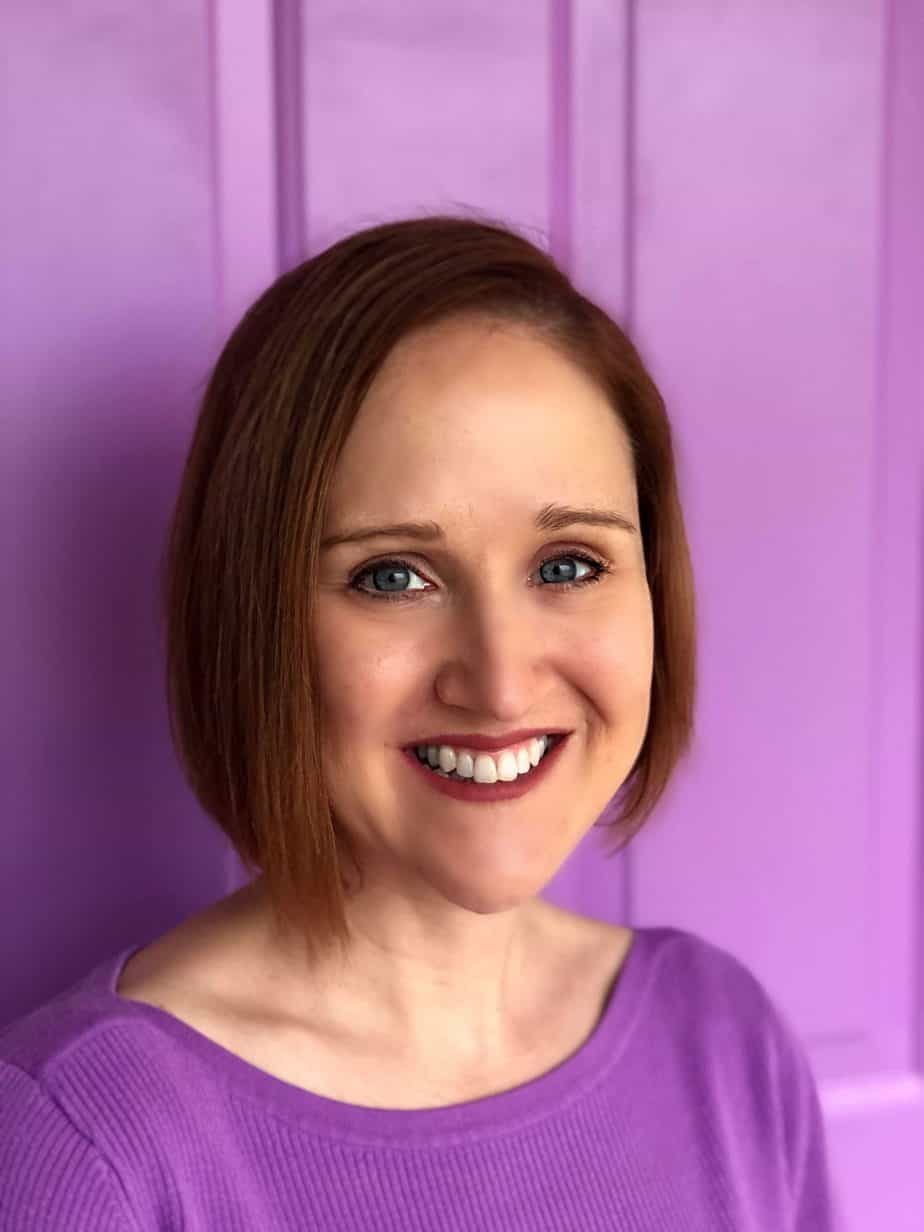 The voice behind FaithfulMotherhood.com is Jyn.  She is a veteran homeschool mom of three. More than just a pastor's wife, she holds a Master of Divinity degree and has served in church leadership for over 20 years.  Her passion is equipping parents to live out their calling as the number one faith influencer for their children. She longs to see moms empowered by God's Word and transferring that love to their children through daily Bible study and family devotions.