We love our children, but sometimes we are not in love with them.  I have a teenager, trust me I know. Eventually, there comes a time when our patience has run dry. Discover how thankfulness affirmations can transform your attitude towards your child.
We are tired, worn out, and frustrated with their actions and their attitude. Our ears are tired of listening to the complaining, the fighting, and the tone of their responses. It seems like every interaction becomes a battle.
Then, we anticipate the battle. The challenge develops when their speech, their behavior, and their attitude has created a wedge in our heart towards them. Our hearts grow hard and our grace starts to dry up in how we treat that child.
Sadly, our attitude turns negative and a broken relationship cycle is formed. We want to parent with firm gentleness but we have had it.
Have you ever just had it?
Is there a behavior that has escalated from something that bugs you to something that just absolutely drives you nuts? Here are some things that push my buttons.
Putting dirty dishes in the sink instead of into the dishwasher.
Leaving your clothes on the floor in the shared bathroom.
Trash on the floor.
Throwing your clothes floor of your closet rather than hanging them up.
Leaving your shoes right by the door when the place they are supposed to live is 2 feet away.
I grew up in a house where messy rooms are not allowed. I see my children do things that would have never been allowed at my house growing up and it pushes my buttons.
All these things have to get taken care of for our house to function. Sometimes I get so tired of asking and repeating myself, that I just take care of the things that need to get done.
Then, I am even more resentful. Do my children need to obey? Yes, but I also need to love them even in their disobedience. After all, God patiently keeps loving me in my disobedience.
Wedge of Frustration
When this wedge of frustration happens, we need the power of the Word to renew our hearts and our minds. Divine intervention is needed to bring reconciliation. The Devil loves to harden hearts and to drive wedges in relationships.
Thankfully, our God loved us while we were still sinners and sent His son to die for us. If Jesus can love us in our sin and die for us, we can love our children in their sin.
We have to be taught to love our children. Yes, we have to be taught to love. Love doesn't always come naturally. Sometimes, we have to fight for love and we have to intentionally cultivate love.
In Titus, older women are instructed to teach "the younger women to be sober, to love their husbands, to love their children…" (Titus 2:4). True love is not natural to our sinful hearts. We need divine help to know and express true love.
We have to learn to keep our hearts from being hardened and to learn the skills of showing love. One such tool is a list of thankfulness affirmations.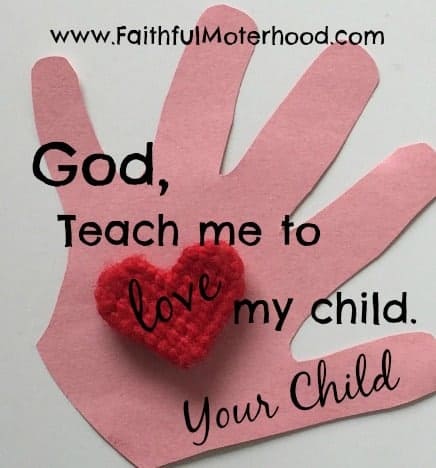 What are thankfulness affirmations? How can they help?
Thankfulness affirmations are statements that are biblically true. By repeating truth to ourselves over and over, we combat the negative thinking and lies that we are prone to believe because of our fallen hearts and sinfulness.
We are rewiring our hearts and minds. Is this not the power of reading scripture? It reminds us again and again about our need for a Savior and the lengths that God has been willing to God to reconcile us to Himself.
Daily reading of the Word helps to keep us in the right mindset. Daily reading of scripture helps us to transform our minds and hearts to be more like Christ.
"Do not be conformed to this world, but be transformed by the renewal of your mind…" Romans 12:2a
"Finally, brothers, whatever is true, whatever is honorable, whatever is just, whatever is pure, whatever is lovely, whatever is commendable, if there is any excellence, if there is anything worthy of praise, think about these things." Philippians 4:8
When we meditate on statements that are biblically true we are training our minds and hearts to think, feel, and act as God would have us to do. This meditation shapes our worldview.
If we do not shape our worldview, it will be shaped by the world. This is why we have to be taught to love our children according to how God defines love.
Related Post: A Biblical Guide to Christian Meditation
Preparation Advice
I invite you to insert your child's name in the blanks below. You are invited to also gather a couple of pictures of your child: a baby picture, a toddler/elementary picture, and a current picture. This reminds us of when they were super cute and precious.
We get so stuck on what is going on right now. A collection of pictures reminds us of the big picture regarding what makes our child special and what we love about them.
Thankfulness Affirmations for My Child
1. ________ is fearfully and wonderfully made.
2. ________ is created in the image of God.
3. ________ is a sinner just like me.
4. Jesus died on a cross for ___________.
5. Thank you, Lord, for your patience with me. Give me the ability to extend that patience to _________.
6. God, you have to repeat many things to me. Give me patience in repeating things to my child.
7. Thank you for ______'s strong will.  Lord, mold it to become perseverance in pursuit of the gospel.
8. I am broken. Thank you for the reminder my child gives me of the areas that I need to grow in.
9. Teach me, Lord, how to show sacrificial love to my child even when it is hard. Help me to see them as you see them.
10. Jesus, I pray that ___________ will confess you as their Lord and will walk in obedience to you all the days of their life.  Use them powerfully, Lord God.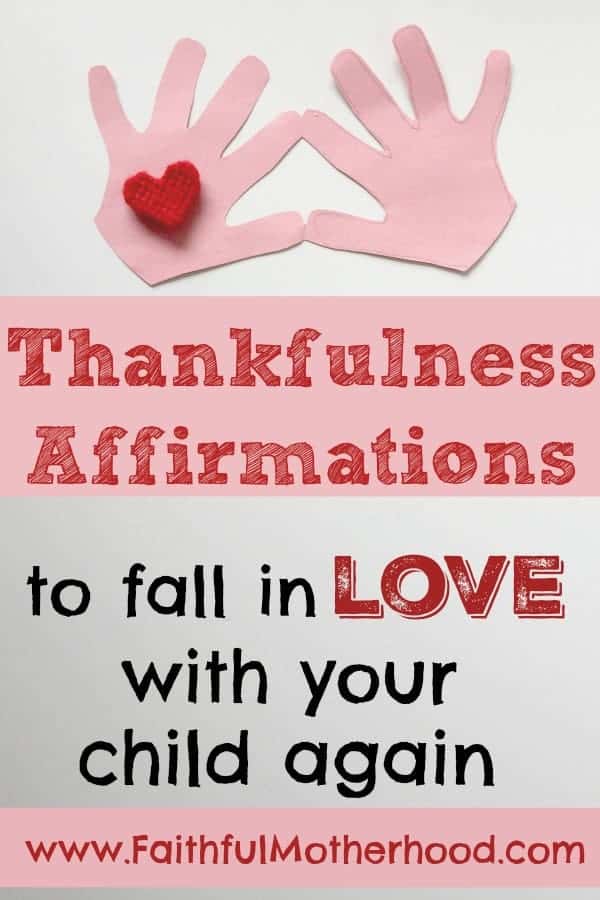 Do you struggle with loving your child? Do you need to use these affirmations to help you love your husband, another family member, or a co-worker? Have you used biblical affirmations to make a difference in your attitude?
May God bless you with renewed love, patience, and affection for your child. May you know too with more fullness the affection that God has for you as His child.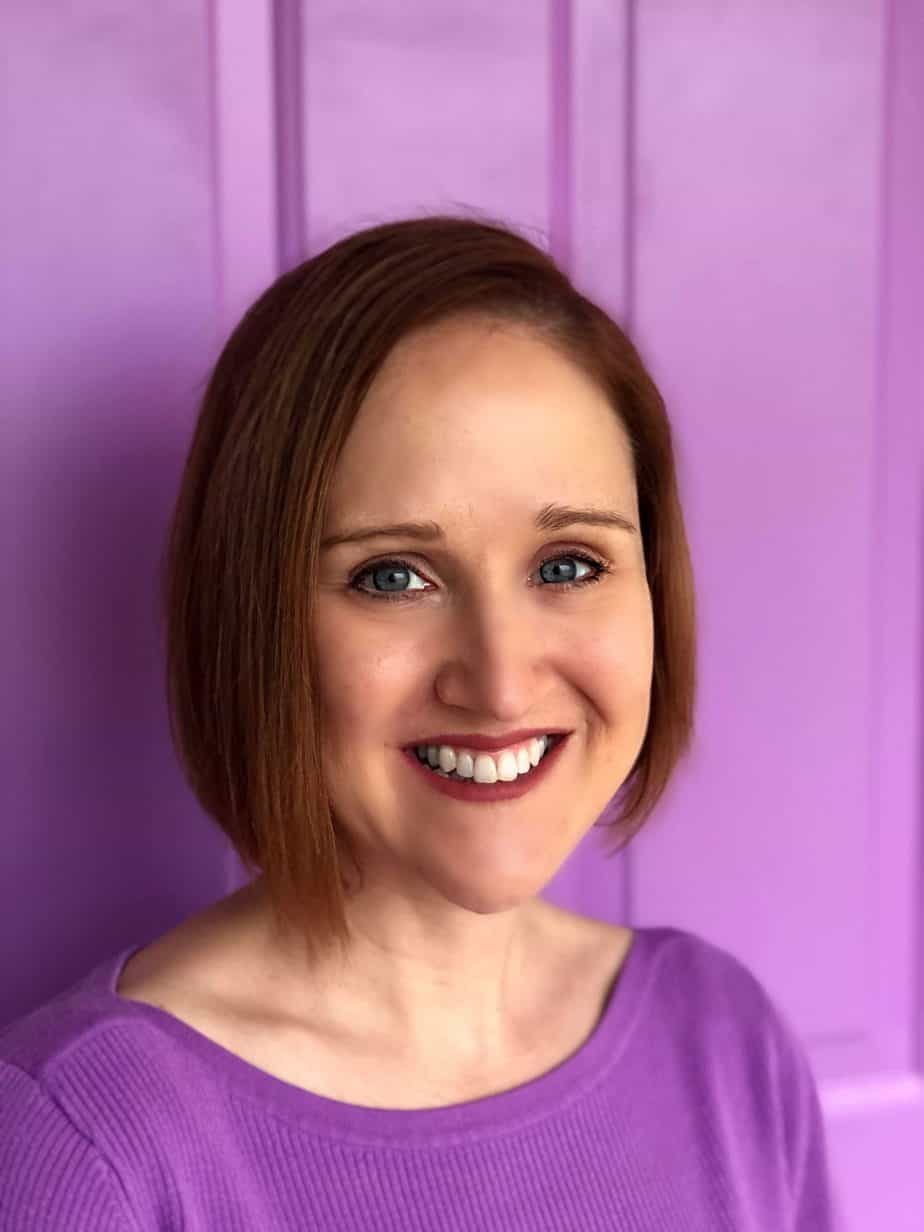 The voice behind FaithfulMotherhood.com is Jyn.  She is a veteran homeschool mom of three. More than just a pastor's wife, she holds a Master of Divinity degree and has served in church leadership for over 20 years.  Her passion is equipping parents to live out their calling as the number one faith influencer for their children. She longs to see moms empowered by God's Word and transferring that love to their children through daily Bible study and family devotions.